Summary of the technology
The present invention relates to an axial flux switched reluctance machine, comprising at least a stator with poles distributed along a first circumferential path on a plane with electromagnet coils wound on at least some of the stator poles.
Partners to further develop the machine and/or to establish commercial agreements along with technical cooperation are sought.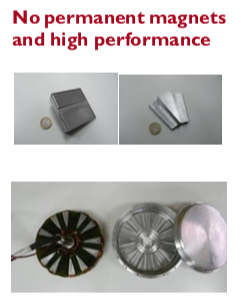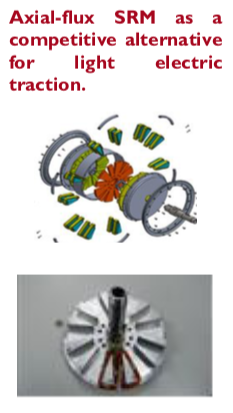 The Challenge
Since 2011, the abrupt increase of the raw material costs in rare earth permanent magnets has shifted interest in the field of electrical machines towards new topologies with a lower volume of permanent magnets, and even without those. This circumstance has renewed the interest for switched reluctance machines, especially in the field of electric traction.
SRM present some advantages, such as simple and robust construction and torque-speed characteristics that match very well with the needs of electric traction. However, conventional radial SRM drives have drawbacks as, for example, lower performance than permanent magnet synchronous motors or brushless D.C. motors, high torque ripple and acoustic noise.
Some studies carried out inaxial flux switched reluctance motors; demonstrate that with this type of machine is possible to obtain higher torque density than in conventional radial flux switched reluctance machines. Therefore, the proposed axial-flux switched reluctance machine is a competitive alternative to usual permanent magnet synchronous motor or brushless DC motor for light electric traction.
The Technology
Axial-flux switched reluctance machine with a stator and one or more rotors with a particular disposition of the stator and rotor poles with short magnetic paths andwithout flux reversal.
Innovative and advantages aspects
Machine without permanent magnets

Use of Soft Magnetic Composites (SMC) as magnetic materials

In-wheel or hub machine
Modular construction

High-performance machine
Current stage of development
A first operational prototype has been built and tested.
Desired business relationship
Other: Licensing opportunity with technical cooperation
Intellectual property status
Patent already applied for:ES & WO (PCT) priority application
Applications and Target Market
The machine is mainly stated for in-wheel electric traction but can be used in industrial applications such as fans, pumps and machine tools.
Technology Owner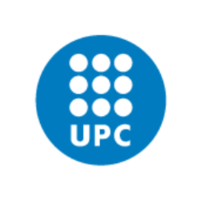 Universitat Politècnica de Catalunya - UPC
Technology Transfer Office
Related keywords
Electronics, IT and Telecomms
Electronic circuits, components and equipment
Electronic engineering
Magnetic and superconductory materials/devices
Machine Tools
Construction Technology
Materials Technology
Composite materials
Hybrid and Electric Vehicles
Automotive engineering
Automotive electrical and electronics
Engineering
Industrial Technologies
Energy Technology
Magnetic tapes
Electronics Related Market
Industrial Equipment and Machinery
Machine tools, other metal working equipment (excluding numeric control)
Power transmission equipment (including generators and motors)
Other industrial equipment and machinery
Motor vehicles, transportation equipment and parts
soft magnetic composites
modular construction
high-performance machine
magnetic materials
About Universitat Politècnica de Catalunya - UPC
Technology Transfer Office from Spain
Universitat Politècnica de Catalunya - UPC
The Universitat Politècnica de Catalunya - BarcelonaTech is a public institution dedicated to higher education and research in the fields of engineering, architecture and science, which contributes its knowledge and expertise in order to increase scientific output, transfer its results to society and provide a network of scientific and technical state-of-the-art facilities and technology valorization services that place us at the leading edge of innovation and economic development.

The UPC has established itself as a driver of innovation and is the technology partner of choice for companies and organizations with which it develops projects and builds partnerships. A role borne out by the numerous agreements and research projects that have been set in motion by groups, organizations and laboratories; the creation of new technology-based companies; the generation and exploitation of patents, and the scientific and technical services UPC makes available to its environment in order to generate progress and employment.

The Technology Transfer Office (SGI) is responsible of Designing, coordinating and implementing research valorisation strategies, carrying out the protection policy of the research results, marketing these results through license contracts and designing and setting up the University's enterprise creation model in order to transfer the results of the research to the market, protect and commercialize these results, promote the culture of entrepreneurship and innovation, and create technology-based companies within the UPC environment.
Technology Offers on Innoget are directly posted and managed by its members as well as evaluation of requests for information. Innoget is the trusted open innovation and science network aimed at directly connect industry needs with professionals online.