Summary of the technology
A new class of photoinitiators of living polymerization induced by visible light has been developed and is made available for testing (under MTA) and/or licensing. The developed initiators trigger the curing of resins by irradiation with low-intensity visible light, while providing polymers with good control of chain length. In addition, through decomposition of the initator, the cured material presents a different colour than the uncured resin.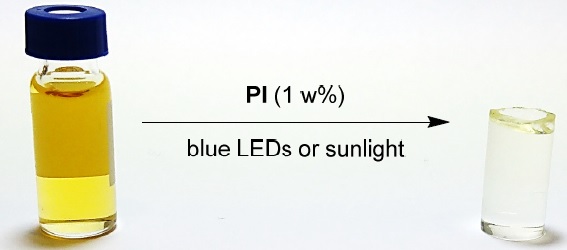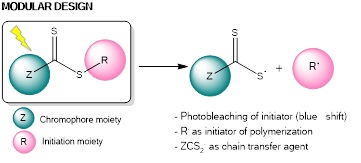 Description of the technology
The research group of Prof. Paolo Melchiorre at ICIQ is mainly dedicated to the discovery and development of new synthetic methodologies using light as a trigger of chemical reactivity. During the course of their works, they have developed a new class of compounds able to generate radicals upon light irradiation for application in photocatalytic methodologies. ICIQ is now developing through its innovation laboratory applications of these compounds as initiators for the polymer sector and is seeking a partner to jointly develop and commercialize the technology.
The developed photoinitiators feature a unique modular design allowing modifying easily two fundamental aspects of its operation - the wavelength of excitation on the one hand and the initiating radical on the other hand.
The main characteristics of the initiators are:
absorption in the UV-Visible range of light (UV, blue, green lights)
generation of radicals induces some photobleaching (colorless cured material)
living controlled polymerization can be induced
both chromophore and initiation moieties can be easily fine-tuned
accessible synthesis
initiators are shelf-stable
Chromophore group
The chromophore moiety responsible for light absorption can easily be modified through synthesis and optimized so that the UV-Vis absorption profile suits the needs of the desired curing. This allows replacing UV lamps currently used in curing processes for less hazardous and expensive LEDs emitting in the visible range. Through this approach, blue or even green LEDs can be used to promote the curing of the material. In addition, the designed chromophore group is such that, upon generation of the radical, the homolytic cleavage of the initiator gives rise to two species having a different light absorption profile than the initiator itself. In particular, the chromophore group absorption is significantly shifted to the blue, which gives rise to uncolored cured materials, despite the significant absorption of the initiator in the visible range.
Initiating moiety
Well-known initiating moieties can be generated through the photolysis of these photoinitiators. Remarkably, this approach also affords a narrower polydispersity index in the cured material than in thermally induced radical polymerization processes, together with a higher average molecular weight.
RAFT mechanism
When used in solution, the compounds may act as chain transfer agents, through the establishment of (presumably) a RAFT mechanism /living polymerization process. This suggests that the compounds described herein also behave as RAFT agents in determined conditions. For instance, methyl acrylate was polymerized at 80 ºC under light irradiation (460 nm, 100 mW) in the presence of 1 mol% of one of the initiators developed herein, resulting in molecular weight of PMA of 25,427 Da and a PDI of 1.21 after 265 minutes of reaction.
Applications
coatings (exterior, interior), dental resins, adhesives,3D printing, R&D in polymer science
Photoinitiators are not optimal for very fast-curing applications.
Desired business relationship
Patent licensing
Technology development
Adaptation of technology to other markets
Samples available for testing through MTA (contact us for more information)
Current development status
Experimental technologies
Intellectual property status
Patent already applied for
EP18382518
Europe

Additional information (attached documents)
Related keywords
Adhesives
Industrial manufacturing, Material and Transport Technologies
3D printing
3D printing design and modelling
Coatings
Plastics, Polymers
Chemical Technology and Engineering
Lighting, illumination
Chemistry
Industrial Products
Chemicals and Materials
Coatings and adhesives manufactures
Polymer (plastics) materials
Other speciality chemicals
Industrial chemicals
Other consumer services (including photo processing)
Commodity chemicals and polymers
About Institut Català d'Investigació Química (ICIQ)
Technology Transfer Office from Spain
Institut Català d'Investigació Química (ICIQ)
ICIQ is a leading R&D institute based in Tarragona (Spain) dedicated to the development of excellent research in the fields of chemistry and catalysis.
Technology Offers on Innoget are directly posted and managed by its members as well as evaluation of requests for information. Innoget is the trusted open innovation and science network aimed at directly connect industry needs with professionals online.