Summary of the technology
Self-Operated App for Classification, Diagnosis, and Rehabilitation of Language Disorders (Aphasia)
Project ID : 19-2019-6710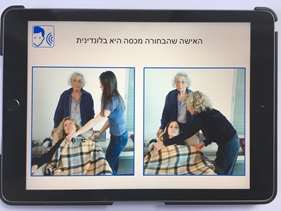 Category
Life science, Biotechnology
Keywords
Aphasia, Language comprehension disorder, Rehabilitation, Stroke, Augmentative Alternative Communication (AAC)
Current development stage
TRL7System prototype demonstration; In clinical setting
Application
Aphasia is an impairment of language, affecting speech and comprehension of speech and the ability to read and write and is the result of damage to the brain, most commonly from stroke (could also occur due to head trauma, brain tumors or infections).
21%-28% of stroke patients will suffer from aphasia which is associated with higher mortality, morbidity, and utilization of healthcare resources.
Low-intensity treatments of aphasia (2-3 hours/week, for 8 weeks) results in little improvement while high-intensity treatment (8-9 hours/week, for 11 weeks) results in significant effects. That, together with the impracticality of supporting that increase in therapist time requires a simple to use, self-treatment tool.
Our Innovation
The research group developed a tablet-based, patient-operated device offering dynamic diagnosis and therapy of language comprehension disorders. The tool evaluates and classifies type and severity of language impairment and generates a treatment plan through an iterative process.
The Advantages
Automatic and self-operated, at the home setting.
Therapy is evidence-based.
Therapy evolves based on the patient's progress and is personalized.
Modular – simple to add new modules and Languages to support additional settings.
Well-founded on science and know-how accumulated over years of research in linguistics and neuroscience.
Fig. 1:Tablet Mounted Self-Operated App
Opportunity
The technology addresses a large market:
~1M Aphasia sufferers in the US alone, at any given time
Cost, per patient, attributable specifically to Aphasia, in post-stroke patients, is estimated at $2,000
The technology taps this market by addressing the gap in the health system's ability to provide the required treatment for patients with language comprehension disorders and by facilitating the rehabilitation of these patients.
Project manager
Mel Larrosa
VP Business Development Healthcare
Project researchers
Yosef Grodzinsky
HUJI, Faculty of Humanities
Cognitive Sciences
Related keywords
Medicine, Human Health
Biology / Biotechnology
Genome Research
Micro- and Nanotechnology related to Biological sciences
Monoclonal Antibodies and Hybridomas
Gene Splicing and Manufacturing Equipment
Other Genetic Engineering
Molecular design Market
Micro- and Nanotechnology related to Biological sciences
Biochemistry / Biophysics Market
Toxicology Market
In vitro Testing, Trials Market
Stem cells and biobanks
Cellular and Molecular Biology Market
Population genetics Market
Gene Expression, Proteom Research Market
Bioinformatics Market
Enzymology/Protein Engineering/Fermentation
Genetic Engineering Market
Diagnostic
Therapeutic
Other Medical/Health Related
Agro and Marine biotech
Anatomy, Pathology, Immunology, Physiology
Clinical Medicine
Computer related
Computer Software Market
Medical/health
diagnostics
Life Science & Biotechnology
About Yissum - Research Development Company of the Hebrew University
Technology Transfer Office from Israel
Yissum - Research Development Company of the Hebrew University
Yissum Research Development Company of the Hebrew University of Jerusalem Ltd. Founded in 1964 to protect and commercialize the Hebrew University's intellectual property. Ranked among the top technology transfer companies, Yissum has registered over 8,900 patents covering 2,500 inventions; has licensed out 800 technologies and has spun-off 90 companies. Products that are based on Hebrew University technologies and were commercialized by Yissum generate today over $2 Billion in annual sales.
Technology Offers on Innoget are directly posted and managed by its members as well as evaluation of requests for information. Innoget is the trusted open innovation and science network aimed at directly connect industry needs with professionals online.