Summary of the technology
Clay-Polymer Sorbents for the Removal of Organic Pollutants from Water
Project ID : 8-2012-2876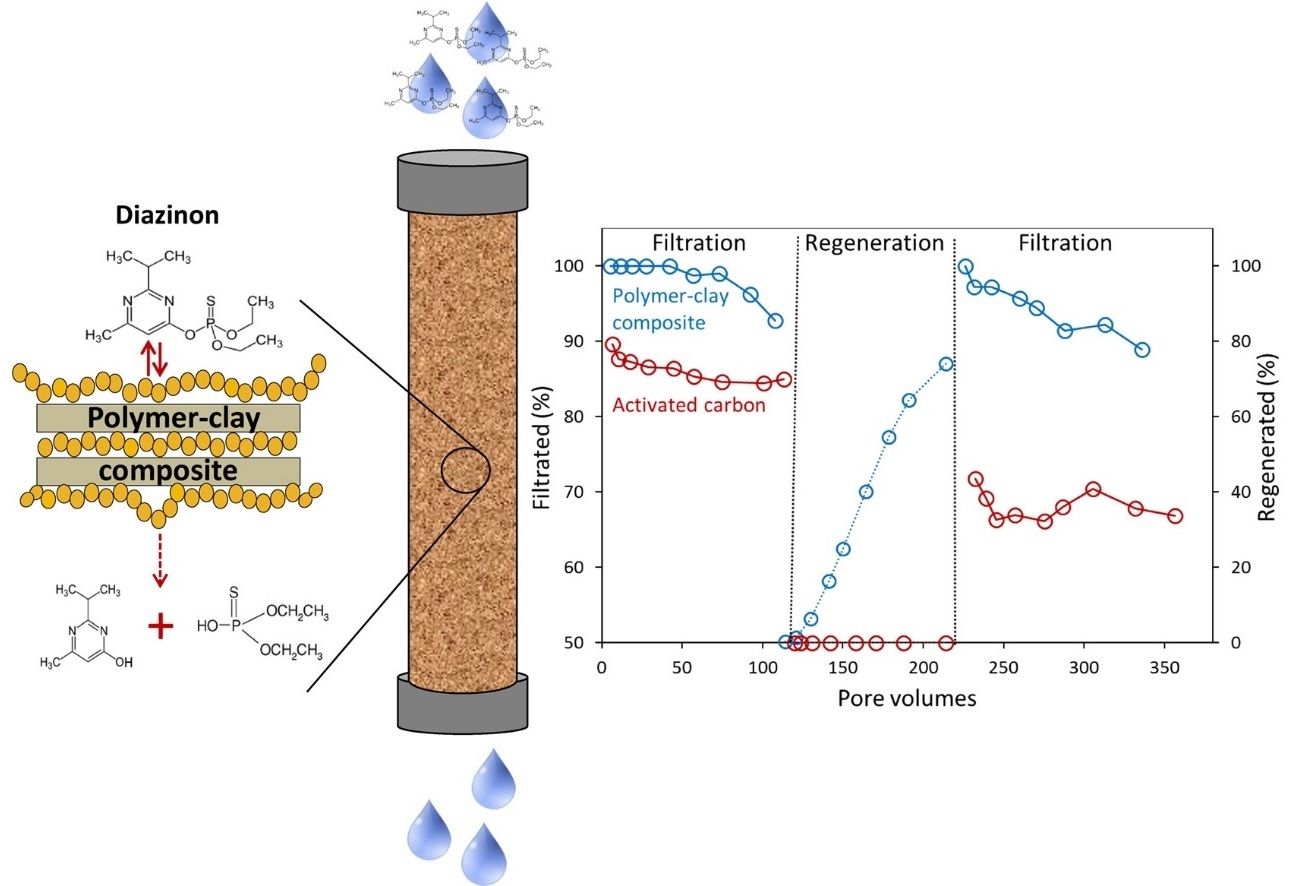 Description of the technology
Application
Granulated active carbon is the most common sorbent used for water filtration. However, it is not a pollutant-specific sorbent, which can result in poor removal of some pollutants, especially in the presence of naturally-occurring organic matter. Furthermore, with the rising concern of pharmacologically-active compounds in water sources, there is an urgency to improve the removal of these emerging micropollutants.
Our Innovation
This project discloses a novel clay-polymer sorbent that successfully demonstrated the superior removal of various groups of micropollutants, including herbicides, pharmaceuticals, industrial compounds, and polyaromatic hydrocarbons, even in the presence of naturally-occurring organic matter.
The expertise of the research group relates to modifying clay surfaces to optimize the affinity for micropollutants. It is expected that this approach will result in the rapid uptake of micropollutants at rates much greater than activated carbon. Under certain conditions, the clay-polymer column can be regenerated at a cost much less than transporting and incinerating spent active carbon. In addition, the form factor is not limited to columnar
Advantages
Broad Applicability: Relevant for various categories of micropollutants
Low-cost: The clay-polymer composite is low-cost and widely available
Non-fouling: Not susceptible to fouling by natural-occurring organic matter
Opportunity
Relevant for removing water pollutants from in- and outflows
Fig 1. Representative filtration-regeneration-filtration activity by polymer-clay sorbent for an organo-phostphate pesticide
Project manager
Amichai Baron
VP, Head of Business Development, Agritech & Envir
Project researchers
Yael Mishael
HUJI, Faculty of Agricultural, Food and Environmental Quality Sciences
Soil and Water Sciences
Related keywords
Industrial manufacturing, Material and Transport Technologies
Plastics, Polymers
Industrial Technologies
Agriculture and Marine Resources
Pesticides
Environment
Ecology
Environmental Engineering / Technology
Measurement and Detection of Pollution
Climate Change mitigation
Soil and Groundwater Pollution
Clean Production / Green Technologies
Remediation of Contaminated Sites
Waste Management
Water Management
Drinking Water
Industrial Water Treatment
Municipal Water Treatment
Rain Water
Water Resources Management
Industrial Products
Polymer (plastics) materials
Pollution and Recycling Related
Water treatment equipment and waste disposal systems
Water, sewerage, chemical and solid waste treatment plants
Water technologies
Cleantech & Environment
About Yissum - Research Development Company of the Hebrew University
Technology Transfer Office from Israel
Yissum - Research Development Company of the Hebrew University
Yissum Research Development Company of the Hebrew University of Jerusalem Ltd. Founded in 1964 to protect and commercialize the Hebrew University's intellectual property. Ranked among the top technology transfer companies, Yissum has registered over 8,900 patents covering 2,500 inventions; has licensed out 800 technologies and has spun-off 90 companies. Products that are based on Hebrew University technologies and were commercialized by Yissum generate today over $2 Billion in annual sales.
Technology Offers on Innoget are directly posted and managed by its members as well as evaluation of requests for information. Innoget is the trusted open innovation and science network aimed at directly connect industry needs with professionals online.