Summary of the technology
New low cost magnetic adsorbents prepared from egg-shell membranes and deep eutectic solvents, which selectively and effectively remove purine compounds and nucleic acids from liquid matrices, such as fermented drinks and/or alcoholic beverages.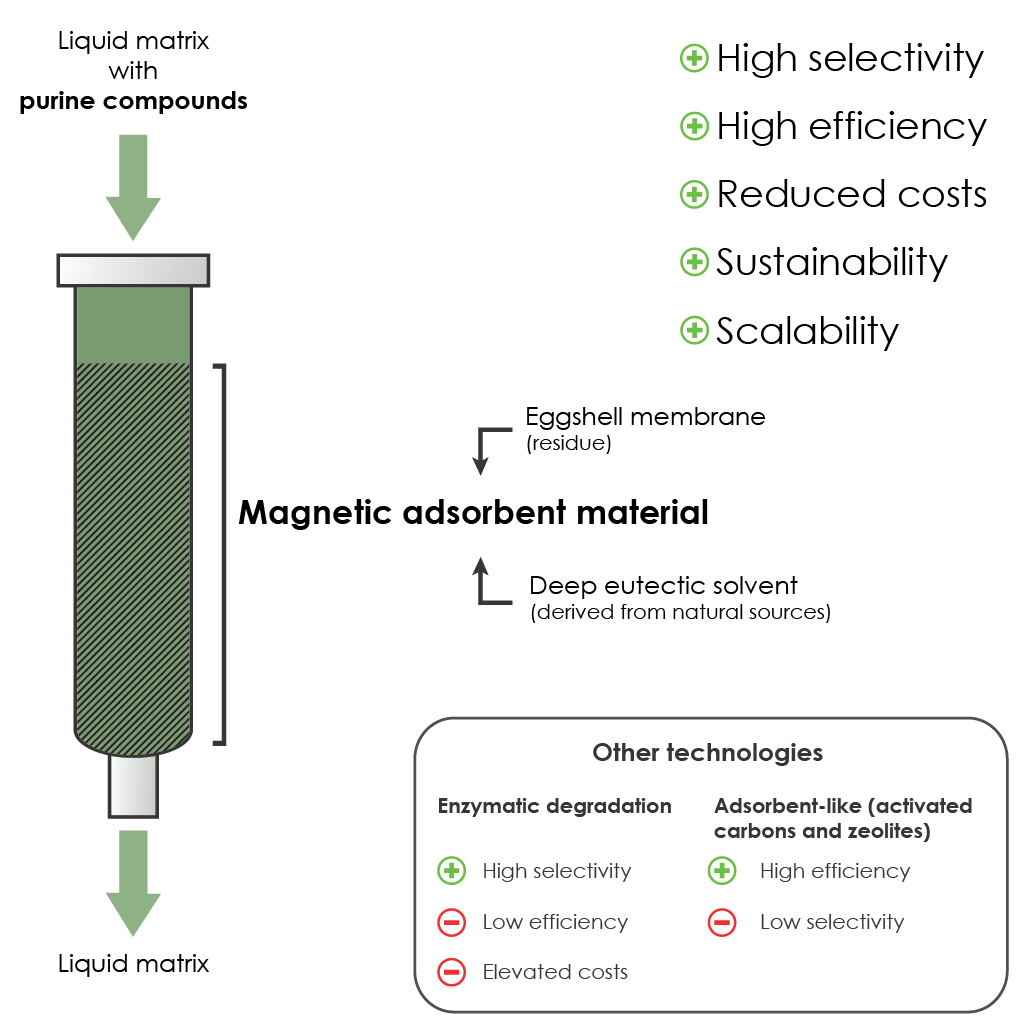 CONTEXT
Most alcoholic drinks, such as wine and beer, are prepared by fermentation. In addition to ethanol, beverages have several compounds in their composition, such as nucleic acids and their degradation products (purine-based compounds). Purine compounds when ingested by humans are broken into uric acid, responsible for several diseases, including gout and increased abdominal perimeter.
To reduce the purine compounds content in fermented beverages, enzymatic degradation processes have been proposed. However, this approach has a reduced degradation rate and a high cost. The adsorption/removal of purine-based compounds using activated carbon and zeolites has also been described; however, these processes have low selectivity (since amino acids, aromas and/or other essential nutrients are also removed), thus limiting their application.
The present technology comprises the use of magnetic adsorbents capable of selectively and efficiently remove purine compounds and nucleic acids from liquid matrices. The adsorbent materials are sustainable and of low cost since they are prepared using a residue, the eggshell membrane, and deep eutectic solvents derived from natural sources.
APPLICATIONS
This technology can be used for purine compounds removal from:
ALCOHOLIC AND FERMENTED BEVERAGES (food and beverages industry)
BIOLOGICAL MATRICES (R&D and biopharmaceutical and biotechnology industries)
BENEFITS
SELECTIVITY
EFFICIENCY: 80-90% removal efficiency of purine compounds from laboratorial samples.
LOW COST AND SUSTAINABILITY: produced from eggshell membranes and deep eutectic solvents derived from natural sources.
IP RIGHTS
Provisional patent application filed in Portugal (priority date: 29-10-2018).
DEVELOPMENT STAGE
TRL 4: small-scale laboratory prototype. Ongoing studies with several types/samples of beer.
With the necessary support, 6 months are sufficient for the respective scale-up and commercialization.
The experimental protocol for the attainment and production of the technology is implemented at the laboratorial level, and inventors are available to publicly exhibit the technology.
KEYWORDS
Magnetic adsorbent
Purine compounds
Fermented beverages
Eggshell membrane
Nucleic acids
Deep eutectic solvent
DEVELOPED BY
Researchers from Aveiro Institute of Materials (CICECO) from the University of Aveiro.
BUSINESS OPPORTUNITY
Licensing agreement.
PARTNERSHIP
The University of Aveiro seeks industrial partners within food/beverages and biotechnology areas with interest on the application and/or commercialization of magnetic adsorbent materials for purine compounds and nucleic acids removal from liquid matrices.
Technology #CI18013
Intellectual property status
Patent already applied for
115116
Portugal

Technology Owner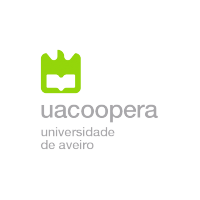 uacoopera
Technology Transfer Office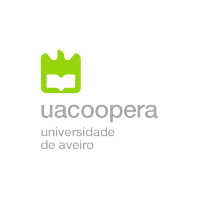 UACOOPERA University of Aveiro
Technology Transfer Office at uacoopera
Additional information (attached documents)
Related keywords
Industrial manufacturing, Material and Transport Technologies
Materials Technology
Physical Sciences and Exact Sciences
Chemistry
Organic Chemistry
Separation Technologies
Filtration and Membrane Processes
Adsorption
Biological Sciences
Medicine, Human Health
Physiology
Biology / Biotechnology
Micro- and Nanotechnology related to Biological sciences
Industrial Biotechnology
Agrofood Industry
Technologies for the food industry
Drink Technology
Food Additives/Ingredients/Functional Food
Food Processing
Food Technology
Protecting Man and Environment
Waste Management
Biotreatment / Compost / Bioconversion
Recycling, Recovery
Consumer related
Food and Beverages
Wine and liquors
Health food
Industrial Products
Chemicals and Materials
Membranes and membrane-based products
Other speciality materials
Speciality/performance chemicals
Pollution and Recycling Related
Chemical and solid material recycling
About uacoopera
Technology Transfer Office from Portugal
uacoopera
The University of Aveiro is a young and innovative university, which fosters entrepreneurship and technology and knowledge transfer, with expertise in a wide range of knowledge areas namely IT, Life Sciences (Biology, Chemistry, Biochemistry, Health, Environmental Sciences), Nanotechnology and Materials Science, Mechanics, Physics, Mathematics, Building, Design and Management. uacoopera is the Technology Transfer Office of University of Aveiro. This office engages in value adding activities such as start-up and spin-off creation, support to university-industry cooperation (sponsored research and consultancy services), IP protection and prosecution, licensing, marketing, among others. It covers four main interrelated functional areas – Intellectual Property Management, Licensing, Entrepreneurship, and Industry Liaison.
Technology Offers on Innoget are directly posted and managed by its members as well as evaluation of requests for information. Innoget is the trusted open innovation and science network aimed at directly connect industry needs with professionals online.