Summary of the technology
This new technology has a construction concept clearly delimited from all the existing building systems in that:

1) For constructing, it uses a single building material obtained from organic raw materials, in the form of blocks or panels;
2) The building is closed with same blocks or panels on all its six sides, floor slab included. It is not tied up to foundations or independent columns of resistance.
3) The building does not require an independent structure of resistance made of concrete, metal or wood.
4) Building resistance is distributed per each square centimetre of it, whether it be external walls, partitioning walls, ceiling, slab floor, or roof, and is being obtained by post-compressing the elements making up the building with hidden post-compressing rods.
5) The building made in this way may be permanent or temporary, as appropriate.
6) The building achieved has the best parameters in terms of thermal transfer, does not support combustion and does not absorb water (see attached PDF file).
Description of the technology
See the attached PDF files.
Intellectual property status
Other forms of protection
The main information related to this know-how is patented in Romania (six patents), USA (two patents), European Community (one patent), Israel (two patents), Australia (one patent), South Africa (two patents), UAE (one patent), Egypt (one patent).
Current development status
Finished technologies
Desired business relationship
Technology selling
Patent licensing
Technology development
Technology Owner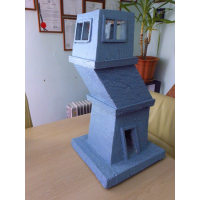 ADVANCED PASSIVE TECHNOLOGY
Independent Researcher&Inventor
Additional information (attached documents)
Related keywords
Industrial manufacturing, Material and Transport Technologies
Construction Technology
Materials, components and systems for construction
Construction methods and equipment
Materials Technology
Adhesives
Building materials
Composite materials
Protecting Man and Environment
Environment
Ecology
Clean Production / Green Technologies
Waste Management
Recycling, Recovery
Social and Economics concerns
Industrial Products
Chemicals and Materials
Coatings and adhesives manufactures
Other Industrial Products (not elsewhere classified)
Other
Manufacturing
Other manufacturing (not elsewhere classified)
Construction and Building Products
Manufacture of construction materials, components and systems
Construction companies
About Me
Not Defined from Romania
ADVANCED PASSIVE TECHNOLOGY
I have created a complete technology, starting from the recycling and industrialisation of organic waste, transformation of these into building materials, and ending with a building system for using these building materials in a passive building that does not consume energy from external supplier.

This new technology consists of:
1) A method of recycling organic waste, converting the same into a raw material;
2) Industrially processing of the above raw material to obtain composite building materials, such as building blocks and panels, doors, window frames, interior and exterior floors, etc. with the following main features:
- density between 200 kg/m3 and 800 kg/m3
- maximum compressive strength:123.8 N/mm2;
- minimum bending strength: 9.10 N/mm2
- 100% ecological and 100% recyclable after use;
- fire-resistant (do not support combustion);
- thermal-insullating (thermal conductivity coefficient (λ): minimum 0.055 W/mK - maximum 0.052 W/mK);
- water-resistant;
- sound-absorbing;
3) A building system using above building materials, for making passive buildings with zero consumption of energy from external supplier, earthquake-, hurricane-, tornado- and flood-resistant, fire-resistant and water-resistant.
Technology Offers on Innoget are directly posted and managed by its members as well as evaluation of requests for information. Innoget is the trusted open innovation and science network aimed at directly connect industry needs with professionals online.