Summary of the technology
Petanto
PaaS - Platform as a Service
Project ID : 10-2017-4463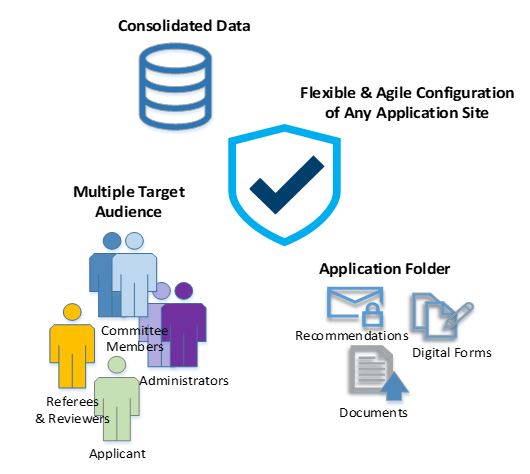 Description of the technology
Keywords
SaaS, E2E
Current development stage
TRL7System prototype demonstration
Seeking for seed investment
Application
Competitive applications processes are widely implemented across academic and nonacademic organizations. Managing the application processes is highly sensitive for both sides.
Application processes like scholarships, tenure track positions, graduate registration, thesis submission, exchange students, dean office for student activities, overseas students registration are pillars of the academic world
Outdated communication infrastructures (e.g. fax, email, form) result in:
Poor customer experience and frustrating communication
Data loss and inconsistency
Poor basis for an effective, data-driven application assessment
Opaque and ineffective process management for applicants, admins, evaluators and referees result in negative effect for organization brand rating.
Our Innovation
A software package supporting a broad range of applications processes was developed and successfully implemented in The Hebrew University of Jerusalem. It is a single digital system across application's E2E life cycle for applicants, referees, admins and committee decision makers
Refining different application processes to standard 'LEGO' like building blocks allows agile deployment of many different application spaces.
"Petanto" software defines a unique and standardized method which is more efficient than email, paper or form based systems.
A "Plug & Play" methodology enables a quick deployment for most cases, easy adaptations and adjustments for emerging requirements.
Advantages
Singe application folder containing all the relevant material from any source (applicant, referee, administration..), produces an innovated user experience for each participantof the process
Provides high data accuracy, integrity, consistency and data-driven comparison of applicants
Easy adaptations for broad range of competitive application processes and adjustments for emerging requirements
A B2B scalable solution for different organization sizes
"Transparent" process for applicants, admins, judges andreferee recommendations.
Agile deployment of application space/site via standard building blocks
Can be applied to all sorts of academic and nonacademic procedures
Multilingual support
Opportunity
Petanto brings value to many organizations struggling for maintaining a cost-effective and efficient application and enrolment process:
Universities and colleges
Philanthropic & funding organizations
Government organizations and municipalities
Non-governmental organizations
Project manager
Aviv Shoher
SVP BUSINESS DEVELOPMENT
Project researchers
Diego Kramer
HUJI, Authority for Computation
Related keywords
Information Processing, Information System, Workflow Management
IT and Telematics Applications
Multimedia
Computers
Computer Graphics Related
Specialised Turnkey Systems
Scanning Related
Peripherals
Computer Services
Computer Software Market
Other Computer Related
Web Technologies
Computer Science & Engineering
About Yissum - Research Development Company of the Hebrew University
Technology Transfer Office from Israel
Yissum - Research Development Company of the Hebrew University
Yissum Research Development Company of the Hebrew University of Jerusalem Ltd. Founded in 1964 to protect and commercialize the Hebrew University's intellectual property. Ranked among the top technology transfer companies, Yissum has registered over 8,900 patents covering 2,500 inventions; has licensed out 800 technologies and has spun-off 90 companies. Products that are based on Hebrew University technologies and were commercialized by Yissum generate today over $2 Billion in annual sales.
Technology Offers on Innoget are directly posted and managed by its members as well as evaluation of requests for information. Innoget is the trusted open innovation and science network aimed at directly connect industry needs with professionals online.