Summary of the technology
Non-toxic antibacterial peptide cocktail that kills antibiotic-resistant bacteria, preventing infections transmitted in food and water, through contaminated, high-traffic surfaces
Project ID : 8-2017-4423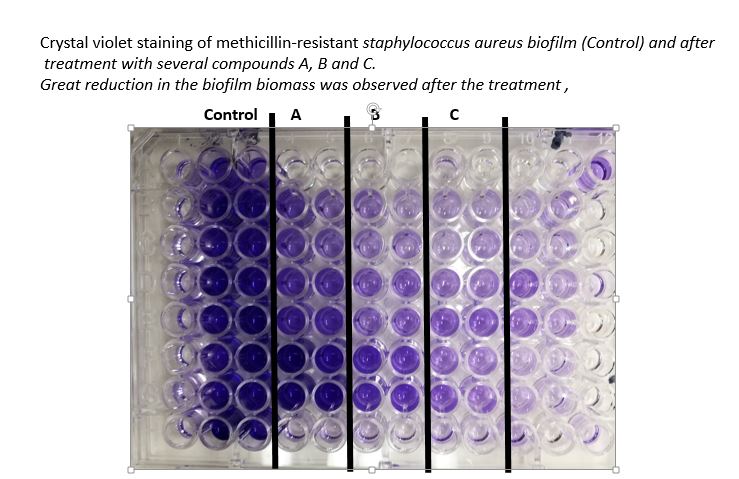 Description of the technology
Non-toxic antibacterial peptide cocktail that kills antibiotic-resistant bacteria, preventing infections transmitted in food and water, and in contaminated, high-traffic surfaces
| | |
| --- | --- |
| Categories | Biofilm, anti-biofilm, anti-biofilm peptides, food safety, antiseptic agent, disinfectant agents, antibacterial agents, antimicrobial agent, chemical disinfectants, biocides. |
| Development Stage | Pre-clinical proof of concept and initial results |
| Patent Status | PCT application filed |
Innovation summary
We have developed an environmentally-friendly,non-toxic peptide-based mixture which can serve as an antibacterial cleaning agent for killing many types of bacteria rapidly, and efficiently degrading mature biofilm structures.
These easily-synthesized compounds offer a low-cost alternative to chlorine-based and other chemical disinfectants. Excessive use of such chemicals results in highly-resistant bacteria that form biofilms– encased microbe colonies thatadhere to food-contactsurfaces, water filters, and other high-use surfaces.
Technology
The agentconsists of a synthesized cocktail of 20-mer antibacterial peptides, synthesized using a mixture of at least two amino acids in each coupling step along the peptide synthesis, to obtain random peptide mixtures with defined chain lengths and stereochemistry, but with entirely random sequences.
This random-sequenced peptide mixture demonstrated far more effective anti-biofilm activity towards antibiotic-resistant bacteria, as compared to specific sequence anti-biofilm peptides. Based on what we showed using scanning electron microscopy, we hypothesize that these compounds are able to penetrate the extra-cellular matrix of bacterial biofilm, and kill the bacteria inside the biofilm structure.
Benefits
·Highly active agent kills bacterial cells and destroys biofilms rapidly and effectively
·Non-toxic, environmentally-friendly biological agent
·Does not require purification, easier and cheaper than synthesizing sequence-specific peptides
·Highly efficient, requires low concentration to kill vast amounts of bacteria
·May be applied in foods and food-processing surfaces.
Development milestones
·The compounds showed strong and broad antimicrobial activity.
·The compounds showed effective anti-biofilm activity.
·We are studying the toxicity of our compounds on mouse models.
·The agent showed low toxicity towards human embryonic kidney cells.
Applications
·Disinfectant and cleaning agent
·Hospital environments
·Biomedical devices
·Food packaging
·Dentistry equipment
·Water filtration systems and water bars
·Biofouling buildup on marine vessels