Summary of the technology
We have developped a photocatalyst system able to promote the reduction of carbonyl groups to hydroxy groups using water as hydrogen source under light irradiation. The method features an exquisite selectivity and mildness of conditions, making it suitable for highly functionalized substrates.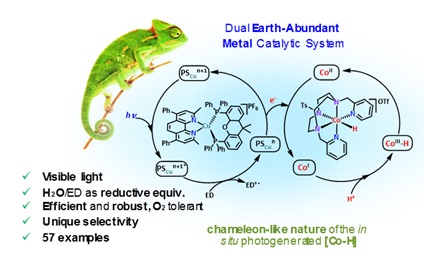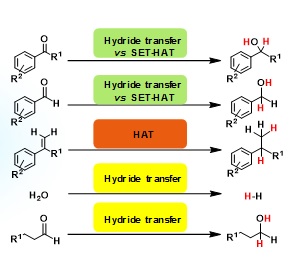 Technology description
We present an efficient, general and robust light-driven methodology based on earth-abundant elements to reduce aryl ketones, aryl olefins and aldehydes (up to 1400 TON). The dual catalytic system involves a robust and well-defined cobalt complex and a copper photoredox catalyst that use visible light as driving-force and H2O and an electron donor (typically a tertiary amine) as hydride source. The cobalt catalysts used are based on aminopyridine ligands active for photocatalytic water reduction. Moreover, the dual catalytic system operates in aqueous mixtures (80-60% water) and tolerates the presence of oxygen. Exquisite selectivity towards the hydrogenation of aryl ketones is observed in presence of terminal olefins, aliphatic ketones and alkynes. Remarkably, the catalytic system also shows a unique selectivity for the reduction of acetophenone in the presence of aliphatic aldehydes. 
Innovative aspects
Inexpensive hydrogen source (water) - non hydride
highly specific to double bonds coupled to aromatic ring
tolerant to oxygen
eart abundant metal catalyst
Current development status
Experimental technologies
Applications
Synthesis of fine chemicals, treatment of waste
Desired business relationship
Technology selling
Patent licensing
Technology development
New technology applications
Adaptation of technology to other markets
Intellectual property status
Patent already applied for
PCT/ES2017/070314
PCT

Technology Owner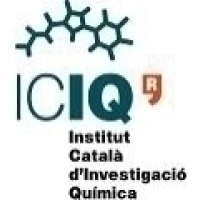 Institute of Chemical Research of Catalonia
Technology Transfer Office
Related keywords
Physical Sciences and Exact Sciences
Chemistry
Organic Chemistry
Other
photochemistry
About Institute of Chemical Research of Catalonia
Technology Transfer Office from Spain
Institute of Chemical Research of Catalonia
The Institute of Chemical Research of Catalonia represents one of the very first fruits of the new scientific policy of the government of Catalonia (Spain) aimed at creating new research centres in strategic areas. ICIQ, in particular, has been created with the ambition of becoming a reference for chemistry in the European Research Space.

Our society faces important challenges in the XXI century, among which health and environmental concerns are of outmost importance. Chemistry will play an essential role in both of these challenges. To succeed, our increasingly knowledge-based economy will require a solid and strong chemical industry; currently 150.000 jobs in Catalonia (and more than 2 million in the EU) directly arise from the chemical industry. In order for this industry to be successful in the future, it must take a sustainable approach based on the rational use of feed-stocks and raw materials. For this, fundamental chemical research needs to be funded and novel approaches into transforming matter must be developed.

We at ICIQ consider that catalysis is the key activity for sustainable chemistry. Catalytic processes can minimize raw materials and energy consumption, and can lead to the selective formation of target products with minimal generation of wastes. In line with this consideration, we have taken catalysis as one of our main research topics.

Complementary to our research focus, attention has been paid to the development of a simple and efficient organizational model for ICIQ, able to overcome known difficulties normally associated with larger and more traditional research institutions. The Institute of Chemical Research of Catalonia aims at bridging the gap between academic research and industry, focusing its research on catalytic chemical processes for applications in health, energy and sustainability.

At ICIQ, we consider that patents are highly efficient, safe and solid tools to provide protection from competitors. This is why we file patents for our in-house developed-technologies: to give our co-development projects with industry a strong starting IP position. As a research centre our goal is always to co-develop our technology adapting it to the industrial partner's specific needs and ultimately transfer the technology to this company, with a flexible licensing strategy adapted to each case.
Technology Offers on Innoget are directly posted and managed by its members as well as evaluation of requests for information. Innoget is the trusted open innovation and science network aimed at directly connect industry needs with professionals online.