Resumen de la tecnología
Ensayo de componentes sometidos a alta presión (tuberías y elementos de conducción), que permite:

1. Evaluar la Integridad estructural y análisis de fallos.
2. Reproducir el ciclo de trabajo (0-6000bar-0).
3. Conocer el comportamiento de nuevos componentes sometidos a alta presión.
4. Determinar la fatiga del componente real bajo la presión de trabajo.
5. Realizar ensayos de fractura y fatiga hidráulica hasta 6.000 bares.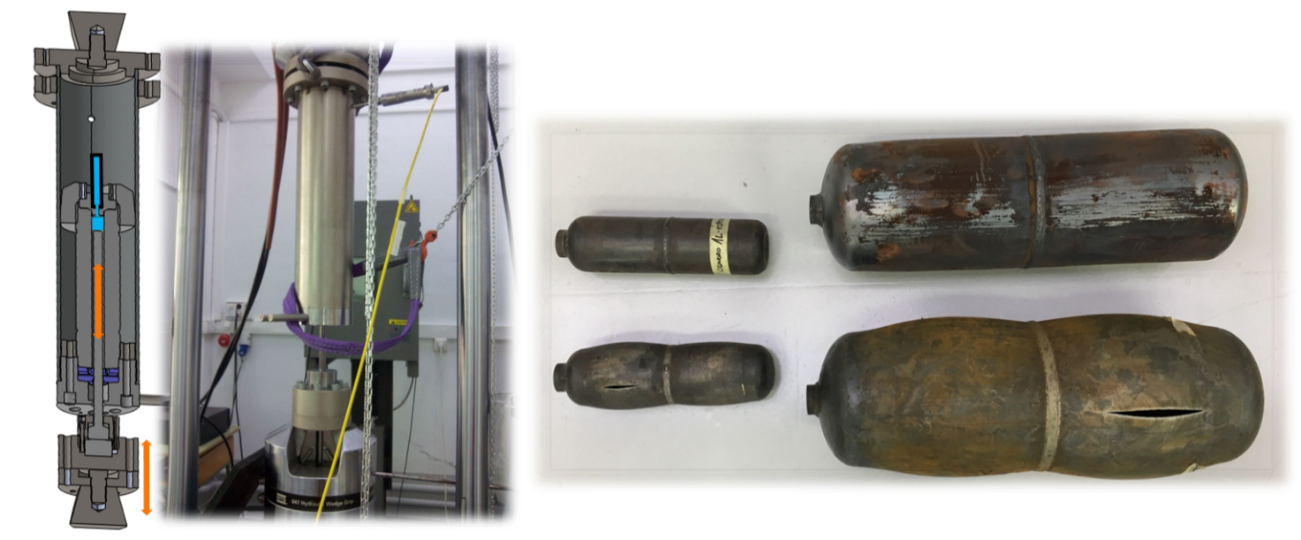 Accesibiliad
Personal de contacto: - Isidoro Iván Cuesta Segura y Jesús Manuel Alegre Calderón, Grupo de Investigación de Integridad Estructural (GIE) E-mail: iicuesta@ubu.es; jalegre@ubu.es ; http://www.ubu.es/integridad-estructural-gie
Breve descripción sobre su utilización
Se podrán verificar de manera rápida y sencilla nuevos componentes sometidos a alta presión interna conociendo su comportamiento a fractura y fatiga (vida a fatiga), permitiendo realizar un mantenimiento preventivo de los equipos.
Comisiones
Solicitar oferta, el coste es variable en función del tipo de ensayo a realizar (fractura, fatiga de bajo número de ciclos, fatiga de alto número de ciclos, …).
Información adicional (documentos adjuntos)
Palabras clave relacionadas
Industrial manufacturing, Material and Transport Technologies
Energy Technology
Agrofood Industry
Industrial Products
Other
Sobre Universidad de Burgos
Oficina de Transferencia de Conocimiento de España
UNIVERSIDAD DE BURGOS
El objetivo de la Oficina de Transferencia de Conocimiento (OTRI) de la Universidad de Burgos es promover la Innovación tecnológica a través de la transferencia de resultados de investigación y las conexiones entre la Universidad y los nuevos requerimientos y realidades de la sociedad - somos el vínculo entre la Universidad y la Industria. Persona de Contacto: José Manuel López (jmllopez@ubu.es)

Technology Offers on Innoget are directly posted and managed by its members as well as evaluation of requests for information. Innoget is the trusted open innovation and science network aimed at directly connect industry needs with professionals online.