Summary of the technology
Our unique process allow us to generate Copper Nanoparticles in Aqueous suspension. This suspension provides protection against oxidation for a minimum of 1 year in storage while also maintaining the shape and size of the nanoparticles and allowing safe transportation of the product.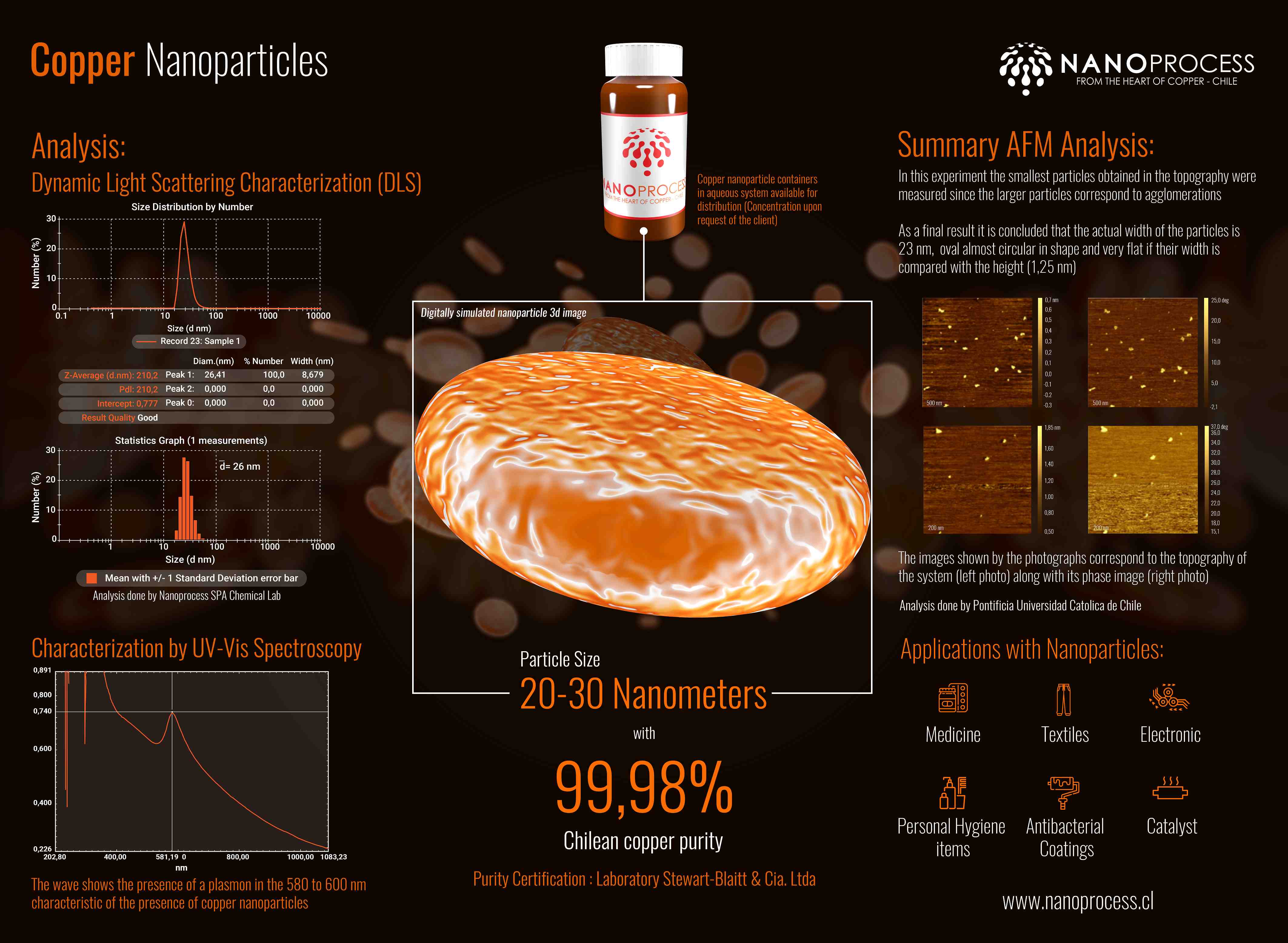 Description of the technology
Cooper nanoparticle contained in aqueous systems available for distribution. Benefits of this product compared to powder presentation:
- Facilitates adding copper nanoparticles to pigments in paint formulations.
- Facilitates the dispersion and stabilization of paint mixtures.
- Does not contain VOCs (Volatile Organic Compounds).
- Longer shelf life compared to powder form, no oxidation or loss of its unique characteristics.
- Production process allows adjustment of the size distribution of the nanoparticles.

Technical data sheet:
Morphology: Disk Sheet
Average Particle Size: 28nm
Particle Size Distribution: 21 - 32 nm (80%), 18 -50 nm (100%)
Density: 0,1 - 0,5 grs/ml
Purity (%): Cooper: 99.99%
CAS#: 7440-50-8
Stabilizers: Organic Biodegradable, Non phenol nor volatile compounds
Specifications
Technology Owner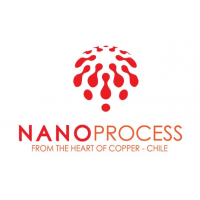 Nano Process SPA
Small and Medium Enterprise
Related keywords
Electronics, IT and Telecomms
Industrial manufacturing, Material and Transport Technologies
Industrial Technologies
Energy Technology
Physical Sciences and Exact Sciences
Biological Sciences
Agriculture and Marine Resources
Agrofood Industry
Protecting Man and Environment
Computer related
Electronics Related Market
Medical Health related
Energy Market
Consumer related
Industrial Products
About Nano Process SPA
Small and Medium Enterprise from Chile
Nano Process SPA
Our company NANO PROCESS SPA. is a startup based in Antofagasta, Chile - South America, and we are currently manufacturing a Copper (Cu) Nanoparticles Aqueous Suspension with an average particle size of 28 nm (Technical Data Sheet and Product Brochure on files attached).

After an initial period of almost 5 years of R&D, we have been able to structure a proprietary production process that allows us to manufacture our "Copper (Cu) Nanoparticles Aqueous Suspension" made out of 99.99% pure copper cathodes produced by local mining companies in Chile. As you may know, Chile is the largest copper producer in the world and our effort is part of Chile's strategy to add value in the Chilean Mining Industry Value Chain. At the same time, Chile's strategic position as a world-class copper producer, allows us to secure the permanent supply of high quality copper cathodes as input for our manufacturing process.

Our manufacturing process is modular and allows us to produce important quantities of our Copper (Cu) Nanoparticles Aqueous Suspension with copper nanoparticles between 20 and 30 nanometers (nm). As a by-product, we can also obtain smaller sized copper nanoparticles (particle sizes between 5 and 10 nm). Our initial plant throughput design has a maximum capacity production of 3.000 kg/month and based on our modular design, we can escalate production by installing several modules to manufacture higher quantities as required following market demand increases and maintaining a high quality of purity and size.

Our nanoparticles are suspended and stabilized in water medium and we do not have organic volatile compounds (VOC), no ethanol, no alcohol and no glycol. This makes them very suitable for applications in the painting industry. We have estimates that our nanoparticles can remain stable for years without the risk of rusting. We have the flexibility to adapt to customer's required concentrations. We can increase concentration in order to transport more nanoparticles in a container of 1000 liters or we can deliver diluted solutions for the customer to immediately add to their process.

Our manufacturing process can be adapted to produce other alternative nanoparticles in addition to copper. We can produce silver, gold, platinum and palladium nanoparticles with small process adjustments and can also, with additional small investments on technology, explore production of other metals nanoparticles as required by our potential customer´s applications.

On this respect, we are open to explore partnership alternatives in order to jointly develop applications for specific niche market using our Copper (Cu) Nanoparticles Aqueous Suspension. Main niche markets/applications we have so far identified and are prospecting are: (i) anti-fouling paintings and coatings, (ii) conductive inks and pastes for 3D printed electronics and photovoltaic cells applications, (iii) anti-bacterial additive for medical devices, pharma and/or cosmetics applications.

If convenient to our potential partnership, we could also explore: (1) the production of alternative nanoparticles like: Copper Oxide, Zinc, Silver and Gold by using the same production process developed internally for our current manufacturing of our Copper (Cu) Nanoparticle Aqueous Suspension and (2) the feasibility of setting up production of our Copper (Cu) Nanoparticle Aqueous Suspension on your own premises location different from Chile (i.e. USA and/or Europe).

Based upon Becker & McKenzie Lawyers' advise we have decided to protect our manufacturing process k-innovations by applying a Trade Secret Program.

If there is any interest on additional information, we would sincerely appreciate if you could provide the appropriate contact details in order to coordinate a conference call to review details of our value proposition and we are also open to sending product samples for analysis as required and if necessary we would welcome you to visit us at our headquarters located in Antofagasta, Chile.

With best regards,

Roberto Cifuentes
CEO
Nano Process SPA
Email: rcifuentes@gprocess.cl
Mobile: +569 8448 6828
Technology Offers on Innoget are directly posted and managed by its members as well as evaluation of requests for information. Innoget is the trusted open innovation and science network aimed at directly connect industry needs with professionals online.