Summary of the technology
Improved Big Data Delivery over the Internet
Project ID : 10-2016-4321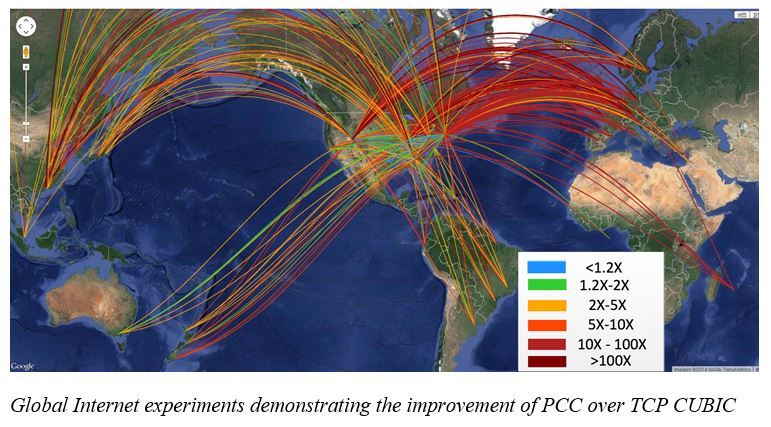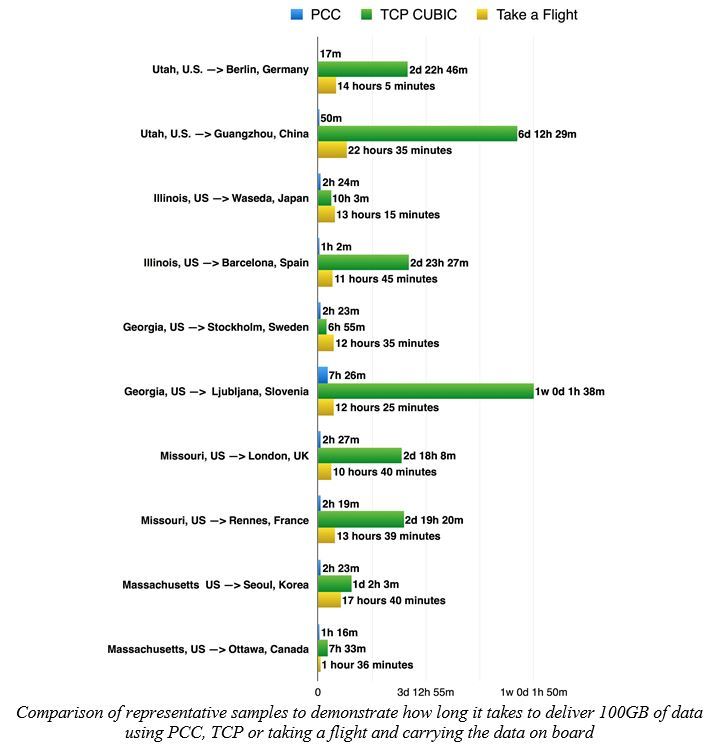 Description of the technology
in collaboration with Professor P. Brighten Godfrey the University of Illinois at Urbana-Champaign
Performance-oriented congestion control (PCC)'s flexible transport architecture dramatically improves data delivery
| | |
| --- | --- |
| Categories | Web Technologies; Big Data |
| Development Stage | Proof of concept; ongoing research |
| Patent Status | Patent application submitted |
Highlights
The Transport Control Protocol (TCP) congestion control architecture was deployed to relieve congestion of data delivery over the Internet.

Since its deployment, it has failed to achieve consistent high performance in face of the complex production networks. Even specially-engineered TCP variants are often ten times worse than optimal performance.

Performance-oriented congestion control (PCC) is a new architecture that achieves consistent high performance even under challenging conditions.

PCC exhibits performance that is consistent and often 10 times better, with better fairness and stability, than TCP.
Our Innovation
A new family of PCC congestion control protocols enabling significantly improved performance over previous protocols
Key Features
Consistent high performance: PCC senders continuously observe the connection between their actions and empirically experienced performance, enabling them to consistently adopt actions that result in high performance.

Built-in online learning: PCC applies ideas from machine learning to adapt the transmission rate in response to network conditions

Latency-awareness: PCC enables the achievement of high performance even under network conditions of variable latency (e.g., cellular wireless communications).

Easy to deploy: PCC requires only sender-side changes to TCP's rate control algorithm and no changes to the TCP receiver or application layer.
Development Milestones
Implementing PCC in the Linux kernel

Building a TCP-PCC proxy

Additional field trials
The Opportunity
Big data delivery, e.g., next-generation video applications to augmented and virtual reality.
Globally, IP video traffic will be 82 percent of all consumer Internet traffic by 2020, up from 70 percent in 2015. Global IP video traffic will grow threefold from 2015 to 2020, a CAGR of 26 percent. Internet video traffic will grow fourfold from 2015 to 2020, a CAGR of 31 percent.

Internet video surveillance traffic nearly doubled in 2015, from 272 petabytes (PB) per month at the end of 2014 to 516 PB per month in 2015. Internet video surveillance traffic will increase tenfold between 2015 and 2020. Globally, 3.9 percent of all Internet video traffic will be due to video surveillance in 2020, up from 1.5 percent in 2015.

Virtual reality traffic quadrupled in 2015, from 4.2 PB per month in 2014 to 17.9 PB per month in 2015. Globally, virtual reality traffic will increase 61-fold between 2015 and 2020, a CAGR of 127 percent.
Researcher Information
Project manager
Tamir Huberman
VP Business Dev. Computer Science & IT Director
Project researchers
Michael Schapira
HUJI, School of Computer Science and Engineering
CS
Related keywords
Information Processing, Information System, Workflow Management
IT and Telematics Applications
Multimedia
Computers
Computer Graphics Related
Specialised Turnkey Systems
Scanning Related
Peripherals
Computer Services
Computer Software Market
Other Computer Related
Web Technologies
Computer Science & Engineering
About Yissum - Research Development Company of the Hebrew University
Technology Transfer Office from Israel
Yissum - Research Development Company of the Hebrew University
Yissum Research Development Company of the Hebrew University of Jerusalem Ltd. Founded in 1964 to protect and commercialize the Hebrew University's intellectual property. Ranked among the top technology transfer companies, Yissum has registered over 8,900 patents covering 2,500 inventions; has licensed out 800 technologies and has spun-off 90 companies. Products that are based on Hebrew University technologies and were commercialized by Yissum generate today over $2 Billion in annual sales.
Technology Offers on Innoget are directly posted and managed by its members as well as evaluation of requests for information. Innoget is the trusted open innovation and science network aimed at directly connect industry needs with professionals online.