Summary of the technology
Nanoker Research SL is seeking industrial partners interested in applying two novel inorganic and environmentally friendly materials in the prevention of Legionella bacteria in water systems such as evaporative cooling systems (cooling towers, evaporative condensers…), hot and cold water systems, spa pools…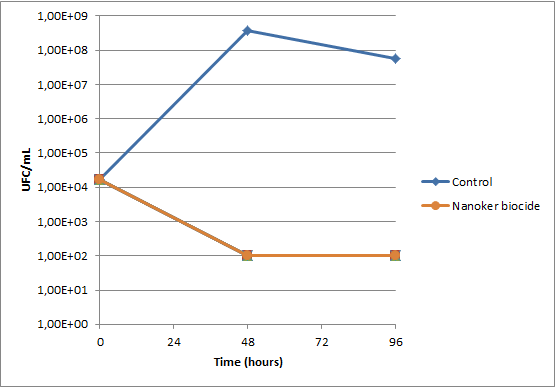 New and innovative aspects
Legionella bacteria – the cause of Legionnaires' disease – are classified as a public health risk of environmental origin. Legionnaires' disease is normally contracted by inhaling small droplets of water (aerosols), suspended in air, containing the bacteria. One of the reasons these bacteria are so dangerous is that they reproduce rapidly given the right conditions (water temperature between 20–45 °C, storage and/or re-circulation of water, deposits that can support bacterial growth…). These conditions are frequently found in many water systems and in order to control these risks, disinfection systems based on chlorine, monochloramine and copper and silver ions are commonly used. However these materials are harmful for workers and the environment.
Nanoker's materials are inorganic and therefore free from chlorine or any other organic compound but feature an efficacy comparable to those products (99,9999% of bacterial reduction) avoiding at the same time safety and environmental risks.
Main advantages of its use
The main assets of Nanoker's inorganic products are:
Low cost
High efficacy: 99,9999% of reduction
Non-toxic for humans or the environment
Long-lasting biocidal effect
Not corrosive for the equipment
Specifications
Nanoker's materials are inorganic, environmentally friendly and compatible with the current chlorination-based prevention and control systems (gold standard) but in addition they can be used alone since they feature an extraordinary efficacy against Legionellae on their own.
Applications
These materials can be used in water facilities such as cooling towers, evaporative condensers, heated spa pools, potable and emergency water systems, air coolers…
Intellectual property status
2 granted patents and secret Know-How
Current development status
Available for demonstration
Desired business relationship
License Agreement
Related keywords
Chemical Technology and Engineering
Materials Technology
Environment
Water Management
Safety
Chemicals and Materials
Other Industrial Products (not elsewhere classified)
Legionella
Water
Swimming Pool
water treatment
Water conduction
irrigation
About Nanoker Research SL
Small and Medium Enterprise from Spain
Nanoker Research SL
Nanoker Research SL is a Spanish SME company dedicated to the development, manufacturing and selling of advanced technical ceramic materials and products for the industrial and biomedical fields.
Technology Offers on Innoget are directly posted and managed by its members as well as evaluation of requests for information. Innoget is the trusted open innovation and science network aimed at directly connect industry needs with professionals online.