Summary of the technology
Tremor Touch: Touchscreen Input Method for Users with Hand Tremor
Project ID : 10-2015-3207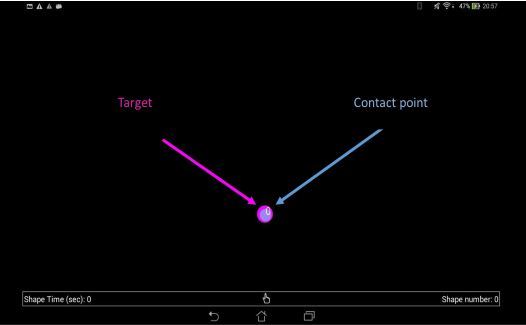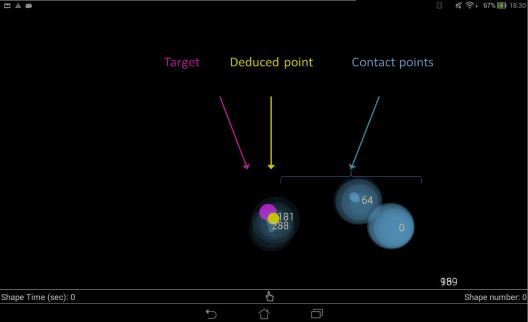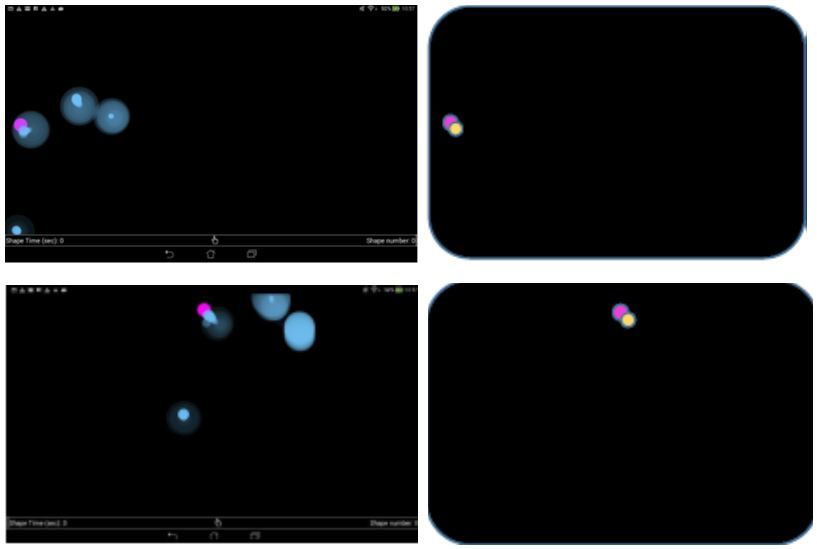 Description of the technology
| | |
| --- | --- |
| Categories | Machine Learning, DSP, Computer-Human Interaction, Touch Screens, Tablets, Motor Impairment, Muscular Tremor, Accessibility |
| Development Stage | Proof of concept, ongoing research, development, and algorithm improvement |
| Patent Status | Provisional patent filed |
| Market | 17 million people globally suffer from Cerebral Palsy and an additional 10 million suffer from Parkinson's. Military and industrial markets may also be relevant |
Highlights
Muscle tremors can affect users' ability to accurately manipulate touch screen icons, leading to frustration, lost productivity, and social exclusion.

We eliminate the "noise" produced by the tremor and allow individuals with tremor to be able to use a touch-screen tablet device exactly like everyone else

Solution is transparent and not obvious to user or intrusive in any way to the user experience
Contact Point vs. Target Point in absence of tremor
Contact Points vs. Target Point for user with Parkinson's disease. Yellow point is deduced by our algorithm
Our innovation
We run a software layer underneath the tablet's UI. The software collects all the "noisy" touches and uses noise-reduction techniques to extract the intended input. This allows a user to use a tablet UI even with shaky hands.
Results of our algorithm: Images on the left show target (pink) and contact points (blue) for user with Parkinson's. Images on the right show target (pink) and our result (yellow).
Key features
Our software neutralizes the effect of the tremor on the user input.

Input is interpreted in real time, causing no perceptible delays.

Input processing is transparent to the user: There is no need to learn any new technique or tool. The user interaction is the same as anyone else's.

Our solution is personalized and can deal with different kinds of tremor patterns
Development Milestones
Seeking funding for ongoing research and development, industrial collaboration, and/or launch.
Opportunity
Makes tablets accessible to users with tremors, facilitating social and economic inclusion and improving quality of life for millions of users

Holds potential for enabling touch-screen usage in shaky environments (such as turbulent air, sea or space travel)
Project manager
Tamir Huberman
VP Business Dev. Computer Science & IT Director
Project researchers
Aviva Dayan
HUJI, School of Computer Science and Engineering

Yuval Kochman
HUJI, School of Computer Science and Engineering

Ido Elad
HUJI, School of Computer Science and Engineering

Related keywords
Information Processing, Information System, Workflow Management
IT and Telematics Applications
Multimedia
Computers
Computer Graphics Related
Specialised Turnkey Systems
Scanning Related
Peripherals
Computer Services
Computer Software Market
Other Computer Related
Computer Science & Engineering
medical applications
About Yissum - Research Development Company of the Hebrew University
Technology Transfer Office from Israel
Yissum - Research Development Company of the Hebrew University
Yissum Research Development Company of the Hebrew University of Jerusalem Ltd. Founded in 1964 to protect and commercialize the Hebrew University's intellectual property. Ranked among the top technology transfer companies, Yissum has registered over 8,900 patents covering 2,500 inventions; has licensed out 800 technologies and has spun-off 90 companies. Products that are based on Hebrew University technologies and were commercialized by Yissum generate today over $2 Billion in annual sales.
Technology Offers on Innoget are directly posted and managed by its members as well as evaluation of requests for information. Innoget is the trusted open innovation and science network aimed at directly connect industry needs with professionals online.