Summary of the technology
An innovative scientific and technological multidisciplinary approach to solve a central problem in medicine, VTE, that directly endangers the
lives of many patients at risk.?To overcome the limitation of degradable and non-degradable filters, we now introduce a novel concept in implant design which will be first applied to construct IVC filters. We propose to develop an "on demand" degradable implant which can be rapidly dissolved in vivo in response to external stimuli like an electro-magnetic field and after verifying by imaging that there are no trapped clots in the IVC filter. we aim to address two of the most critical problems in biomedicine: one is the precise device life span and the other is simple and immediate destruction of
mal- positioned devices and implants in-vivo with minimal adverse side-effects and maximal clinical benefit to patients.

Old Title: Novel, On Demand, RF-Triggered, Degradable Implants
Project ID : 7-2015-3084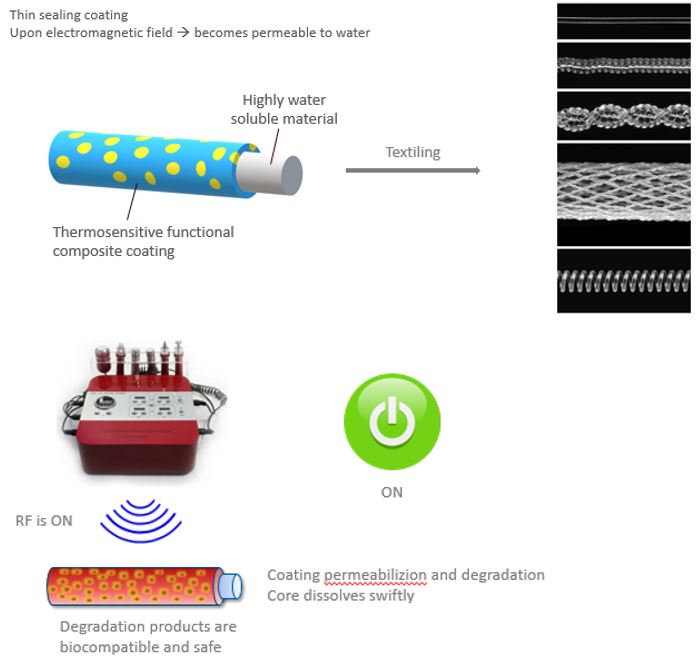 Description of the technology
| | |
| --- | --- |
| Category | LifeSciences and BioTechnology |
| Keywords | Implant, Medical Devices, Biodegradable, BioTech |
| Current development stage | TRL3 Experimental proof of concept |
Application
Implant devices are extensively used, but have a few limitations:
Most implants remain in the body even after they finish their mission
Removal of implants is costly and requires an invasive procedure; only 20-30% are actually removed
Biodegraded implant have a pre-determined life span which may not correlate with the healing process and the medical need
FDA safety alert in Feb. 2011: " Filters should be removed if possible"
Our Innovation
A novel concept in implant design which will be first applied to construct IVC filters - an "on demand" degradable implant which can be rapidly dissolved in vivo in response to external stimuli like an electro-magnetic field and after verifying by imaging that there are no trapped clots in the IVC filter.
Advantages
Flexibility - custom made fibers with predesigned strength, elasticity, heat capacity, and diameter
Novelty – a new concept of RF-triggered fiber
Platform technology - can be used for different implants
Safety - biocompatible materials, no special regulatory issues are expected, non-invasive removal
Manufacturing - using existing methods of fabrication: coaxial extrusion and Texturing
Cost - inexpensive product and fewer procedures
Technology
The researchers aim to address two of the most critical problems in biomedicine: one is the precise device life span and the other is simple and immediate destruction of mal- positioned devices and implants in-vivo with minimal adverse side-effects and maximal clinical benefit to patients.
The new procedure has two steps: filter implantation and develop a non-invasive Radio Frequency (RF) induction.
Once radio frequencies are on, iron oxide nanoparticles produce heat
Once hot, PCL/PLA will melt down for a quick core dissolution
The filter shape disintegrates within seconds
All products are biodegradable and safe.
Opportunity
IVC Filters are a unique example of a much needed degradable "on demand" Device
IVC filter is a medical device that is implanted into the Inferior Vena Cava to prevent life-threatening pulmonary emboli
One filter costs 1000$ + 10,000$ Procedure
Estimated annual use of 250,000 filters in the USA alone (2012) (250,000 more world-wide), half for prophylactic indications.
FDA approved retrievable filters in 2003