Summary of the technology
Polaris is a highly accurate simulation tool for the prediction, control and optimisation of utility scale solar photovoltaic (PV) power plants which can enhance their development and operation.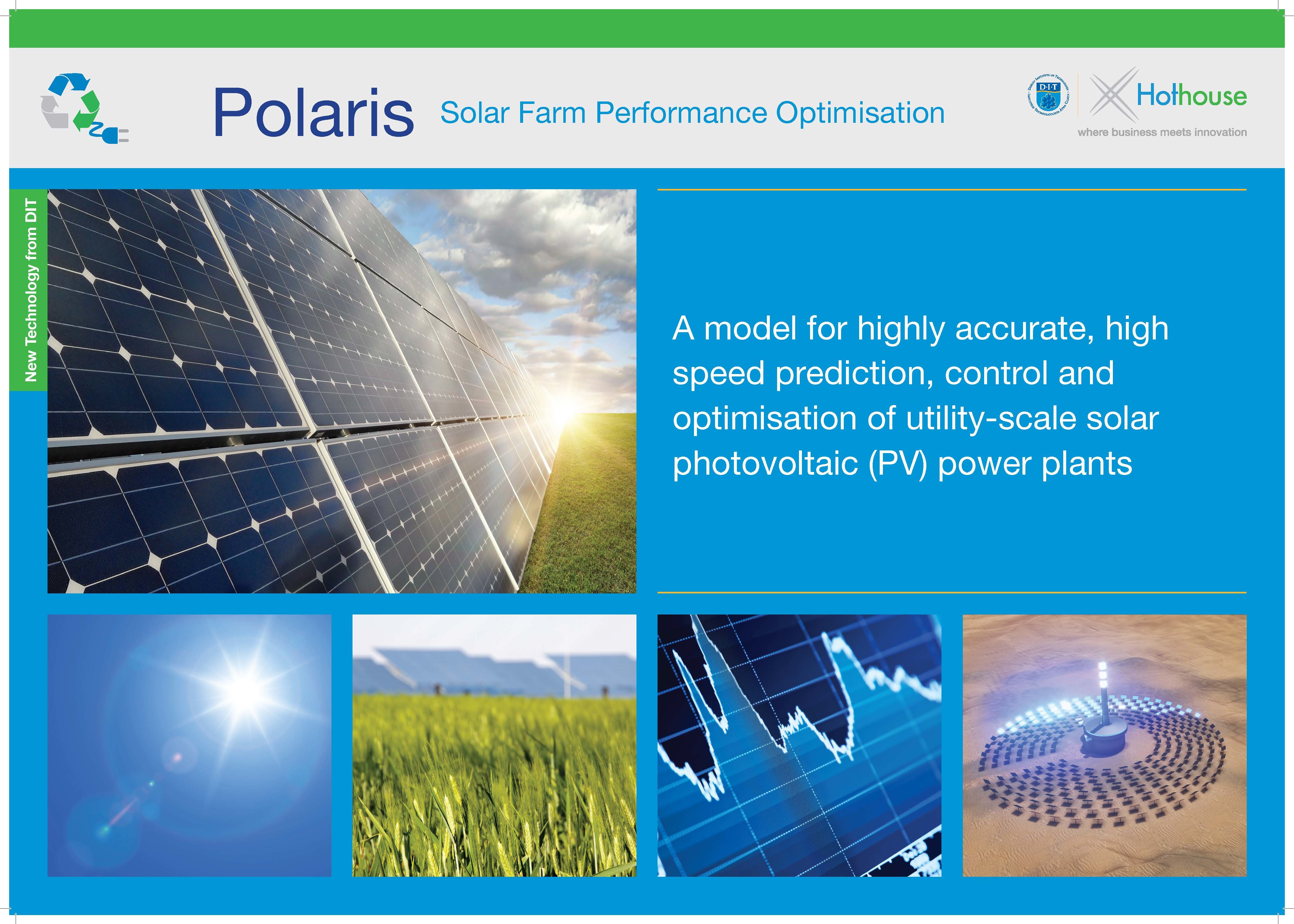 New and innovative aspects
Polaris is a highly accurate simulation tool for the prediction, control and optimisation of utility scale solar photovoltaic (PV) power plants which can enhance their development and operation. Solar farms have become more complex as they increase in size, covering areas with multiple distinct weather zones, and using multiple different solar technologies. While tools to support planning have progressed rapidly, there is still a significant shortfall in tools designed to support the operation and maintenance of solar farms and to support the grid authority
Main advantages of its use
Polaris uses advanced features to deliver unprecedented levels of accuracy and functionality:
• Models every cell individually within the farm (millions of cells in larger farms).
• Models all the cell to cell electrical connections.
• Cell shading is accurately modelled.
• Can model complex solar plants with multiple "weather zones" and multiple different renewable energy technologies (e.g. different PV, CPV, wind, solar thermal, etc).
• Specially purposed algorithms allow the system to learn the response of each individual cell delivering more accurate predictions and trend analysis for early fault prediction and detection.
• Energy yield, fault & shading analysis, and economic modelling features allow the user to carry out feasibility analysis.
• Fault/Shading detection and supply-side smoothing/bid prediction features may be incorporated into automated systems with sensor readings, simulations and energy calculations in realtime.
• Polaris is command line driven so that it can be incorporated into other (automated) systems, delivering flexibility
Specifications
Polaris addresses some of the key challenges and uncertainties currently experienced by both solar farm and solar grid operators. Through simulation, highly accurate predictions can be achieved for PV farms in terms of their power output, including fluctuations caused by changing weather conditions. The energy yield predictions can be used to independently validate the performance of PV Systems. Polaris is based on an extensive simulation model. Using a purpose built algorithm, Polaris can perform a variety of monitoring and control functions. These include calculation of PV power plant energy yield and independent performance validation; measurement of shading and fault effects on energy yields; economic feasibility modelling; fault detection and analysis; and supply-side energy smoothing across multiple PV power plants.
Applications
Polaris has been developed to support the needs of solar farm Designers, Planners, Developers, Operators, as well as the Grid Operators. Key functions include:
• Design and planning – Accurate farm modelling and projected power calculations.
• Commissioning – Actual power versus predicted power analysis for commissioning support.
• Operating – Actual power versus predicted power analysis for fault identification and prediction.
• Electricity Sale – Near term precise power output and fluctuation projections for power to grid sales.
Intellectual property status
The modelling algorithms, developed in excel and C+, are protected as secret know-how
Current development status
The technology is capable of demonstration as a simulation tool but further development work may be required to develop a Graphical User Interface (GUI) suitable to an end-users needs
Desired business relationship
DIT is currently seeking expressions of interest from software companies interested in licensing the simulator for development as a new software product for the PV market.
More Information
Click here to download the Polaris Technology Information Sheet
Related keywords
Energy efficiency
Environment
Transmission of electricity
Generators, electric engines and power converters
Smart grids
Phtovoltaics Technology
Energy Management Technology
Clean Industrial Technologies
Solar / Thermal Energy Technology
Other energy production
Solar / Thermal Energy Market
Photovoltaics Market
Power grid and distribution
Energy Distribution
Energy Supply and Retail
Energy Storage
smart grids & smart cities
solar energy conversion
solar farms
photovoltaic
solar farm performance simulator
solar panels
photovoltaic power generation
About DIT Hothouse
Technology Transfer Office from Ireland
DIT Hothouse
DIT Hothouse is the award-winning Innovation and Knowledge Transfer Office at Dublin Institute of Technology, responsible for the commercialisation of intellectual property arising from DIT research. DIT Hothouse is the hub of innovation and technology transfer activities in DIT, the place where business meets innovation. DIT Hothouse has a range of spinout technologies available to industry across Life Sciences, Food, ICT, Software, Industrial Technology, Manufacturing and Clean Technologies. Our team works with students, lecturers and research teams across DIT as well as with entrepreneurs, industry leaders and investors. Through the DIT Hothouse New Frontiers Startup Programme, we provide a startup incubator for innovative and promising startup companies.

Our Mission

The mission of DIT Hothouse is to:

Maximise the commercialisation of new technologies developed by the growing community of DIT researchers.
Partner with industry on research collaboration, research consultancy and contract research.
Support the launch of knowledge-intensive startups with the potential to generate significant economic benefits for Ireland through our startup support programmes and the DIT Hothouse Incubator.
Our Offering
At DIT Hothouse we assist:

Entrepreneurs to start and grow businesses.
Industry partners to find new technologies, research partners, and funding.
Investors to find high-potential opportunities.
DIT staff and students to commercialise their intellectual property (IP).
Technology transfer offices in the Institute of Technology Tallaght (ITTD), the Institute of Technology Blanchardstown (ITB), the Institute of Art, Design & Technology, Dún Laoghaire (IADT) and the National College of Ireland (NCI) and the Dublin Institute for Advanced Studies (DIAS) in their commercialisation activities.
Whichever category you belong to, DIT Hothouse can provide you with unparalleled expertise, skills and resources to help you achieve your goals.‌

Our Success


Since its establishment in 2007, DIT Hothouse has consistently outperformed all other Irish university technology transfer offices, completing up to 20% of the annual commercial technology transfer licences in Ireland. Through its Enterprise Ireland-funded Incubation Programmes, DIT Hothouse has helped create nearly 400 sustainable businesses that have attracted €195 million in equity investment and created approximately 1,700 quality jobs.
Technology Offers on Innoget are directly posted and managed by its members as well as evaluation of requests for information. Innoget is the trusted open innovation and science network aimed at directly connect industry needs with professionals online.