Summary of the technology
The Wind Urchin is a novel instrument for the simultaneous measurement of wind speed, direction and turbulence. It is effectively a multidirectional anemometer which uses multiple Pitot tubes incorporated into a unique spherical design to provide simultaneous real-time data on all elements of wind and uniquely turbulence.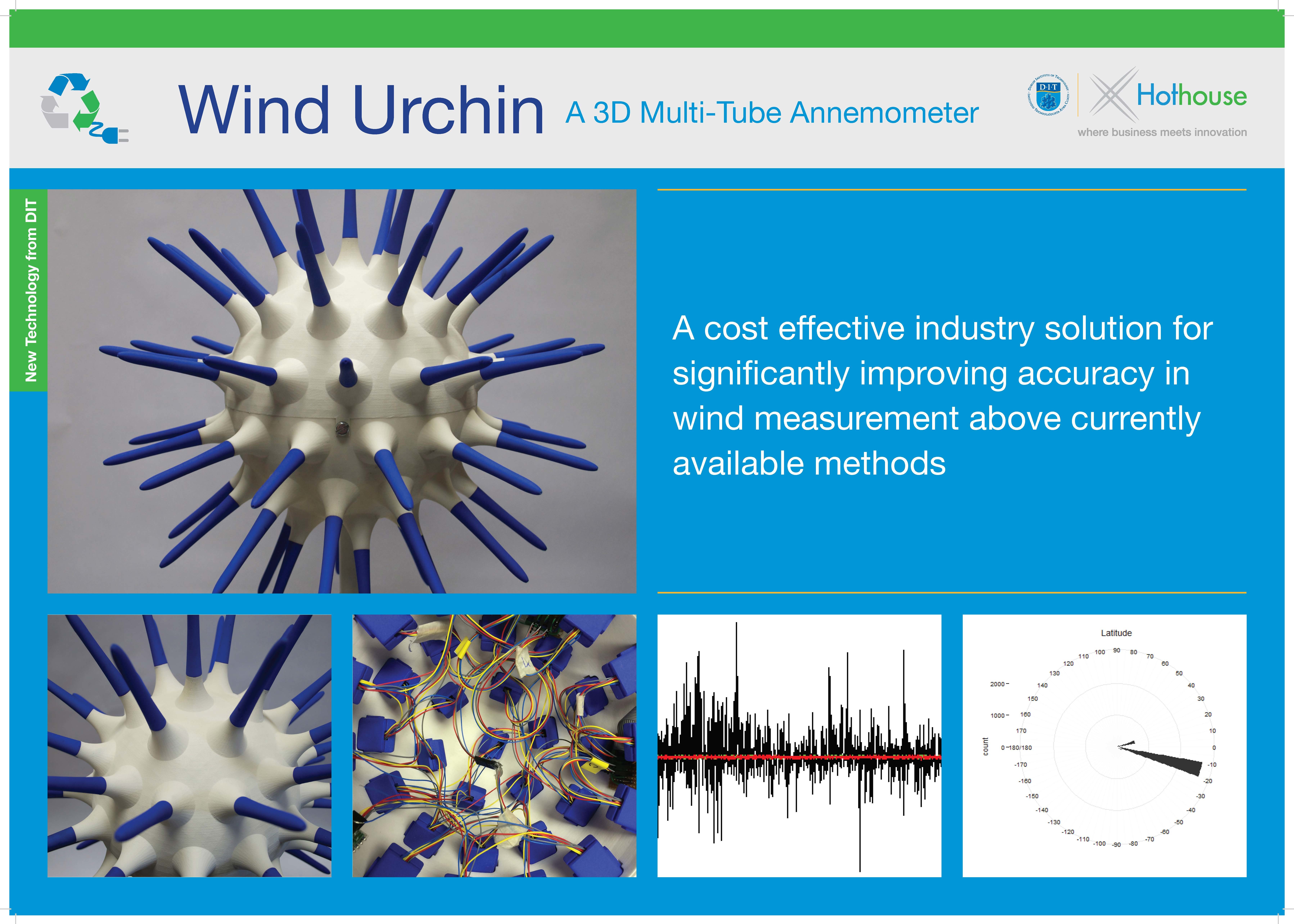 New and innovative aspects
The Wind Urchin is a novel instrument for the simultaneous measurement of wind speed, direction and turbulence. It is effectively a multidirectional anemometer which uses multiple Pitot tubes incorporated into a unique spherical design to provide simultaneous real-time data on all elements of wind and uniquely turbulence.
Main advantages of its use
The Wind Urchin presents a number of advantages over existing wind measure devices:
• Improved Data Accuracy – greater accuracy of wind data, including fluid speed, fluid direction and turbulence
• 3-D Capability – data can measured and illustrated in three dimensions
• Sampling Frequency – a greater number of samples can be taken within a specified timeframe
• Robust Design – the device is engineered to be durable, and can be manufactured using a range of materials, including stainless steel
• Low Maintenance – the design has no moving parts, therefore maintenance is low, and the effects of rain, frost, snow, dust, or sunshine significantly reduced
• Wide Measurement Range – wind speeds from 0-250 m/sec can be measured with a certified level of accuracy to less than 0.05% Full Scale Output (FSO)
• Ease of Manufacturing – because the device is based on an innovation in the design concept it can be easily manufactured at scale
Specifications
Currently the standard on the market for wind measurement include simple cup anemometers or wind vanes which has existed for hundreds for years. Sonic anemometer technology has recently developed, however these are still limited, particularly in understanding turbulence. There is no instrument on the market which can measure wind turbulence accurately, as wind measurement devices are extremely limited. The Wind Urchin can sample wind speeds at frequencies up to 3,000Hz, provide superior three dimensional data on wind speed and direction, and provide an accurate indication of turbulence. While the device has multiple applications, the current focus is on wind & wave energy generation. The Wind Urchin is potentially a unique resource for the planning, development and on-going monitoring of wind or tidal energy farms. Upon site selection the device can be used to provide more accurate data on wind speed, wind direction and, critically, turbulence at a higher frequency rate of sampling and recording than previously possible.
Applications
Potential future energy gains and the wind loading on equipment and structures may be more accurately assessed. This enhanced accuracy will significantly help wind developers, operators and investors to predict returns, as well as help engineers maximise efficiency in turbine speed and placement. The Wind Urchin is a device which has the potential to revolutionise how accurately wind can be monitored and measured. Applications include:
• Enhanced site evaluation, planning, development and monitoring capability for wind farms and tidal energy farms
• Superior meteorological data collection and analysis
• Urban planning applications for civil and mechanical engineers
• Improved data for decision-making in aviation to enhance efficiency and safety
• Road safety
Intellectual property status
The device is patent-pending. The design specifications and software are protected as secret know-how.
Current development status
The technology is capable of demonstration in the field, and a second stage commercial prototype has been developed. Further development work may be required to scale the technology for additional applications
Desired business relationship
Research on applications for the technology is on-going. DIT is currently seeking expressions of interest from potential business partners interested in commercialising the technology via licensing or development of a new spin-out company.
More Information
Click here to download the Wind Urchin Technology Information Sheet
Related keywords
Smart grids
Turbines
Wind Technology
Energy Management Technology
Other Energy Topics
Energy efficiency
Environmental Engineering / Technology
Clean Production / Green Technologies
Social and Economics concerns
Wind Market
Power grid and distribution
Energy Distribution
Energy Supply and Retail
marine renewable energy smart grids & smart cities
wind power generation system
Wind energy
Industrial measurement and sensing equipment
robotics
wind turbine
wind farms
tidal energy
meteorology
About DIT Hothouse
Technology Transfer Office from Ireland
DIT Hothouse
DIT Hothouse is the award-winning Innovation and Knowledge Transfer Office at Dublin Institute of Technology, responsible for the commercialisation of intellectual property arising from DIT research. DIT Hothouse is the hub of innovation and technology transfer activities in DIT, the place where business meets innovation. DIT Hothouse has a range of spinout technologies available to industry across Life Sciences, Food, ICT, Software, Industrial Technology, Manufacturing and Clean Technologies. Our team works with students, lecturers and research teams across DIT as well as with entrepreneurs, industry leaders and investors. Through the DIT Hothouse New Frontiers Startup Programme, we provide a startup incubator for innovative and promising startup companies.

Our Mission

The mission of DIT Hothouse is to:

Maximise the commercialisation of new technologies developed by the growing community of DIT researchers.
Partner with industry on research collaboration, research consultancy and contract research.
Support the launch of knowledge-intensive startups with the potential to generate significant economic benefits for Ireland through our startup support programmes and the DIT Hothouse Incubator.
Our Offering
At DIT Hothouse we assist:

Entrepreneurs to start and grow businesses.
Industry partners to find new technologies, research partners, and funding.
Investors to find high-potential opportunities.
DIT staff and students to commercialise their intellectual property (IP).
Technology transfer offices in the Institute of Technology Tallaght (ITTD), the Institute of Technology Blanchardstown (ITB), the Institute of Art, Design & Technology, Dún Laoghaire (IADT) and the National College of Ireland (NCI) and the Dublin Institute for Advanced Studies (DIAS) in their commercialisation activities.
Whichever category you belong to, DIT Hothouse can provide you with unparalleled expertise, skills and resources to help you achieve your goals.‌

Our Success


Since its establishment in 2007, DIT Hothouse has consistently outperformed all other Irish university technology transfer offices, completing up to 20% of the annual commercial technology transfer licences in Ireland. Through its Enterprise Ireland-funded Incubation Programmes, DIT Hothouse has helped create nearly 400 sustainable businesses that have attracted €195 million in equity investment and created approximately 1,700 quality jobs.
Technology Offers on Innoget are directly posted and managed by its members as well as evaluation of requests for information. Innoget is the trusted open innovation and science network aimed at directly connect industry needs with professionals online.