Summary of the technology
BovAlert is an electrochemical diagnostic device which tests the milk of animal herds for liver fluke, providing quick and easy information regarding disease status. The technology consists of a handheld electronic reader and an assay card for on-site field testing and validation.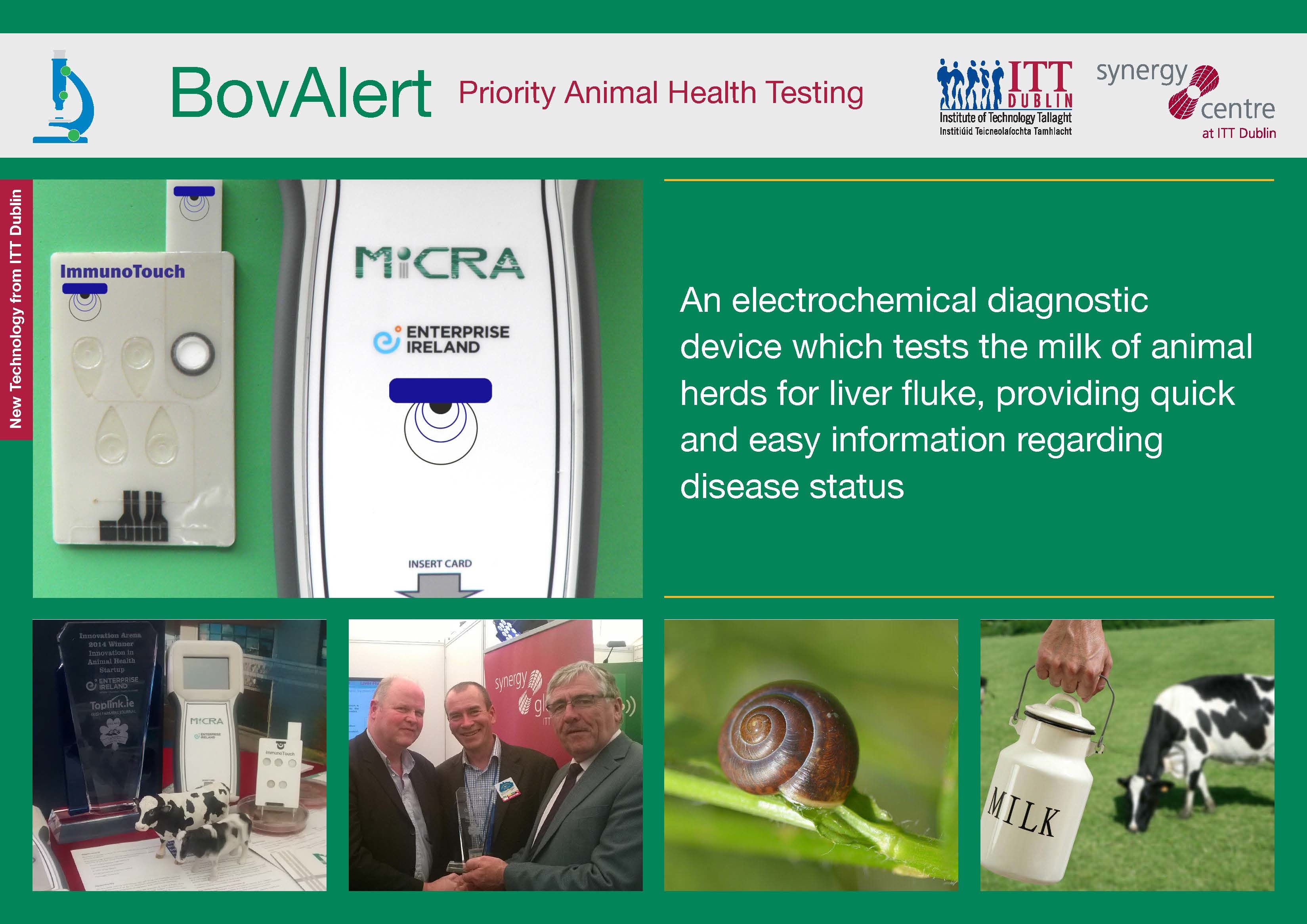 Description of the technology
New and innovative aspects
BovAlert is an electrochemical diagnostic device which tests the milk of animal herds for liver fluke, providing quick and easy information regarding disease status. The technology consists of a handheld electronic reader and an assay card for on-site field testing and validation. An animal milk sample is applied to the card, which contains various reagents required for the specific testing procedure. Once the card is inserted into the reader, the test begins. The process reduces test times from approximately one week in a standard laboratory to a 10-15 minute field test. The test results allow the dairy farmer to take action against liver fluke disease which has a major impact on livestock productivity, particularly beef and dairy.
Main advantages of its use
BovAlert offers a number of unique features:
• The testing kit enables rapid and quantitative measurement of anti-Fasciola (liver fluke) antibodies in milk and sera.
• BovAlert facilitates out of laboratory testing and produces results in 10-15 minutes.
• With BovAlert, minimal end-user input is required (sample in, result out).
• The technology is capable of multiplexing and being expanded to detect a wide variety of herd diseases.
• Each assay card is single-use disposable and overall the technology is very cost effective.
• BovAlert will also aid veterinary surgeons in their diagnosis of liver fluke in herd animals.
Specifications
Liver fluke disease causes annual losses estimated to be around €2.5 billion to livestock and food industries worldwide. The loss to the Irish industry is valued in the region of €90 million annually. Economic losses caused by liver fluke are mainly associated with a decrease in meat and milk production. Depending on the degree of infection, liver fluke may cause a reduced meat production of up to 20% in cattle and up to 30% in sheep, and a reduction in milk production of up to 8% in cows. Fertility can suffer and beef cattle affected by fluke may take an extra 80 days to reach market weights. (Animal Health Ireland, 2011) As well as liver fluke infection detection, this technology can potentially be used to test for other animal parasitic diseases such as stomach worm as well as human conditions.
Applications
BovAlert provides a novel on-the-spot testing technology for disease control on farms. The technology platform can be easily reconfigured to detect analytes of interest in the following Industries:
• Food and beverage manufacture
• Environmental assessment
• In-vitro diagnostics
• Pharmaceutical process control
• Pathogen detection
Intellectual property status
An initial European patent application on the 'Micro-reagent handler and cartridge assembly' was filed in 2012 - EP2012/192551. A PCT patent application was filed in 2014 - PCT/EP2013/073876.
Current development status
Prototyping and validation of both the electrochemical chip and the display module have been completed. The technology currently consists of: 1. A small, lightweight touch pump fluid injector and reagent cartridge, that is capable of storing and pumping small volumes of liquid from one location on the cartridge to another. 2. Custom designed reader and software to identify liverfluke infected milk samples from the assay card.
Desired business relationship
DIT Hothouse is currently seeking expressions of interest from companies interested in licensing and developing the product.
More Information
Click here to download the BovAlert Technology Information Sheet
Related keywords
Food quality and safety
Biocontrol
Veterinary Medicine
Animal Production / Husbandry
Animal health
Dairy Products
Agriculture, Forestry, Fishing, Animal Husbandry and Related Products
biomedical devices
Diagnostic
health study
liver fluke disease
food & agriculture
animal diagnostic
milk
Dairy
dairy cows
sheep
health testing
veterinary
animal farming
About DIT Hothouse
Technology Transfer Office from Ireland
DIT Hothouse
DIT Hothouse is the award-winning Innovation and Knowledge Transfer Office at Dublin Institute of Technology, responsible for the commercialisation of intellectual property arising from DIT research. DIT Hothouse is the hub of innovation and technology transfer activities in DIT, the place where business meets innovation. DIT Hothouse has a range of spinout technologies available to industry across Life Sciences, Food, ICT, Software, Industrial Technology, Manufacturing and Clean Technologies. Our team works with students, lecturers and research teams across DIT as well as with entrepreneurs, industry leaders and investors. Through the DIT Hothouse New Frontiers Startup Programme, we provide a startup incubator for innovative and promising startup companies.

Our Mission

The mission of DIT Hothouse is to:

Maximise the commercialisation of new technologies developed by the growing community of DIT researchers.
Partner with industry on research collaboration, research consultancy and contract research.
Support the launch of knowledge-intensive startups with the potential to generate significant economic benefits for Ireland through our startup support programmes and the DIT Hothouse Incubator.
Our Offering
At DIT Hothouse we assist:

Entrepreneurs to start and grow businesses.
Industry partners to find new technologies, research partners, and funding.
Investors to find high-potential opportunities.
DIT staff and students to commercialise their intellectual property (IP).
Technology transfer offices in the Institute of Technology Tallaght (ITTD), the Institute of Technology Blanchardstown (ITB), the Institute of Art, Design & Technology, Dún Laoghaire (IADT) and the National College of Ireland (NCI) and the Dublin Institute for Advanced Studies (DIAS) in their commercialisation activities.
Whichever category you belong to, DIT Hothouse can provide you with unparalleled expertise, skills and resources to help you achieve your goals.‌

Our Success


Since its establishment in 2007, DIT Hothouse has consistently outperformed all other Irish university technology transfer offices, completing up to 20% of the annual commercial technology transfer licences in Ireland. Through its Enterprise Ireland-funded Incubation Programmes, DIT Hothouse has helped create nearly 400 sustainable businesses that have attracted €195 million in equity investment and created approximately 1,700 quality jobs.
Technology Offers on Innoget are directly posted and managed by its members as well as evaluation of requests for information. Innoget is the trusted open innovation and science network aimed at directly connect industry needs with professionals online.