Summary of the technology
Morphlinx is a new type of creative modeling toy that develops fine motor skills, creativity and problem solving by changing the way plasticine is currently played with. It is comprised of six parts that can be assembled through either an interference fit or a ball and socket style snap-fit allowing assemblies of various combinations to form fully pose-able armatures which can be covered with plasticine (or a similar material).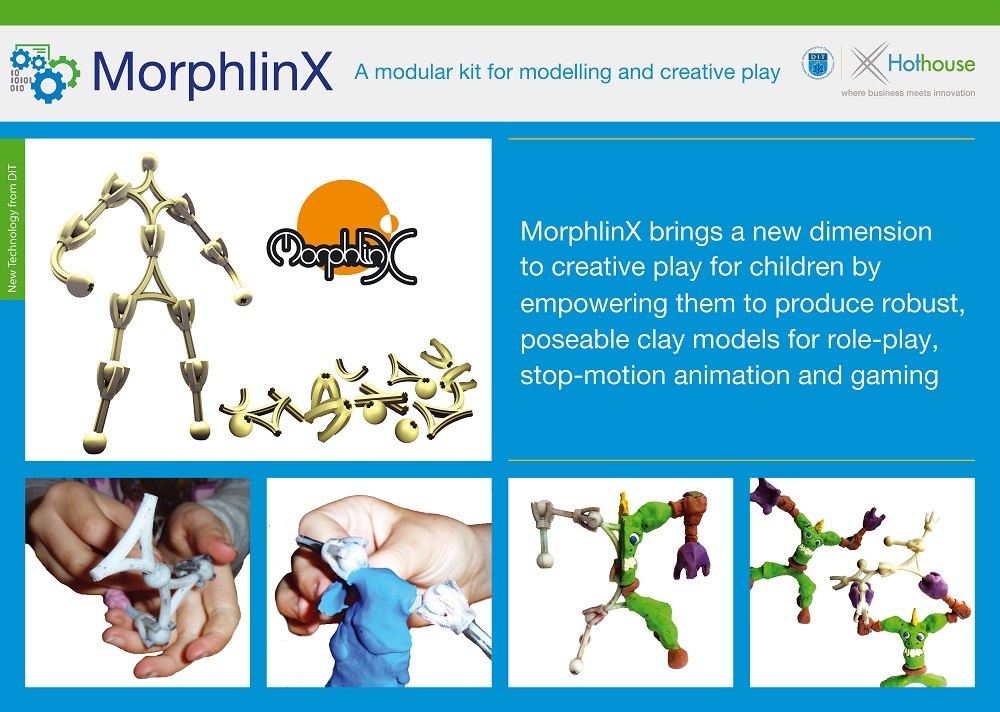 Main advantages of its use
MorphlinX is a unique transformative Inspiratinal product offering an entertaining creative outlet for children while providing the useful learning benefits sought by parents.
• It offers a dual combination which is not foundin existing toys – the ability to create and invent in a completely unfettered way, yet producing a toy which is practical and usable. A pre-made plastic character is not inspiring and does not build creativity, while a sculpted model quickly loses shape and structure rendering the end product impractical.
• With MorphlinX, the child gains a more durable yet customisable character with which to act out storylines while simultaneously learning about material properties.
• MorphlinX components are essentially theme-less, allowing each child to adapt their play style as they grow. This creates increasingly complex forms, with possible applications in stop motion animation.
Applications
MorphlinX is a unique creative and learning based toy for the children's market, typically 5-12 year olds. In some respects it could compete with Lego® and other types of creative / engineering orientated toys. MorphlinX has been inspired by the realities of children's playtime. With existing toys, the most creative elements of play, and those elements with the greatest learning benefits, are removed from the child.
For Example charecters are defined or explained or based on existing stories -
the look, feel and colour of the characters are already set. Even with Lego® and Meccano® there is a limit on the variety of the design. While with clay, playdough or plasticine, huge creativity is possible, but they don't provide a very practical end product – with the inevitable outcome of play being a smushed or crushed character!
Intellectual property status
Design Rights have been registered on the novel ball and socket armature design - EU number 002481044. Initial prototyping using 3D printing has been carried out. 
Current development status
Further development work by a business partner will likely be required on the branding, packaging, character concept design, scalable production and go-to-market partnerships
Desired business relationship
DIT is currently seeking expressions of interest from potential business partners interested in licensing and developing the product.
More Information
Click here to download the Morphlinx Technology Information Sheet
Related keywords
Education and Training
Sports and Leisure
Creative products
Toys and electronic games
Other consumer products
Other leisure and recreational products and services
manufacturing competetiveness
Novel technologies and processes
creative toy
About DIT Hothouse
Technology Transfer Office from Ireland
DIT Hothouse
DIT Hothouse is the award-winning Innovation and Knowledge Transfer Office at Dublin Institute of Technology, responsible for the commercialisation of intellectual property arising from DIT research. DIT Hothouse is the hub of innovation and technology transfer activities in DIT, the place where business meets innovation. DIT Hothouse has a range of spinout technologies available to industry across Life Sciences, Food, ICT, Software, Industrial Technology, Manufacturing and Clean Technologies. Our team works with students, lecturers and research teams across DIT as well as with entrepreneurs, industry leaders and investors. Through the DIT Hothouse New Frontiers Startup Programme, we provide a startup incubator for innovative and promising startup companies. Our Mission The mission of DIT Hothouse is to: Maximise the commercialisation of new technologies developed by the growing community of DIT researchers. Partner with industry on research collaboration, research consultancy and contract research. Support the launch of knowledge-intensive startups with the potential to generate significant economic benefits for Ireland through our startup support programmes and the DIT Hothouse Incubator. Our Offering At DIT Hothouse we assist: Entrepreneurs to start and grow businesses. Industry partners to find new technologies, research partners, and funding. Investors to find high-potential opportunities. DIT staff and students to commercialise their intellectual property (IP). Technology transfer offices in the Institute of Technology Tallaght (ITTD), the Institute of Technology Blanchardstown (ITB), the Institute of Art, Design & Technology, Dún Laoghaire (IADT) and the National College of Ireland (NCI) and the Dublin Institute for Advanced Studies (DIAS) in their commercialisation activities. Whichever category you belong to, DIT Hothouse can provide you with unparalleled expertise, skills and resources to help you achieve your goals.‌ Our Success Since its establishment in 2007, DIT Hothouse has consistently outperformed all other Irish university technology transfer offices, completing up to 20% of the annual commercial technology transfer licences in Ireland. Through its Enterprise Ireland-funded Incubation Programmes, DIT Hothouse has helped create nearly 400 sustainable businesses that have attracted €195 million in equity investment and created approximately 1,700 quality jobs.
Technology Offers on Innoget are directly posted and managed by its members as well as evaluation of requests for information. Innoget is the trusted open innovation and science network aimed at directly connect industry needs with professionals online.