Summary of the technology
CODA is a low cost, individualised product designed for use in anticounterfeit labels that uses light beams to produce unique patterns of light. These patterns can be read on a hand-held device.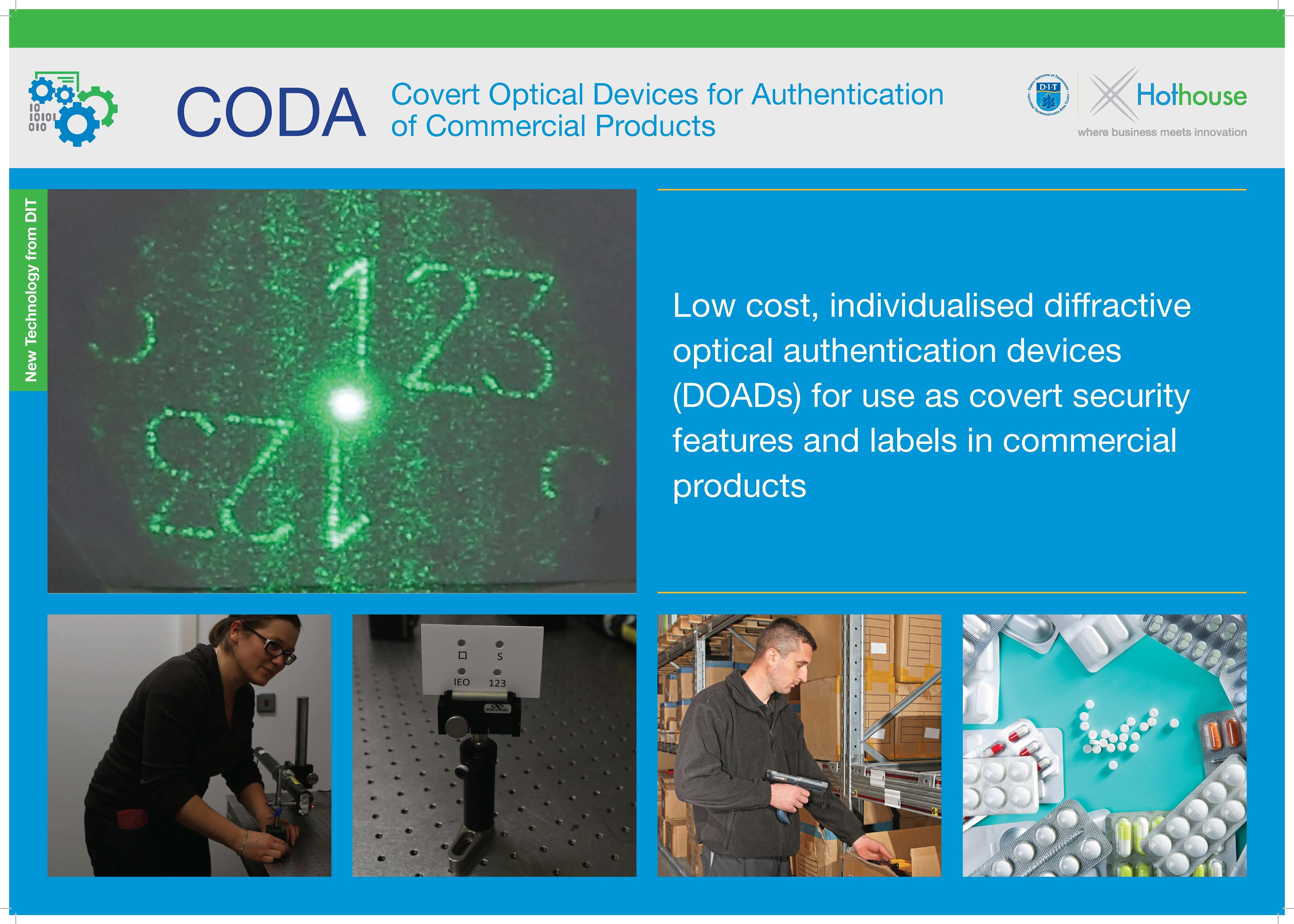 New and innovative aspects
CODA is a low cost, individualised product designed for use in anticounterfeit labels that uses light beams to produce unique patterns of light. These patterns can be read on a hand-held device. CODA technology can be used for many anti-counterfeit security purposes. Examples include security inks, tamper proof labels and security holograms. Currently, many of these products use a broad range of technologies but it is hoped that CODA will improve covert security in these areas, therefore removing the need for several security labels on a single product. 
Main advantages of its use
CODA offers a number of advantages over existing anti-counterfeit technologies:
• Tamperproof – CODA adds a tamperproof layer of security to a product.
• Unique fingerprint – DOAD technology uses light beam patterns that cannot be easily duplicated.
• Covert – CODA is covert and machine readable for authentication purposes.
• Unobtrusive – the label is transparent and requires very little packaging 'real estate'.
• Works in low-level and ambient light – DOAD technology works even in limited light conditions.
• Authentication and traceability – CODA is easily individualised and combines the two most important interests of covert security; authentication and traceability
Specifications
CODA is a transparent plastic photopolymer layer containing a diffractive optical authentication device (DOAD). The DOAD produces a specific pattern of light beams that can be read via a separate machine but are practically invisible in room lighting. DOADs work by creating a pattern that corresponds to a geographical area, product batch or line. When a product is checked, a pattern that corresponds to the DOADs pattern can be certified as genuine. Similarly, if a pattern on a product does not match the DOAD pattern it can be noted as counterfeit. CODA technology is novel, efficient and easily incorporated into existing security systems. By using CODA, the user gets a level of security that is not currently commercially available on the market
Applications
CODA's principal application is as a covert anti-counterfeit label. This would be of interest to companies in a range of industry sectors, particularly those which rely on high-quality, efficient security for their products such as pharmaceutical and consumer goods. CODA simply adds an extra level of covert security to existing systems. By using a transparent plastic layer on products, the user can be sure of the security of their product without the use of intrusive tags. CODA technology prevents the sale of counterfeit products, therefore improving the marketplace for both consumer and seller.
Current development status
The research team has developed the method and processes for the large scale production and fabrication of these devices. These methods allied to the use of the IEO's patented photopolymer material makes it possible to obtain high efficiency devices.
Desired business relationship
DIT is currently seeking expressions of interest from companies interested in licencing and developing the product.
More Information
Click here to download the CODA Technology Information Sheet or ">watch the video here.
Related keywords
Packaging for materials
Plastics, Polymers
Pharmaceutics
Consumer Products
Packing products and systems
processing technology
novel mate
cost effective.
About DIT Hothouse
Technology Transfer Office from Ireland
DIT Hothouse
DIT Hothouse is the award-winning Innovation and Knowledge Transfer Office at Dublin Institute of Technology, responsible for the commercialisation of intellectual property arising from DIT research. DIT Hothouse is the hub of innovation and technology transfer activities in DIT, the place where business meets innovation. DIT Hothouse has a range of spinout technologies available to industry across Life Sciences, Food, ICT, Software, Industrial Technology, Manufacturing and Clean Technologies. Our team works with students, lecturers and research teams across DIT as well as with entrepreneurs, industry leaders and investors. Through the DIT Hothouse New Frontiers Startup Programme, we provide a startup incubator for innovative and promising startup companies.

Our Mission

The mission of DIT Hothouse is to:

Maximise the commercialisation of new technologies developed by the growing community of DIT researchers.
Partner with industry on research collaboration, research consultancy and contract research.
Support the launch of knowledge-intensive startups with the potential to generate significant economic benefits for Ireland through our startup support programmes and the DIT Hothouse Incubator.
Our Offering
At DIT Hothouse we assist:

Entrepreneurs to start and grow businesses.
Industry partners to find new technologies, research partners, and funding.
Investors to find high-potential opportunities.
DIT staff and students to commercialise their intellectual property (IP).
Technology transfer offices in the Institute of Technology Tallaght (ITTD), the Institute of Technology Blanchardstown (ITB), the Institute of Art, Design & Technology, Dún Laoghaire (IADT) and the National College of Ireland (NCI) and the Dublin Institute for Advanced Studies (DIAS) in their commercialisation activities.
Whichever category you belong to, DIT Hothouse can provide you with unparalleled expertise, skills and resources to help you achieve your goals.‌

Our Success


Since its establishment in 2007, DIT Hothouse has consistently outperformed all other Irish university technology transfer offices, completing up to 20% of the annual commercial technology transfer licences in Ireland. Through its Enterprise Ireland-funded Incubation Programmes, DIT Hothouse has helped create nearly 400 sustainable businesses that have attracted €195 million in equity investment and created approximately 1,700 quality jobs.
Technology Offers on Innoget are directly posted and managed by its members as well as evaluation of requests for information. Innoget is the trusted open innovation and science network aimed at directly connect industry needs with professionals online.