Summary of the technology
NARPS is an innovative hand-held, non-destructive instrument for the detection of chlorides and carbonation in reinforced concrete.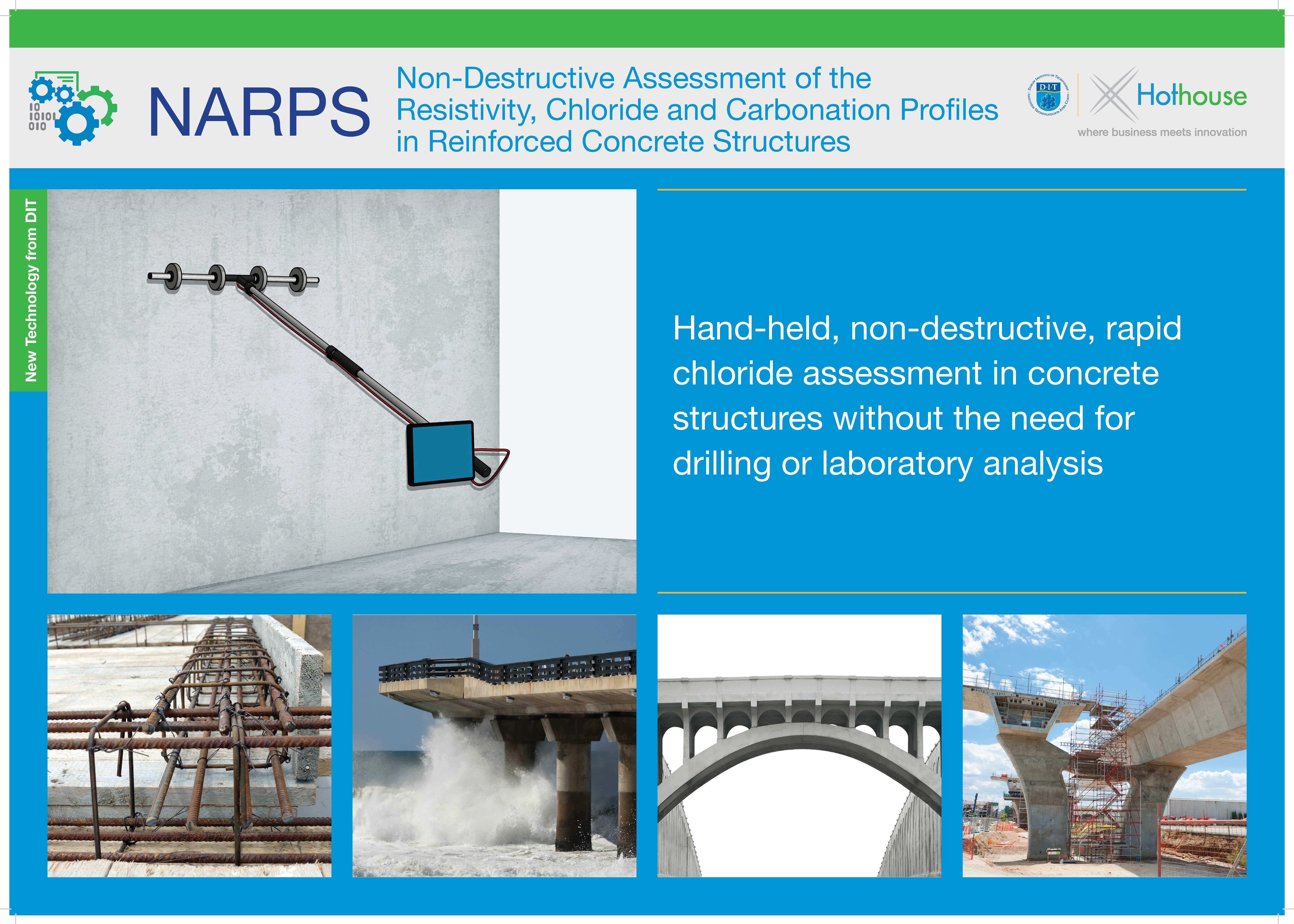 New and innovative aspects
Reinforced concrete, containing embedded steel reinforcement, is widely used in all forms of civil infrastructure. Over time, the steel bars can begin to corrode. Researchers in Dublin Institute of Technology's Civil Engineering Research Group (CERG) have developed an innovative hand-held, non-destructive instrument (NARPS) for the detection of chlorides and carbonation in reinforced concrete. 
Main advantages of its use
1. Fast & Reliable Field Testing – NARPS does not require concrete dust extractions or laboratory testing, and minimises turnaround and site access time and costs.
2. Ease of Use – NARPS operates by being placed in direct contact with the structure under test, thus removing the need for drilling and dust removal, while maintaining structural integrity and removing the need for laboratory analysis.
3. Minimised disruption – because the NARPS sensor-head only needs to be in contact with the surface under test for a short time, it causes minimal disruption. This is extremely important when testing in difficult, hard to reach locations where high traffic volumes are present.
4. Flexibility – the core technology can be used on a wide range of concrete structures
Applications
This technology can apply to any structure which uses reinforced concrete, with a particular emphasis on:
• Bridges – NARPS could find applications in the construction of concrete structures including in-situ and precast bridges, as well as the in-situ maintenance and inspection sector.
• Pre-Cast structures – applications include buildings, landscaping, storage tanks, culverts, 3-sided structures, highway and trafficbarriers, retaining walls, etc.
• Piers – applications include water interacting structures due to their placement in harsh marine environments which are often completely submerged or saturated with water
Intellectual property status
An initial patent application for "Detection System and Method in Concrete Structures" was filed in 2014 – GB1406000.8.
Current development status
NARPS is at laboratory prototype stage with initial results showing strong correlation between measurements obtained and level of corrosion. State funding has been received to build out a commercial-ready prototype.
Desired business relationship
DIT is currently seeking expressions of interest from companies interested in licensing and developing products based on this technology.
More Information
Click here to download the NARPS Technology Information Sheet
Related keywords
Construction Technology
Materials, components and systems for construction
Construction methods and equipment
Building materials
Construction and Building Products
Engineering and consulting services related to construction
Manufacture of construction materials, components and systems
Construction companies
manufacturing competetiveness
About DIT Hothouse
Technology Transfer Office from Ireland
DIT Hothouse
DIT Hothouse is the award-winning Innovation and Knowledge Transfer Office at Dublin Institute of Technology, responsible for the commercialisation of intellectual property arising from DIT research. DIT Hothouse is the hub of innovation and technology transfer activities in DIT, the place where business meets innovation. DIT Hothouse has a range of spinout technologies available to industry across Life Sciences, Food, ICT, Software, Industrial Technology, Manufacturing and Clean Technologies. Our team works with students, lecturers and research teams across DIT as well as with entrepreneurs, industry leaders and investors. Through the DIT Hothouse New Frontiers Startup Programme, we provide a startup incubator for innovative and promising startup companies.

Our Mission

The mission of DIT Hothouse is to:

Maximise the commercialisation of new technologies developed by the growing community of DIT researchers.
Partner with industry on research collaboration, research consultancy and contract research.
Support the launch of knowledge-intensive startups with the potential to generate significant economic benefits for Ireland through our startup support programmes and the DIT Hothouse Incubator.
Our Offering
At DIT Hothouse we assist:

Entrepreneurs to start and grow businesses.
Industry partners to find new technologies, research partners, and funding.
Investors to find high-potential opportunities.
DIT staff and students to commercialise their intellectual property (IP).
Technology transfer offices in the Institute of Technology Tallaght (ITTD), the Institute of Technology Blanchardstown (ITB), the Institute of Art, Design & Technology, Dún Laoghaire (IADT) and the National College of Ireland (NCI) and the Dublin Institute for Advanced Studies (DIAS) in their commercialisation activities.
Whichever category you belong to, DIT Hothouse can provide you with unparalleled expertise, skills and resources to help you achieve your goals.‌

Our Success


Since its establishment in 2007, DIT Hothouse has consistently outperformed all other Irish university technology transfer offices, completing up to 20% of the annual commercial technology transfer licences in Ireland. Through its Enterprise Ireland-funded Incubation Programmes, DIT Hothouse has helped create nearly 400 sustainable businesses that have attracted €195 million in equity investment and created approximately 1,700 quality jobs.
Technology Offers on Innoget are directly posted and managed by its members as well as evaluation of requests for information. Innoget is the trusted open innovation and science network aimed at directly connect industry needs with professionals online.