Summary of the technology
Circularly-polarised multi-band and ultra-wide band (UWB) antennas designed using state-of-the-art computer modelling and simulation tools, and automated evolutionary optimisation algorithms to achieve best possible performance.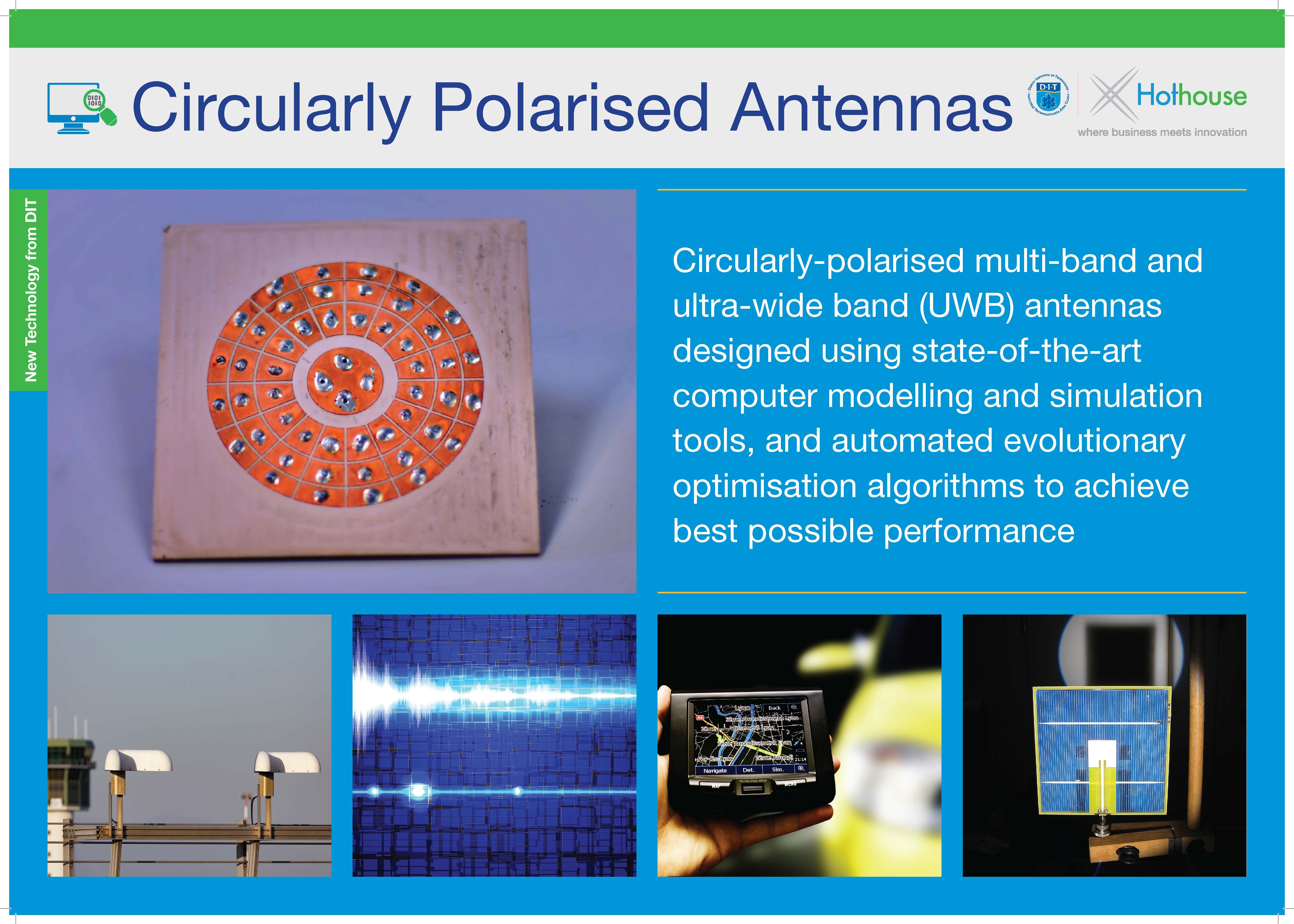 Related keywords
Mobile Communications
Narrow Band Technologies
Network Technology, Network Security
Broadband Technologies
IT and Telematics Applications
Internet Technologies/Communication (Wireless, Wi-Fi, Bluetooth)
Smart Appliances
Information Filtering, Semantics, Statistics
Signal Processing
SatelliteTechnology/Systems/Positioning/Communication in GPS - Global Positioning System
Consumer related
Data communication components
Local area networks (including voice/data PBX systems)
Communications processors/network management
Modems and multiplexers
Other data communication components
Network test, monitoring and support equipment
Satellite services/carriers/operators
Satellite ground (and others) equipment
Microwave service facilities
Microwave and satellite components (including antennae and amplifiers)
Communications services
Streaming
Program development tools/languages
Operating systems and utilities
Communications/networking
Applications software
Programming services/systems engineering
Other software services
Electronic Components
future networks and communication
About DIT Hothouse
Technology Transfer Office from Ireland
DIT Hothouse
DIT Hothouse is the award-winning Innovation and Knowledge Transfer Office at Dublin Institute of Technology, responsible for the commercialisation of intellectual property arising from DIT research. DIT Hothouse is the hub of innovation and technology transfer activities in DIT, the place where business meets innovation. DIT Hothouse has a range of spinout technologies available to industry across Life Sciences, Food, ICT, Software, Industrial Technology, Manufacturing and Clean Technologies. Our team works with students, lecturers and research teams across DIT as well as with entrepreneurs, industry leaders and investors. Through the DIT Hothouse New Frontiers Startup Programme, we provide a startup incubator for innovative and promising startup companies.

Our Mission

The mission of DIT Hothouse is to:

Maximise the commercialisation of new technologies developed by the growing community of DIT researchers.
Partner with industry on research collaboration, research consultancy and contract research.
Support the launch of knowledge-intensive startups with the potential to generate significant economic benefits for Ireland through our startup support programmes and the DIT Hothouse Incubator.
Our Offering
At DIT Hothouse we assist:

Entrepreneurs to start and grow businesses.
Industry partners to find new technologies, research partners, and funding.
Investors to find high-potential opportunities.
DIT staff and students to commercialise their intellectual property (IP).
Technology transfer offices in the Institute of Technology Tallaght (ITTD), the Institute of Technology Blanchardstown (ITB), the Institute of Art, Design & Technology, Dún Laoghaire (IADT) and the National College of Ireland (NCI) and the Dublin Institute for Advanced Studies (DIAS) in their commercialisation activities.
Whichever category you belong to, DIT Hothouse can provide you with unparalleled expertise, skills and resources to help you achieve your goals.‌

Our Success


Since its establishment in 2007, DIT Hothouse has consistently outperformed all other Irish university technology transfer offices, completing up to 20% of the annual commercial technology transfer licences in Ireland. Through its Enterprise Ireland-funded Incubation Programmes, DIT Hothouse has helped create nearly 400 sustainable businesses that have attracted €195 million in equity investment and created approximately 1,700 quality jobs.
Technology Offers on Innoget are directly posted and managed by its members as well as evaluation of requests for information. Innoget is the trusted open innovation and science network aimed at directly connect industry needs with professionals online.