Summary of the technology
Nudge Along identifies trends in customer behaviour and drives personalised messages (e.g. text, email or in-app messages) created for the user using a recommendation engine.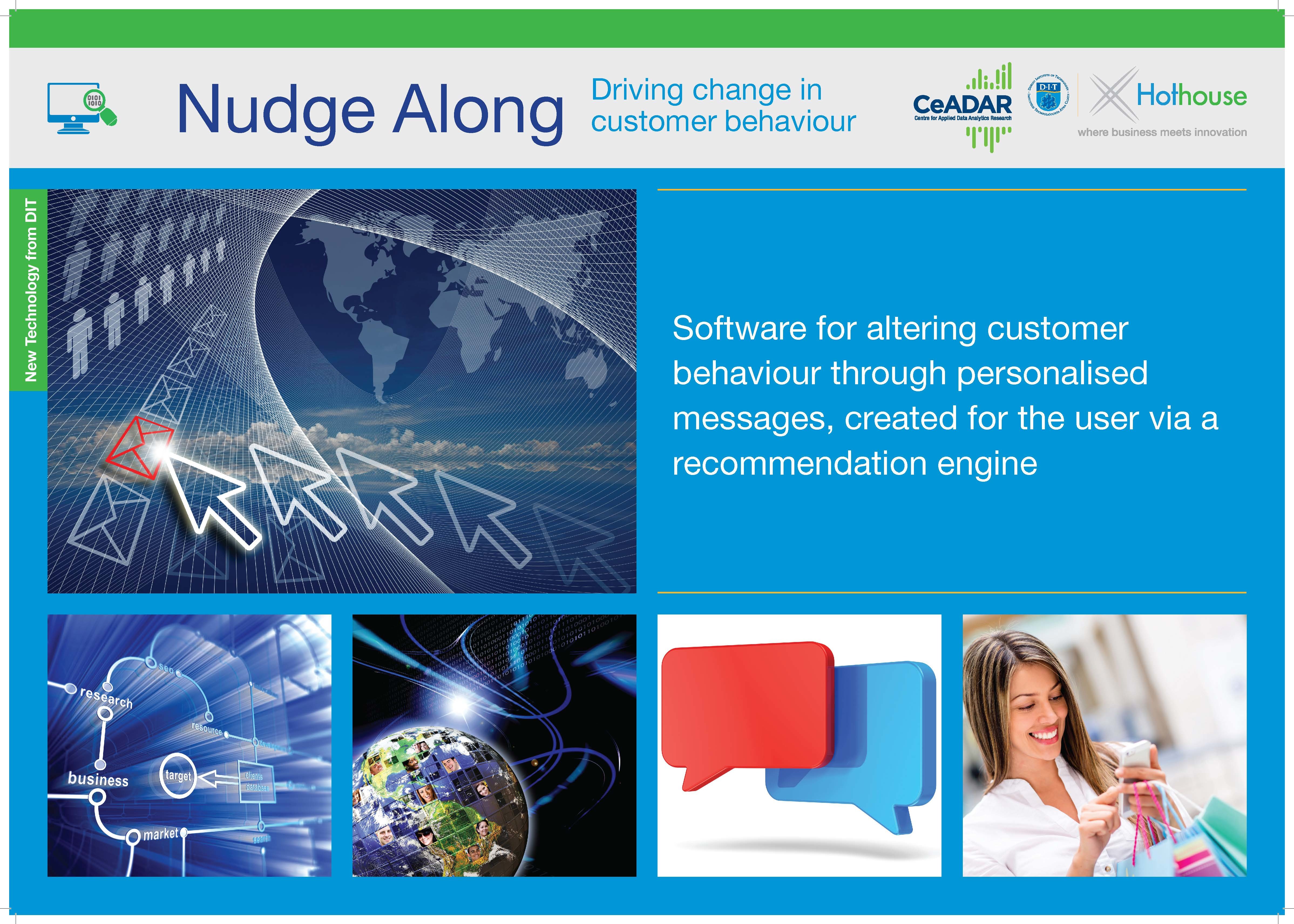 Description of the technology
Nudge Along identifies trends in customer behaviour and drives personalised messages (e.g. text, email or in-app messages) created for the user using a recommendation engine. Each personalised message is precisely chosen based on the success of previous messages to customers with similar characteristics. The process uses a recommendation engine based on a Case Based Reasoning (CBR) methodology.
Specifications
The recommendation engine is trained to take into account customer usage profiles, relevant external data sources (e.g. typical weather conditions), any past communications that customer has previously had with the system and the outcome of all prior communications. The recommendation engine monitors the outcome of the messages despatched, including no action, and feeds this information back into its database in order to improve future recommendations. Providing analytics-driven insight does not guarantee that people will take note of it and change their behaviour. For example, did a customer identified as a churn risk respond to the proposed intervention? Measuring the success of any analytics project requires looking beyond the insights and into ways of communicating and delivering the insights to ensure that behavioural change takes place. Nudge Along is designed to ensure that analytics insights can actually impact the behaviour of a customer or user.
Main advantages of its use
Nudge Along has a number of advantages over and above existing recommendation engines:
 • Impactful Communications – Nudge Along delivers tailored communications aimed at similar market segments based on the success of prior campaigns. This ensures that the most impactful message is sent to the customer every time.
• Database Optimisation – the recommendation engine monitors the outcome of each marketing communication and feeds this information back into the prospect database. This enables companies to improve their quality of information and better shape the content of future messaging.
• Universally Applicable – the software is non industry specific and can benefit any type of data-centric organisation that is seeking to optimise its marketing communications.
• Demand Forecasting – through the refinement and optimisation of its marketing communications, an organisation can more accurately predict expected campaign outcomes.
Applications
Nudge Along can be used by any company in any business sector that wants to create actionable impact from customer data. To operate effectively, the system requires access to multiple customer touch points across a reasonably large customer set so it can constantly compare customer profiles. Nudge Along is based on a process of User Monitoring-toPersonalised Incentive -to-Personalised Communications Strategy. The software demonstrator may be used as a stand-alone application to generate recommendations on communications or can be embedded as a back-end decision-making tool in a fully automated customer communications system.
Additional information (attached documents)
Related keywords
Computer Software Technology
CRM - Customer relationship Management
Databases, Database Management, Data Mining
IT and Telematics Applications
Databases and on-line information services
Data processing, analysis and input services
Computer Software Market
Software
consumer
Behaviour
Recommended
engine
Customer
Suggestion
marketing
data
About DIT Hothouse
Technology Transfer Office from Ireland
DIT Hothouse
DIT Hothouse is the award-winning Innovation and Knowledge Transfer Office at Dublin Institute of Technology, responsible for the commercialisation of intellectual property arising from DIT research. DIT Hothouse is the hub of innovation and technology transfer activities in DIT, the place where business meets innovation. DIT Hothouse has a range of spinout technologies available to industry across Life Sciences, Food, ICT, Software, Industrial Technology, Manufacturing and Clean Technologies. Our team works with students, lecturers and research teams across DIT as well as with entrepreneurs, industry leaders and investors. Through the DIT Hothouse New Frontiers Startup Programme, we provide a startup incubator for innovative and promising startup companies. Our Mission The mission of DIT Hothouse is to: Maximise the commercialisation of new technologies developed by the growing community of DIT researchers. Partner with industry on research collaboration, research consultancy and contract research. Support the launch of knowledge-intensive startups with the potential to generate significant economic benefits for Ireland through our startup support programmes and the DIT Hothouse Incubator. Our Offering At DIT Hothouse we assist: Entrepreneurs to start and grow businesses. Industry partners to find new technologies, research partners, and funding. Investors to find high-potential opportunities. DIT staff and students to commercialise their intellectual property (IP). Technology transfer offices in the Institute of Technology Tallaght (ITTD), the Institute of Technology Blanchardstown (ITB), the Institute of Art, Design & Technology, Dún Laoghaire (IADT) and the National College of Ireland (NCI) and the Dublin Institute for Advanced Studies (DIAS) in their commercialisation activities. Whichever category you belong to, DIT Hothouse can provide you with unparalleled expertise, skills and resources to help you achieve your goals.‌ Our Success Since its establishment in 2007, DIT Hothouse has consistently outperformed all other Irish university technology transfer offices, completing up to 20% of the annual commercial technology transfer licences in Ireland. Through its Enterprise Ireland-funded Incubation Programmes, DIT Hothouse has helped create nearly 400 sustainable businesses that have attracted €195 million in equity investment and created approximately 1,700 quality jobs.
Technology Offers on Innoget are directly posted and managed by its members as well as evaluation of requests for information. Innoget is the trusted open innovation and science network aimed at directly connect industry needs with professionals online.