Summary of the technology
With the rise of service customisation, data analytics is becoming increasingly important so as to understand the needs of a company's customers. In order for the potential of data analytics to be fully realised, analytics tools must be developed for use by the widest user-base possible.

Under the CeADAR Intelligent Analytic Interfaces: Ease of Interaction theme, smart analytics tools are being developed to aid non-analytics specialist users in exploring datasets and performing analytics tasks.

The first task selected for focus under this theme is customer segmentation, an especially common data analytics task and one that organisations tend to perform when they first start to use data analytics.

Presenting segmentation results to the user in a way that is interpretable is the key to the success of SmartSeg. To understand customer segmentations analytics practitioners compare the distributions of features within a segment to the distributions of the same features in the underlying full population. While major existing analytics tools have enabled widespread adoption of data analytics, they remain mostly targeted at expert analytics users.

At CeADAR we are developing smart analytics tools for non-analytics experts - the so called next billion users.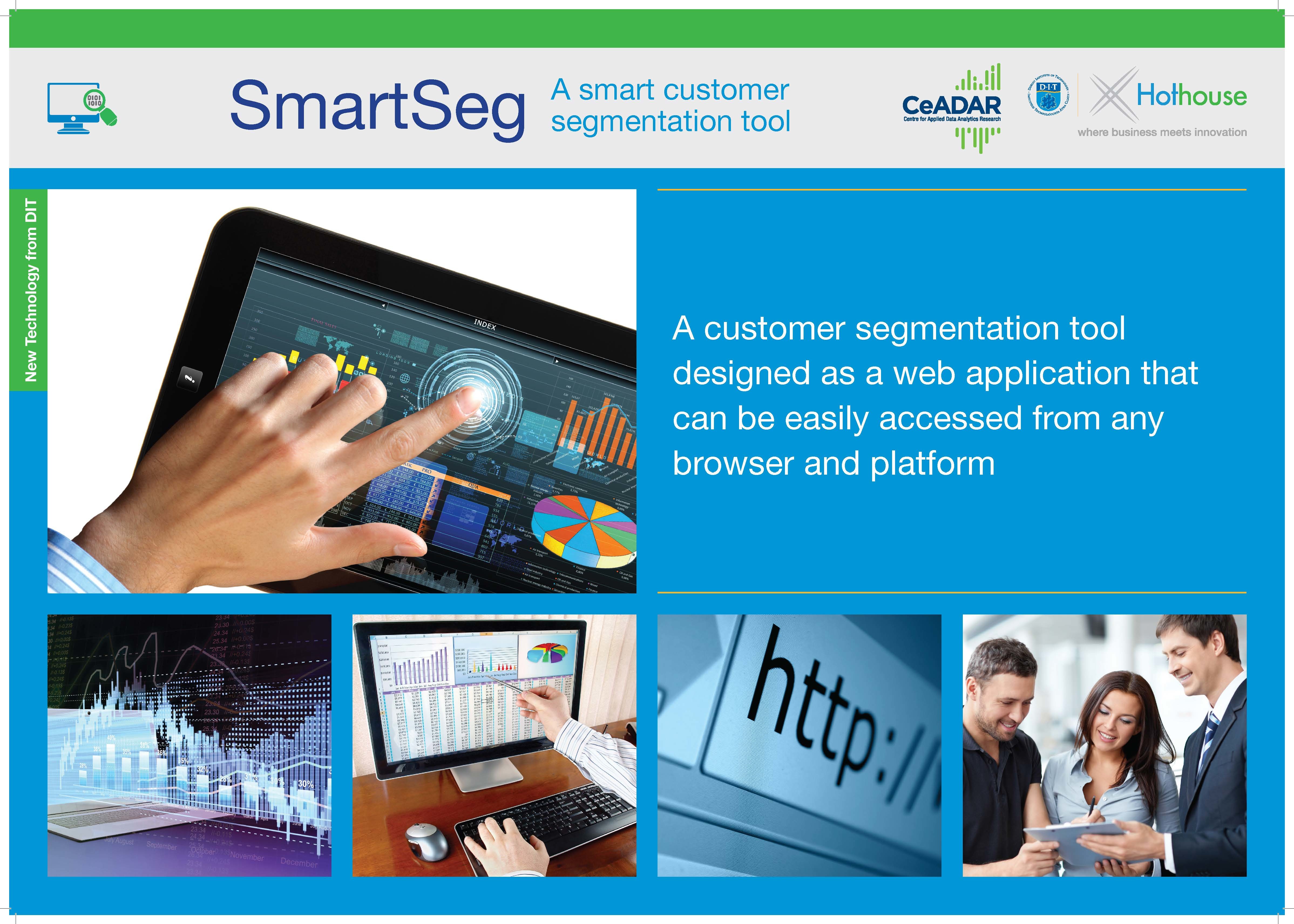 Description of the technology
SmartSeg is a customer segmentation tool designed to be accessible to a broad user base. It is designed as a web application that can be easily accessed from any browser and platform, with an easy-to-use interface that enables non-analytics experts to make the most of the tool without need of an expert.
Specifications
From an infrastructural point of view, SmartSeg is designed to be easily used from a web browser, running from a single web server. This avoids the need of having the tool installed in every computer that will be using it, which also guarantees 100% performance across all computers. SmartSeg is also flexible in terms of the kinds of customers it can deal with. Therefore, it can be applied to a variety of industries, including any company with logs of transactions performed by their customers. SmartSeg has been tested with several databases of customers, ranging from actions performed by electricity customers, to reading habits of news customers.
Main advantages of its use
Operates in near real-time.
Performs a range of customer segmentations focused ondifferent perspectives useful to companies (e.g.demographics, value, transactions).
Requires minimal manual data manipulation.
Applications
Database of customers: the user can choose from thedifferent customer databases they own
Number of segments: the system will automatically look fora suitable number of segments by default, but the user canalso choose to create a different number of segments.
Features: the system analyses a set of features based oncustomers' most recent transaction, frequency of transactions,and monetary value by default. Alternatively, the user canchoose from a list of different types of features.
Related keywords
CRM - Customer relationship Management
Computer Software Technology
Data Processing / Data Interchange, Middleware
Computer Software Market
Applications software
Data processing, analysis and input services
Customer
Segmentation
web
application
Browser
platform
About DIT Hothouse
Technology Transfer Office from Ireland
DIT Hothouse
DIT Hothouse is the award-winning Innovation and Knowledge Transfer Office at Dublin Institute of Technology, responsible for the commercialisation of intellectual property arising from DIT research. DIT Hothouse is the hub of innovation and technology transfer activities in DIT, the place where business meets innovation. DIT Hothouse has a range of spinout technologies available to industry across Life Sciences, Food, ICT, Software, Industrial Technology, Manufacturing and Clean Technologies. Our team works with students, lecturers and research teams across DIT as well as with entrepreneurs, industry leaders and investors. Through the DIT Hothouse New Frontiers Startup Programme, we provide a startup incubator for innovative and promising startup companies.

Our Mission

The mission of DIT Hothouse is to:

Maximise the commercialisation of new technologies developed by the growing community of DIT researchers.
Partner with industry on research collaboration, research consultancy and contract research.
Support the launch of knowledge-intensive startups with the potential to generate significant economic benefits for Ireland through our startup support programmes and the DIT Hothouse Incubator.
Our Offering
At DIT Hothouse we assist:

Entrepreneurs to start and grow businesses.
Industry partners to find new technologies, research partners, and funding.
Investors to find high-potential opportunities.
DIT staff and students to commercialise their intellectual property (IP).
Technology transfer offices in the Institute of Technology Tallaght (ITTD), the Institute of Technology Blanchardstown (ITB), the Institute of Art, Design & Technology, Dún Laoghaire (IADT) and the National College of Ireland (NCI) and the Dublin Institute for Advanced Studies (DIAS) in their commercialisation activities.
Whichever category you belong to, DIT Hothouse can provide you with unparalleled expertise, skills and resources to help you achieve your goals.‌

Our Success


Since its establishment in 2007, DIT Hothouse has consistently outperformed all other Irish university technology transfer offices, completing up to 20% of the annual commercial technology transfer licences in Ireland. Through its Enterprise Ireland-funded Incubation Programmes, DIT Hothouse has helped create nearly 400 sustainable businesses that have attracted €195 million in equity investment and created approximately 1,700 quality jobs.
Technology Offers on Innoget are directly posted and managed by its members as well as evaluation of requests for information. Innoget is the trusted open innovation and science network aimed at directly connect industry needs with professionals online.