Summary of the technology
Cluster2
IR and temperature sensitive polymer gels
keywords: sensor, smart home, IR, bolometer, haptics
Project ID : 9-2010-2423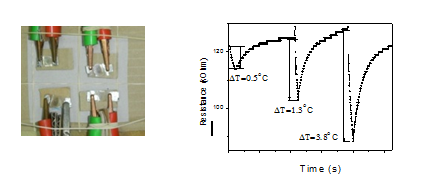 Description of the technology
A basis for new technology of screens operated by either touch or proximity sensing
Background
Touch screen is a multi-application technology with growing use in consumer products such as computers, phones, medical equipment, and a broad range of general industrial applications.

There is a growing need for large, affordable touch screens with high sensitivity to the "touch" trigger on screen with high spatial resolution and with response to multi-spots touch on screen.

Many applications (e.g. medical equipment) require screens with additional "proximity activation", e.g. screens which can be activated without physical contact on the screen.
Our Innovation
A new polymeric gel has been developed with broad sensing properties, from physical contact to proximity activation by thermal sensing the operator finger.

Properties of the gel can be precisely defined controlling the composition of the polymer gel.

Broad panels based on the invented polymers have demonstrated high sensitivity to contact as well as proximity thermal signals.

The new material Memory (hysteresis) is exceedingly small, as needed in panel interface applications.

Composition of the polymer gel can be tailored for sensing broad range of wavelengths

Demonstrated basic two dimensional electronic panels show the wide potential of the new polymer gel.
Demonstration of the operation principles of the new polymer-gel
Laboratory sample of discrete 2X2 touch panel (b) Change of resistance upon heating of a 200 µm thick layer of the new polymer gel placed between two ITO-coated transparent plastic substrates. Curves show resistance variations with proximity sensing of the operator measured thermal signature. Typical response times below 0.1 sec were measured.
Key Features
Exceptional sensitivity of the polymer gel electrical resistivity to thermal and optical excitation.

Polymer composition can be tailored to meet sensitivity requirements: From thermal contact to remote/ proximity sensing in the spectral range from visible to thermal infrared, allowing both contact and proximity sensing.

Parasitic memory (hysteresis) is below measurable threshold.

Two dimensional panels of the new polymer-gel coupled to electronics can be used as a new class of operating screens with touch and remote sensing for interfacing to computers, medical equipment, etc.

Production of the active material can be easily scalable at low production cost.
Development Stage
Demo-level basic "touch screen" showed remarkable temperature coefficient of resistance of ~30%/oC , and response time of < 20msec.

Long term stability of the compound is now being studied aiming at 10 years minimum.

Larger scale matrix is being developed.

Material composition optimization is being studied to meet spectral sensitively specifications.
The Opportunity
Touch screen interface technology is a steadily growing market with new emerging applications.

The invention creates a completely new family of screen interface channels whereby both touch and / or proximity interactions are possible.

The new polymer gel has unique range of electrical and optical properties which can be tailored and optimized for the application, yet is easy and low cost to produce in large industrial scale.