Summary of the technology
see ftp library
Project ID : 23-2006-1700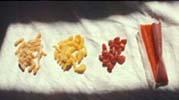 Description of the technology
Technology for converting natural fruit pulp, vegetable protein, honey etc. into semisolid food products
| | |
| --- | --- |
| Categories | Food and Nutrition, Processes |
| Development Stage | Several products based on various fruits, honey, chocolate and other ingredients have been developed |
| Patent Status | Know-how based project (no patent) |
| Market | New natural products for the fruit-based products, snacks, yoghourt, baking, and ice cream markets |
Highlights
Process turns pasteurized and preserved fruit pulp into fresh or dry products with a variety of textures. Provides control of texture and nutritional value. Improves the appearance, physical properties and shelf life.

Hydrocolloids used for texturization of the fruit mixture remain a small to negligible percentage of the final product

Hydrocolloids with different functional properties are selected to suit manufacturing conditions and processes in order to tailor the texture
Our Innovation
The process enables fruit pulp or other natural ingredients to be made into products with predetermined texture. Control of product texture and thermostability is maintained by inclusion of different water soluble polymers. Can be carried out under a variety of acidic conditions and can withstand certain treatments at different temperatures, such as baking or freezing and thawing.
Key Features
Natural food products made from fruits and vegetables – with or without added sugar and other food additives

Can make semisolid pieces of any size, shape or texture for various purposes

Ability to confer properties that produce sensation in the mouth of eating juicy fruit

Enables mimicking of seasonal fruits for year-round use
Development Milestones
Future work includes texturizing pulp and other natural ingredients to meet the needs of the food industry. Excess fruits and vegetables, or even meats, protein, etc. may be texturized into novel food products.
The Opportunity
May be used for fruit pie fillings and special food products, as nutritious garnishes, texturized fruit and vegetable pieces in breakfast cereals, texturized potato and onion products for frying and roasting and for fruit bars and natural snacks.
Project manager
Amichai Baron
VP, Head of Business Development, Agritech & Envir
Project researchers
Amos Nussinovitch
HUJI, Faculty of Agricultural, Food and Environmental Quality Sciences
Biochemistry, Food Science and Nutrition
Related keywords
Technologies for the food industry
Food quality and safety
Micro- and Nanotechnology related to agrofood
Food and Beverages
Food & Nutrition
food processing
About Yissum - Research Development Company of the Hebrew University
Technology Transfer Office from Israel
Yissum - Research Development Company of the Hebrew University
Yissum Research Development Company of the Hebrew University of Jerusalem Ltd. Founded in 1964 to protect and commercialize the Hebrew University's intellectual property. Ranked among the top technology transfer companies, Yissum has registered over 8,900 patents covering 2,500 inventions; has licensed out 800 technologies and has spun-off 90 companies. Products that are based on Hebrew University technologies and were commercialized by Yissum generate today over $2 Billion in annual sales.
Technology Offers on Innoget are directly posted and managed by its members as well as evaluation of requests for information. Innoget is the trusted open innovation and science network aimed at directly connect industry needs with professionals online.