Summary of the technology
Cluster8
Cluster10a

method and system for analysis of color change in images in the human body. The method is used for diagnosis of such disorders that changes in color of tissues occurs.
Keywords: image processing, algorithm, dental care

With Hadasit

Project ID : 7-2006-854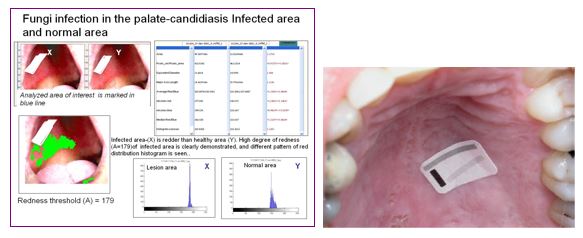 Description of the technology
| | |
| --- | --- |
| Categories | Medical Imaging, Oral Medicine, Quantification of lesion color change |
| Patent | US 2008/0260218 A1 |
Need:
In current practice of dermal analysis and of oral and dental lesion analysis, the physician typically observes the suspected area with the naked eye and based on parameters of size, colour and other aspects of the visual appearance, decides whether the lesion warrants further diagnostic testing or treatment. The examination is therefore highly subjective, and is dependent upon his/her powers of observation and experience. Photographic images are influenced by ambient lighting or different camera and flash affecting the appearance of the digital image.
Even after normalization of the colours of digitized images, the challenge remains to determine whether the colours have been affected over time. This is important for instance, in analysis and diagnosis of clinical oral images, where lesions in which the colour becomes more intensely red over time can signify malignancy, infection or inflammation (and less intensity implies healing or reaction to treatment). Erythema changes can help evaluating any process of inflammation or infection. The need exists for an objective and quantitative method of analyzing the colour and the size changes occurring in a lesion over time or compared to normal tissue.
Technology:
The technology allows the user to determine the extent and therefore the medical significance of colour and size changes that are present in a tissue or organ of the human body by quantification of the intensity of the colours. The technology provides a method for computerized analysis of colour and size.
Innovation
Reference label having a plurality of reference colours in the vicinity of a tissue or organ of the human body

Capturing a colour image including the tissue or organ and the reference label, the image is a digital image or is converted into a digital image;

Colour and size calibration of the image using the LAB colour system;

Selecting the borders of an area of interest within the image;

Calculating the intensity and distribution of colour within the area of interest using at least one channel of the LAB system, to provide at least one colour information attribute.
Current development stage
TRL 4 Validated in the lab
Contact
Researcher Information
bioinfo.md.huji.ac.il/contact.asp