Summary of the technology
This invention is based on the application of a hybrid organic/inorganic treatment onto an exposed surface – either as a stand-alone treatment or as a sealant. The treatment is applied using an electrochemical deposition technique, allowing for the development of conformal coatings, irrespective of design complexity. Layer thicknesses are low (10-100nm) but resistance in corrosive marine environments indicate corrosion rates comparable to technologies currently employed by the aerospace and automotive industries.
Corrosion rates are reduced by between 103 and 105 times, dependant on the nature of the porous coating. Tests on metallic coatings indicated a reduction in corrosion rates of approximately 103-104 while tests on ceramic coatings indicated a reduction in corrosion rates of approximately 105. By applying the hybrid treatment as a sealant treatment onto a porous wear resistant coating, concerns regarding the effect of mechanical damage are dramatically reduced. In addition, surface roughness levels are similar to electropolished finishes.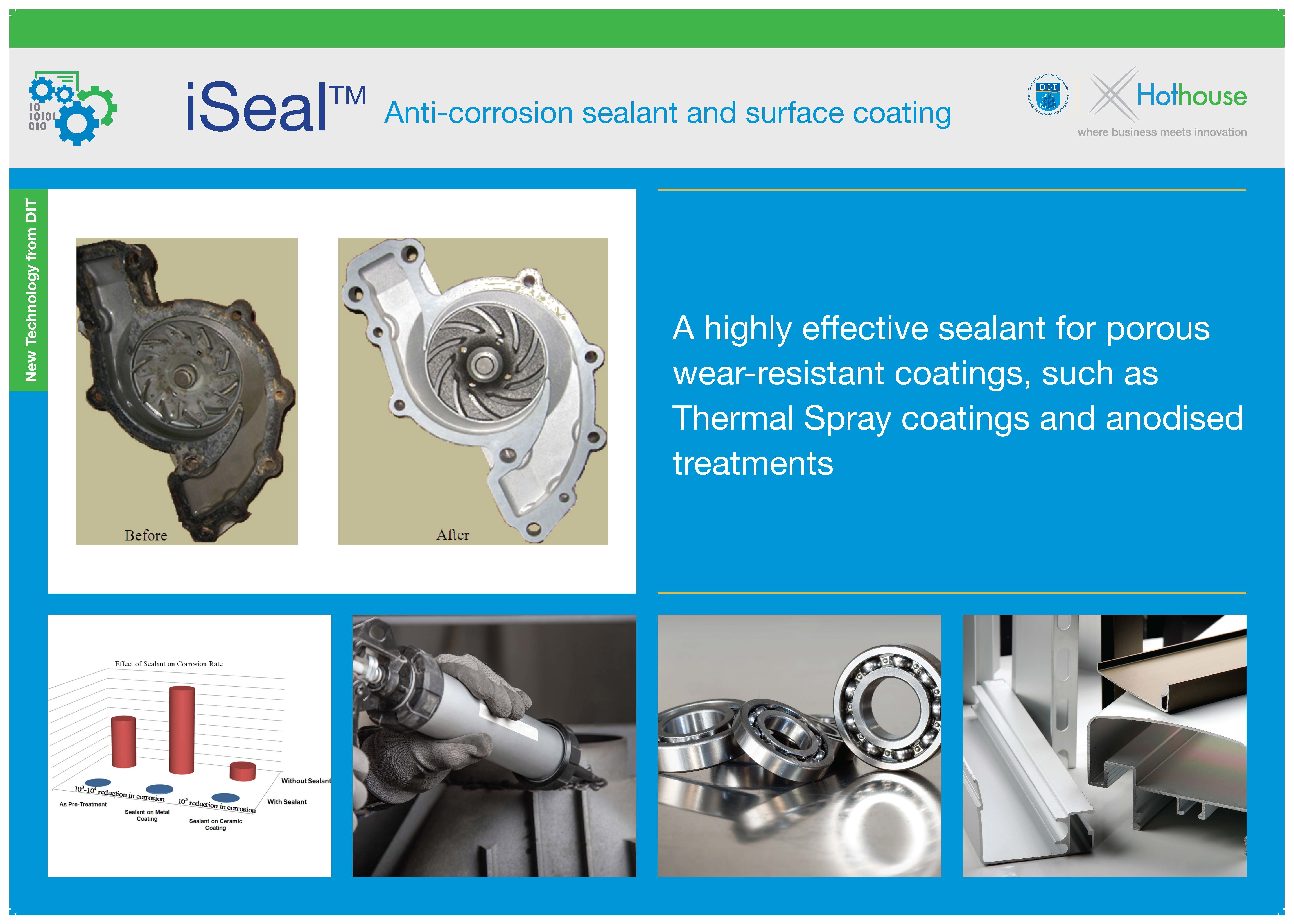 Description of the technology
DIT researchers have developed an advanced surface treatment for the protection of surfaces against corrosion and combined wear/corrosion (Tribocorrosion) degradation. The global thermal spray industry is worth about €5B per annum (based on 2003 estimates and an annual growth of 6.7%). Current sealant technologies are either ineffective or, based on industry responses, are expensive, with respect to bespoke sealant treatments. Therefore, sealant treatments, to-date, have had limited long-term success and associated industries have underestimated the importance of an effective sealant treatment. The technology outlined here is accessible both financially and technologically. It is therefore proposed that this developed technology will revolutionise industries using or applying porous wear resistant coatings.
Specifications
Main advantages of its use
A low-cost technique, which is highly effective in protecting the underlying material from corrosion
Conformal treatment thicknesses can be applied independent of component design
Can be used to seal any porous wear resistant coating
Enhances the effectiveness of wear resistant coatings and reduces the effective surface roughness
Applications
A pre-treatment for corrosion protection, suitable for industries such as aerospace, automotive and pulp and paper
A post-treatment (sealant) on porous wear resistant thermal spray or anodised coatings for advanced resistance to tribocorrosive degradation
Applied to complex surfaces with tight conformal control on thickness, making it ideal for use on products such as extruders, mixers, valves and pump impellers
As a sealant, the technology can be applied to any conducting surface, including metals, metal composites and conducting polymers, giving it a wide usability scope
Additional information (attached documents)
Additional information (attached documents)
Related keywords
Industrial manufacturing, Material and Transport Technologies
Properties of Materials, Corrosion/Degradation
Surface treatment (painting, galvano, polishing, CVD, PVD)
Coatings
Automotive engineering
Paper Technology related to Construction Technologies
Paper Technology related to Sylviculture, Forestry, Forest Technology
Design of Vehicles
Metals and Alloys
Industrial Manufacture
Plastics, Polymers
Industrial Products
Coatings and adhesives manufactures
Other industrial process machinery for textile, paper and other industries
Speciality metals (including processes for working with metals)
Machine tools, other metal working equipment (excluding numeric control)
processing technology
novel mate
About DIT Hothouse
Technology Transfer Office from Ireland
DIT Hothouse
DIT Hothouse is the award-winning Innovation and Knowledge Transfer Office at Dublin Institute of Technology, responsible for the commercialisation of intellectual property arising from DIT research. DIT Hothouse is the hub of innovation and technology transfer activities in DIT, the place where business meets innovation. DIT Hothouse has a range of spinout technologies available to industry across Life Sciences, Food, ICT, Software, Industrial Technology, Manufacturing and Clean Technologies. Our team works with students, lecturers and research teams across DIT as well as with entrepreneurs, industry leaders and investors. Through the DIT Hothouse New Frontiers Startup Programme, we provide a startup incubator for innovative and promising startup companies.

Our Mission

The mission of DIT Hothouse is to:

Maximise the commercialisation of new technologies developed by the growing community of DIT researchers.
Partner with industry on research collaboration, research consultancy and contract research.
Support the launch of knowledge-intensive startups with the potential to generate significant economic benefits for Ireland through our startup support programmes and the DIT Hothouse Incubator.
Our Offering
At DIT Hothouse we assist:

Entrepreneurs to start and grow businesses.
Industry partners to find new technologies, research partners, and funding.
Investors to find high-potential opportunities.
DIT staff and students to commercialise their intellectual property (IP).
Technology transfer offices in the Institute of Technology Tallaght (ITTD), the Institute of Technology Blanchardstown (ITB), the Institute of Art, Design & Technology, Dún Laoghaire (IADT) and the National College of Ireland (NCI) and the Dublin Institute for Advanced Studies (DIAS) in their commercialisation activities.
Whichever category you belong to, DIT Hothouse can provide you with unparalleled expertise, skills and resources to help you achieve your goals.‌

Our Success


Since its establishment in 2007, DIT Hothouse has consistently outperformed all other Irish university technology transfer offices, completing up to 20% of the annual commercial technology transfer licences in Ireland. Through its Enterprise Ireland-funded Incubation Programmes, DIT Hothouse has helped create nearly 400 sustainable businesses that have attracted €195 million in equity investment and created approximately 1,700 quality jobs.
Technology Offers on Innoget are directly posted and managed by its members as well as evaluation of requests for information. Innoget is the trusted open innovation and science network aimed at directly connect industry needs with professionals online.