Summary of the technology
They are currently widely used on credit cards, cheques and high value items. However, because mass production of holograms is traditionally from a single 'master hologram' all security holograms for a particular product range are identical and any serialization is non holographic (e.g. printed serial numbers over the hologram surface in regular black ink). This technology addresses the gap in the market for individualized holograms which each contain a unique number or code that can checked easily by the end user.

The end user simply checks the number against the serial number on the product and verifies that (1) the security hologram is present and (2) it is genuine. The product is a stand alone printed text or pattern which has the appearance of a transmission hologram (typically rainbow effect, but microtext within the printed text could be also incorporated if higher complexity is required). The unique characteristic of the product is that due to the holographic digital printing technique each product can be individualised at no additional price compared to similar hologram products.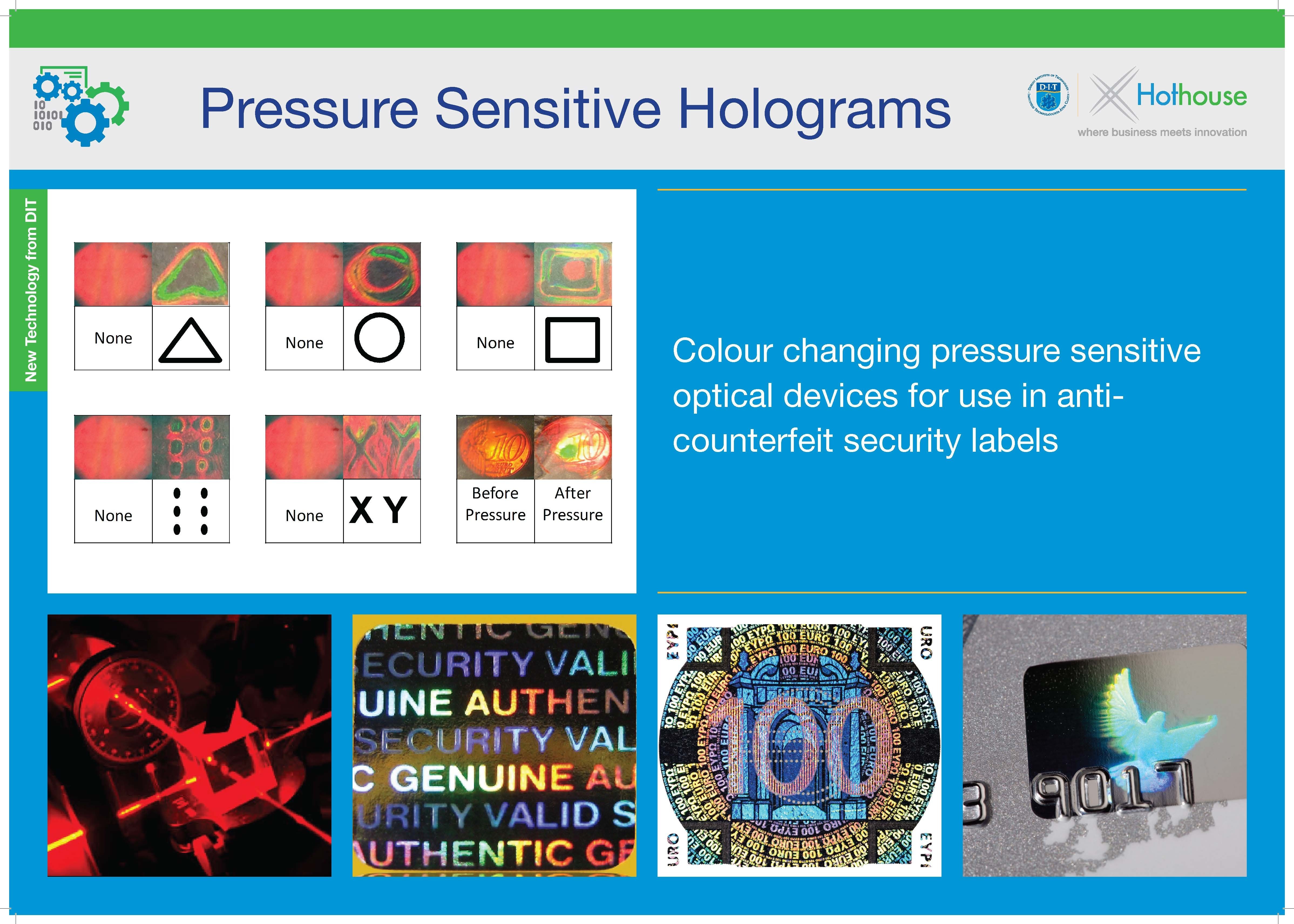 Description of the technology
To safeguard against the production of counterfeit products, particularly medicines, researchers at DIT have developed a new Anti-Counterfeit Hologram which improves product security through the ability to write unique text into each hologram. Although covert security features, identifiable with specialized equipment such as specific light sources, are useful; the largest market is in user verifiable security features that don't require specialist equipment to read. Holograms are an attractive security label because they are difficult to forge and are easily recognizable by the end user.
Specifications
• Product security and safety such as ensuring authenticity of medical devices and products • Biodata security(e.g. passports) — secure holographic method of recording text and simple images on documents • Enhanced brand security – makes products harder to counterfeit
Main advantages of its use
Low cost method of making each security hologram unique
Transparent hologram — doesn't take up space on package
Potential for additional covert security features such as microtext and encryption keys
Very difficult to counterfeit
Additional information (attached documents)
Additional information (attached documents)
Related keywords
Data Processing / Data Interchange, Middleware
Data Protection, Storage Technology, Cryptography, Data Security
Network Technology, Network Security
Security systems
Medical Technology / Biomedical Engineering
Diagnostics, Diagnosis
Data Communications
Data processing, analysis and input services
Medical computer sciences
Data analysis
management
security systems
Diagnostic
medical device
About DIT Hothouse
Technology Transfer Office from Ireland
DIT Hothouse
DIT Hothouse is the award-winning Innovation and Knowledge Transfer Office at Dublin Institute of Technology, responsible for the commercialisation of intellectual property arising from DIT research. DIT Hothouse is the hub of innovation and technology transfer activities in DIT, the place where business meets innovation. DIT Hothouse has a range of spinout technologies available to industry across Life Sciences, Food, ICT, Software, Industrial Technology, Manufacturing and Clean Technologies. Our team works with students, lecturers and research teams across DIT as well as with entrepreneurs, industry leaders and investors. Through the DIT Hothouse New Frontiers Startup Programme, we provide a startup incubator for innovative and promising startup companies. Our Mission The mission of DIT Hothouse is to: Maximise the commercialisation of new technologies developed by the growing community of DIT researchers. Partner with industry on research collaboration, research consultancy and contract research. Support the launch of knowledge-intensive startups with the potential to generate significant economic benefits for Ireland through our startup support programmes and the DIT Hothouse Incubator. Our Offering At DIT Hothouse we assist: Entrepreneurs to start and grow businesses. Industry partners to find new technologies, research partners, and funding. Investors to find high-potential opportunities. DIT staff and students to commercialise their intellectual property (IP). Technology transfer offices in the Institute of Technology Tallaght (ITTD), the Institute of Technology Blanchardstown (ITB), the Institute of Art, Design & Technology, Dún Laoghaire (IADT) and the National College of Ireland (NCI) and the Dublin Institute for Advanced Studies (DIAS) in their commercialisation activities. Whichever category you belong to, DIT Hothouse can provide you with unparalleled expertise, skills and resources to help you achieve your goals.‌ Our Success Since its establishment in 2007, DIT Hothouse has consistently outperformed all other Irish university technology transfer offices, completing up to 20% of the annual commercial technology transfer licences in Ireland. Through its Enterprise Ireland-funded Incubation Programmes, DIT Hothouse has helped create nearly 400 sustainable businesses that have attracted €195 million in equity investment and created approximately 1,700 quality jobs.
Technology Offers on Innoget are directly posted and managed by its members as well as evaluation of requests for information. Innoget is the trusted open innovation and science network aimed at directly connect industry needs with professionals online.