Summary of the technology
Gene for Enhancing Drought Resistance in Plants
Project ID : 8-2011-2661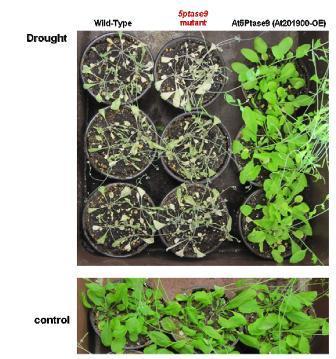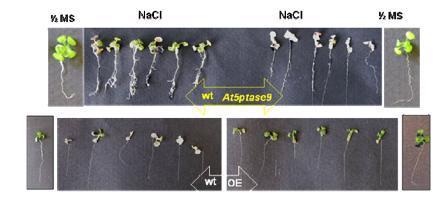 Description of the technology
Improves survival of seedlings and plants in drought and high salinity
| | |
| --- | --- |
| Categories | Agriculture, Field Crops / Plant Genetics, Stress Tolerance |
| Development Stage | Proof of concept in model plants |
| Patent Status | Patent application filed in the United States |
Highlights
Increasing use of recycled water and changes in climate are driving the need to find plants that will grow in tough conditions of drought and salinity.

The gene operates on the general trafficking pathways, including development of oxidative stress and calcium fluxes, resulting in coordination of stomatal opening and the expression of stress tolerance genes in plants. It is therefore transferable to a wide range of plants.
Our Innovation
Overexpression of gene At2g01900 improves the survival of seedlings and adult plants in severe drought conditions and improves tolerance to high salinity of young seedlings.
Figure: Drought tolerance in transgenic plants overexpressing the At2g01900 gene two weeks after the cessation of watering. Plants were watered twice a day for six weeks, after which watering was stopped.
Figure:Resistance to salinity: Top: Wild-type and At5ptase9 mutants were germinated on 1/2 MS. After seven days they were transferred to 1/2 MS supplemented with 150 mM NaCl or to 1/2 MS (control, side pictures). Bottom: The transgenic plants (OE) were germinated and grown on 150mM NaCl.Pictures were taken after 10 days.
Key Features
Can be used in transgenic crops (e.g. cotton) or in ornamental plants (e.g. grass) or for natural breeding programs in crops as selection marker gene.
Development Milestones
Seeking funding to develop the gene in crop plants such as tomatoes, cotton, rice or other desired plant.
The Opportunity
US farmers lose on average 10–15% of their annual yield because of drought and water stress.

In 2008, seed giant Monsanto announced a $1.5 billion deal with chemical concern BASF to develop high-yielding crops that are more tolerant to adverse environmental conditions such as drought.
Project manager
Amichai Baron
VP, Head of Business Development, Agritech & Envir
Project researchers
Alex Levine
HUJI, Faculty of Science
The Alexander Silberman Institute for Life Sciences
Related keywords
Agriculture
Agro chemicals
Agriculture, Forestry, Fishing, Animal Husbandry and Related Products
Agricultural genetic engineering applications
Agricultural chemicals
agriculture
plant genetics
About Yissum - Research Development Company of the Hebrew University
Technology Transfer Office from Israel
Yissum - Research Development Company of the Hebrew University
Yissum Research Development Company of the Hebrew University of Jerusalem Ltd. Founded in 1964 to protect and commercialize the Hebrew University's intellectual property. Ranked among the top technology transfer companies, Yissum has registered over 8,900 patents covering 2,500 inventions; has licensed out 800 technologies and has spun-off 90 companies. Products that are based on Hebrew University technologies and were commercialized by Yissum generate today over $2 Billion in annual sales.
Technology Offers on Innoget are directly posted and managed by its members as well as evaluation of requests for information. Innoget is the trusted open innovation and science network aimed at directly connect industry needs with professionals online.