Summary of the technology
Content-Specific Image Enhancement
Project ID : 10-2011-2707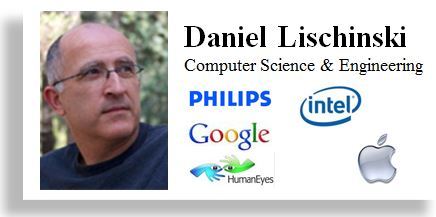 Description of the technology
Automatically enhances parts of image according to context
| | |
| --- | --- |
| Categories | Computer Science & Engineering Imaging / Computer Graphics |
| Development Stage | Research complete |
| Patent Status | Patent application filed in the United States |
Highlights
Digital images captured by non-professional photographers requires effective automatic photo enhancement.

Most current systems manipulate tone and color over the whole image without understanding and accounting for the content of the image.
Our Innovation
Photo enhancement method that automatically improves the quality of specific image elements such as the sky, human faces, and underexposed salient regions by intelligently taking into account local and global semantics.
Figure 1: Comparison of original on left and results of new method on right
Figure 2: Input images (first left) are compared with our results (second), Photoshop Elements (third), Microsoft Office Picture Manager (fourth) and Google's Picasa (fifth)
Key Features
Intelligently combines a variety of local tone mapping and color correction operations while taking into account image content.

Using existing robust detectors of sky and people, image areas containing human faces, skin, blue sky and clouds, as well as salient underexposed parts of the scene are subjected to customized enhancement operators.

Consistently significantly improves the majority of images

Outperforms the automatic enhancement operators available in several popular products
Development Milestones
Seeking cooperation for licensing and commercialization
The Opportunity
Currently, 30 billion images a year are uploaded to Facebook

Automatic photograph enhancement tools are included in such popular commercial software packages as Adobe Photoshop, Microsoft Office Picture Manager, Google Picasa, and others.
Project manager
Tamir Huberman
VP Business Dev. Computer Science & IT Director
Project researchers
Daniel Lischinski
HUJI, School of Computer Science and Engineering
CS - Computer Vision
Additional information (attached documents)
Related keywords
Information Processing, Information System, Workflow Management
IT and Telematics Applications
Multimedia
Computers
Computer Graphics Related
Specialised Turnkey Systems
Scanning Related
Peripherals
Computer Services
Computer Software Market
Other Computer Related
Computer Science & Engineering
Imaging / Computer Graphics
About Yissum - Research Development Company of the Hebrew University
Technology Transfer Office from Israel
Yissum - Research Development Company of the Hebrew University
Yissum Research Development Company of the Hebrew University of Jerusalem Ltd. Founded in 1964 to protect and commercialize the Hebrew University's intellectual property. Ranked among the top technology transfer companies, Yissum has registered over 8,900 patents covering 2,500 inventions; has licensed out 800 technologies and has spun-off 90 companies. Products that are based on Hebrew University technologies and were commercialized by Yissum generate today over $2 Billion in annual sales.
Technology Offers on Innoget are directly posted and managed by its members as well as evaluation of requests for information. Innoget is the trusted open innovation and science network aimed at directly connect industry needs with professionals online.