Desired outcome
As a participant of the upcoming symposium "GCCIR Matchmaking Symposium" organized by the GCCIR and Innoget next 19 November 2018 in Barcelona (Spain), the company MRF Geosystems is seeking European partners to meet at the Barcelona event to develop a joint collaboration project.

MRF Geosystems is specifically interested in European companies to:

• Find out the latest state of the EU Geospatial industry;
• Build connections with EU Geospatial companies;
• Find qualified partners in EU Geospatial industry;
• Engage with potential partners;
• Use MRF's Geospatial industry knowledge and platform to help customers in the EU.

In case you are interested in meeting MRF Geosystems at the Barcelona event to discuss a potential collaboration, please register for free to the symposium through the orange button provided above.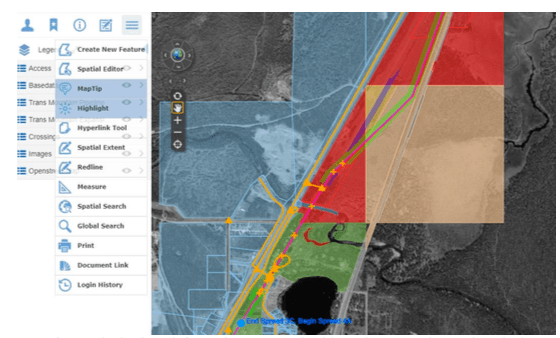 Details of the Technology Call
MRF is a professional GIS firm that specializes in enterprises GIS solutions, GIS software development, GIS data conversion, and GIS consulting services.
MRF has been in operation since 1992 and has developed a series of GIS/Mapping software products which include Mobile Apps, WebGIS servers and Cloud-Based Web Map. MRF has also developed many custom software products for its clients using the company's proprietary software components and/or other third-party software products.
MRF has developed and successfully commercialized 8 GIS software products. Some of the MRF GIS products, technologies and innovations are:
MRF Web Map – Cloud WebGIS platform with extensions and mobile GIS client – in production. This technology allows enterprises which require a high degree of collaboration between team members The MRF Mobile GIS is able to offer online/offline access to GIS data. MRF Mobile GIS and MRF Web can be synchronized on an as-needed basis to keep the entire team on the same page. This solution has been used for a major oil pipeline expansion project in Canada. It has also been used by many municipalities and engineering companies.
MRF StreetView – LiDAR + 360-degree image online viewer – in production. MRF has many urban customers using this solution to support GIS data capture, planning, and fire response.
MRF Indoor Map– Indoor map platform with the ability to support different indoor position technologies – prototype development. MRF has implemented this solution at a museum in Calgary.
MRF Indoor Augmented Reality– Visual identification based indoor positioning – proof of concept.
Preferences / Requirements for Potential European Partner(s)
The following are the important aspects MRF is looking for in a European partner with the technologies in geospatial or related areas:
Advanced high-speed HTML5 vector map engine to support high concurrent connections;
High volume and low latency LoRaWAN based indoor positioning technology to support personnel tracking and asset tracking;
Vision identification based indoor positioning engine;
Indoor Augmented Reality software engine/hardware;
Large-Scale outdoor scenes LiDAR rendering and modeling in Web Browsers;
High-resolution 360-degree video real-time streaming solutions
Related keywords
Computer Software Technology
GIS Geographical Information Systems
SatelliteTechnology/Systems/Positioning/Communication in GPS - Global Positioning System
Measurements and Standards
Measurement Tools
Optical Technology related to measurements
Sensor Technology related to measurements
Electronic measurement systems
Recording Devices
Computer Software Market
Other system software
Energy Market
Oil and Gas Exploration and Production
Exploration services
Equipment and instrumentation
Production services
Oil and Gas Drilling, Exploration and Extraction Equipment
Oil, gas and coal
Machine vision software and systems
geospatial technology
About GCCIR
Public Agency from Canada
GCCIR
The German-Canadian Centre for Innovation and Research (GCCIR) is a multilateral initiative for the development of German-Canadian, and more broadly European-Canadian, research and business relations. It is based in Edmonton, Alberta and is located in the TEC Edmonton Business Incubator. The Centre provides support for the exchange of information, development of networks, and the establishment and cultivation of collaborative partnerships in academia, business, and industry.

The GCCIR, along with Innoget, is the co-organizer of the GCCIR Matchmaking Symposium in Barcelona, to be held on November 19, 2018 in Barcelona (Spain). With the support of the Centre for the Development of Industrial Technology (CDTI) and ACCIÓ, the Agency for Business Competitiveness of Catalonia, the symposium is a unique opportunity for all Spanish organizations to connect with Albertan partners to jointly develop R&D projects eligible to receive funding under the Alberta-Europe Technology Collaboration Fund as well as other funding programs to be presented during the event.

From the Alberta side, roughly 15 to 20 Albertan SMEs (small-to-medium sized enterprises) will participate in the symposium for the purpose of meeting potential R&D partners based in Spain. Furthermore, during the event, the German-Canadian Centre for Research (GCCIR), the Centre for the Development of Industrial Technology (CDTI) and ACCIÓ will present the available funding programs that both Spanish and Albertan partners could apply to fund the resulting projects related to the industrial sectors below:

Nanotechnology // Geospatial // Drones // Cleantech // Health and e-Health // ICT // IOT // Materials // Energy
MRF Geosystems is seeking European partners with expertise and technologies in geospatial or related areas to meet at the Barcelona event to develop a joint project for commercialization. Apply now!
Technology Calls on Innoget are directly posted and managed by its members as well as evaluation of proposals.
Innoget is the trusted open innovation and science network aimed at directly connect industry needs with professionals online.
FAQs
The average response rate for this user is 4 weeks
The posting company will directly contact you to open up discussions about your proposal and collaboration opportunities.
You will also be notified and receive feedback from the posting company. You can always transform your proposal into a Technology Offer and post it to other members at no cost.