Desired outcome
As a participant of the upcoming symposium "GCCIR Matchmaking Symposium" organized by the GCCIR and Innoget next 19 November 2018 in Barcelona (Spain), the company H3alth Technologies Inc. is seeking European partners to meet at the Barcelona event to develop a joint collaboration project.

H3alth Technologies is specifically interested in European partners to participate in collaborative technology demonstration. H3alth Technologies has an MVP for 3D body imaging specific to health and medical and are at the technology demonstration/field trial stage. The company has two international participants/customers that have committed to a demonstration and is now looking for a third participant in Europe. H3alth Technologies would also be interested in strategic partnerships with companies that are experienced in 3D software development to provide support during its demonstrations and field trials.

In case you are interested in meeting H3alth Technologies Inc. at the Barcelona event to discuss a potential collaboration, please register for free to the symposium through the orange button provided above.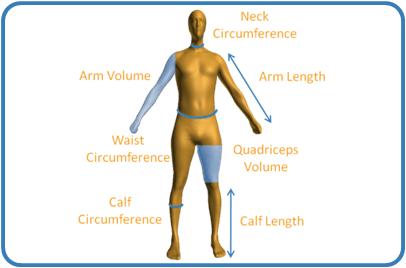 Details of the Technology Call
H3alth Technologies Inc. is an Alberta company offering 3D body imaging technology for the health market. The company combines 3D body imaging, image processing, and analytics to solve high-impact health problems.
H3alth Technologies' technical core competencies include biomedical engineering and devices, anatomical mapping, 3D software development (including image reconstruction and image processing), large volume data analytics, full stack development, and business development and commercialization in Sub-Saharan Africa.
In terms of innovations, H3alth Technologies has developed a non-invasive 3D body imaging solution that enables health professionals to increase the quality of care. The system is fully automated. Users simply enter the imaging unit like an airport scanner without the need of a health technician, log into through the user interface, and click "image me". Data is acquired, sent to the company's cloud servers, processed, and made available to users and health professionals through an online dashboard. Health analytics are determined automatically using a proprietary algorithm and provided to both the users and health professionals.
Health professionals can provide health services to more people in both urban and rural settings because the system is completely automated and operated by the users. People from any location are provided access to health professionals and services that they would not otherwise have as H3alth Technologies link them through telehealth, enabling increased coverage and disrupting the current model for health services.
Preferences / Requirements for Potential European Partner(s)
The following are the important aspects H3alth Technologies is looking for in a European partner:
For the technology demonstration, the company is looking for:
Health clinics, research hospitals, and hospitals
Rehabilitation service providers
Partners seeking non-invasive technologies for health
Partners with access to large patient/subject cohorts
For software development, the company is looking for a group with expertise in:
Commercial grade 3D software development
Automation
3D segmentation and classification
Anthropomorphic measurement software capabilities
Model-based morphological alignment
Non-linear and rigid registration
Data noise reduction
Related keywords
Data Processing / Data Interchange, Middleware
Imaging, Image Processing, Pattern Recognition
E-Health
Sensors & Wireless products
Measurements and Standards
Measurement Tools
Analyses / Test Facilities and Methods
Optical material testing
Optical Technology related to measurements
Sensor Technology related to measurements
Thermal material testing
Recording Devices
Computer related
Scanning Related
Other scanning related (including optical mark sensing and image processing)
Data processing, analysis and input services
Medical/health
Software services
Medical imaging
Machine vision software and systems
About GCCIR
Public Agency from Canada
GCCIR
The German-Canadian Centre for Innovation and Research (GCCIR) is a multilateral initiative for the development of German-Canadian, and more broadly European-Canadian, research and business relations. It is based in Edmonton, Alberta and is located in the TEC Edmonton Business Incubator. The Centre provides support for the exchange of information, development of networks, and the establishment and cultivation of collaborative partnerships in academia, business, and industry.

The GCCIR, along with Innoget, is the co-organizer of the GCCIR Matchmaking Symposium in Barcelona, to be held on November 19, 2018 in Barcelona (Spain). With the support of the Centre for the Development of Industrial Technology (CDTI) and ACCIÓ, the Agency for Business Competitiveness of Catalonia, the symposium is a unique opportunity for all Spanish organizations to connect with Albertan partners to jointly develop R&D projects eligible to receive funding under the Alberta-Europe Technology Collaboration Fund as well as other funding programs to be presented during the event.

From the Alberta side, roughly 15 to 20 Albertan SMEs (small-to-medium sized enterprises) will participate in the symposium for the purpose of meeting potential R&D partners based in Spain. Furthermore, during the event, the German-Canadian Centre for Research (GCCIR), the Centre for the Development of Industrial Technology (CDTI) and ACCIÓ will present the available funding programs that both Spanish and Albertan partners could apply to fund the resulting projects related to the industrial sectors below:

Nanotechnology // Geospatial // Drones // Cleantech // Health and e-Health // ICT // IOT // Materials // Energy
H3alth Technologies Inc. is seeking European partners both with expertise in 3D software development or interested in technology demonstration to meet at the Barcelona event. Apply now!
Technology Calls on Innoget are directly posted and managed by its members as well as evaluation of proposals.
Innoget is the trusted open innovation and science network aimed at directly connect industry needs with professionals online.
FAQs
The average response rate for this user is 4 weeks
The posting company will directly contact you to open up discussions about your proposal and collaboration opportunities.
You will also be notified and receive feedback from the posting company. You can always transform your proposal into a Technology Offer and post it to other members at no cost.