Desired outcome
We are searching for processes that produce precisely shaped 3D parts (see example in picture) from given adhesive formulation (solvent-borne, water-based or hotmelt).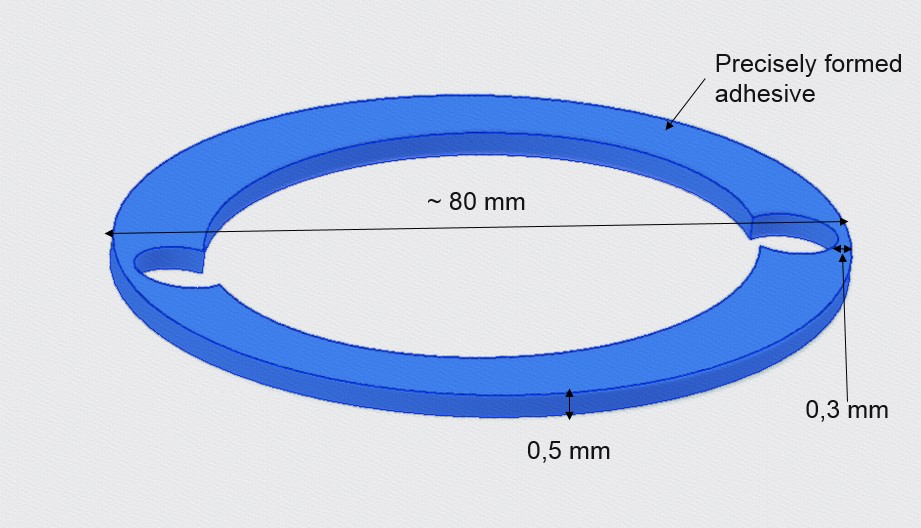 Details of the Technology Call
Today, specific shapes are manufactured through a coating process where the adhesive is spread onto a web and subsequently die cut into the desired shape. We are looking for alternative processes with less complexity, fewer production steps and lower waste generation. The ability to bring adhesives in their final shape during the forming process seems promising to surpass these disadvantages and leads to an enourmos cost advantage and improved environmental footprint.
Technical requirements
Must have:
Possibility to form 3D shaped parts
Adhesive thickness 100 – 1500 µm +/- 10%
Precision in x/y direction 50µm - 1mm
Nice to have:
Match of adhesive systems (Hotmelt, waterborne dispersion, solvent-borne systems)
Roll to roll process is a next possible step
Scale-up as possible next step
The final production process should be able to produce at least 4000 parts per hour
Must not have:
Waste rate of more than 10 %
Possible solution areas
Injection moulding: Filling of a negative mold with adhesive
Jet printing: contactless printing of micro drops to form the final shape
Other form and fill processes inspired by the food, construction, apparel or other industries
Multiple process steps
Previously attempted solutions (discarded)
Die cutting processes
Web printing processes (Screen printing, Gravure printing, Flexo printing)
Related keywords
3D printing
Industrial manufacturing, Material and Transport Technologies
Design and Modelling / Prototypes
3D printing design and modelling
Materials Technology
Adhesives
Industrial Technologies
Chemical Technology and Engineering
Physical Sciences and Exact Sciences
Computational Chemistry and Modelling
Protecting Man and Environment
Waste Management
Electronics, IT and Telecomms
Electronic circuits, components and equipment
Industrial Products
Electronics Related Market
Electronic Components
Display panels
About Us
Large Enterprise from European Union
Organization from European Union
We are a consumer products company with global and multinational brands. Our skin care and personal care business is highly R&D driven. We sell our products worldwide and target considerable market sizes with our innovations.
Technology Calls on Innoget are directly posted and managed by its members as well as evaluation of proposals.
Innoget is the trusted open innovation and science network aimed at directly connect industry needs with professionals online.
FAQs
The average response rate for this user is 1 week
The posting company will directly contact you to open up discussions about your proposal and collaboration opportunities.
You will also be notified and receive feedback from the posting company. You can always transform your proposal into a Technology Offer and post it to other members at no cost.