Desired outcome
Development of methods for the treatment of oncological diseases on the device PhysioMag, which implements the method of treatment by resynchronization of biorhythms in diseased tissue EMF.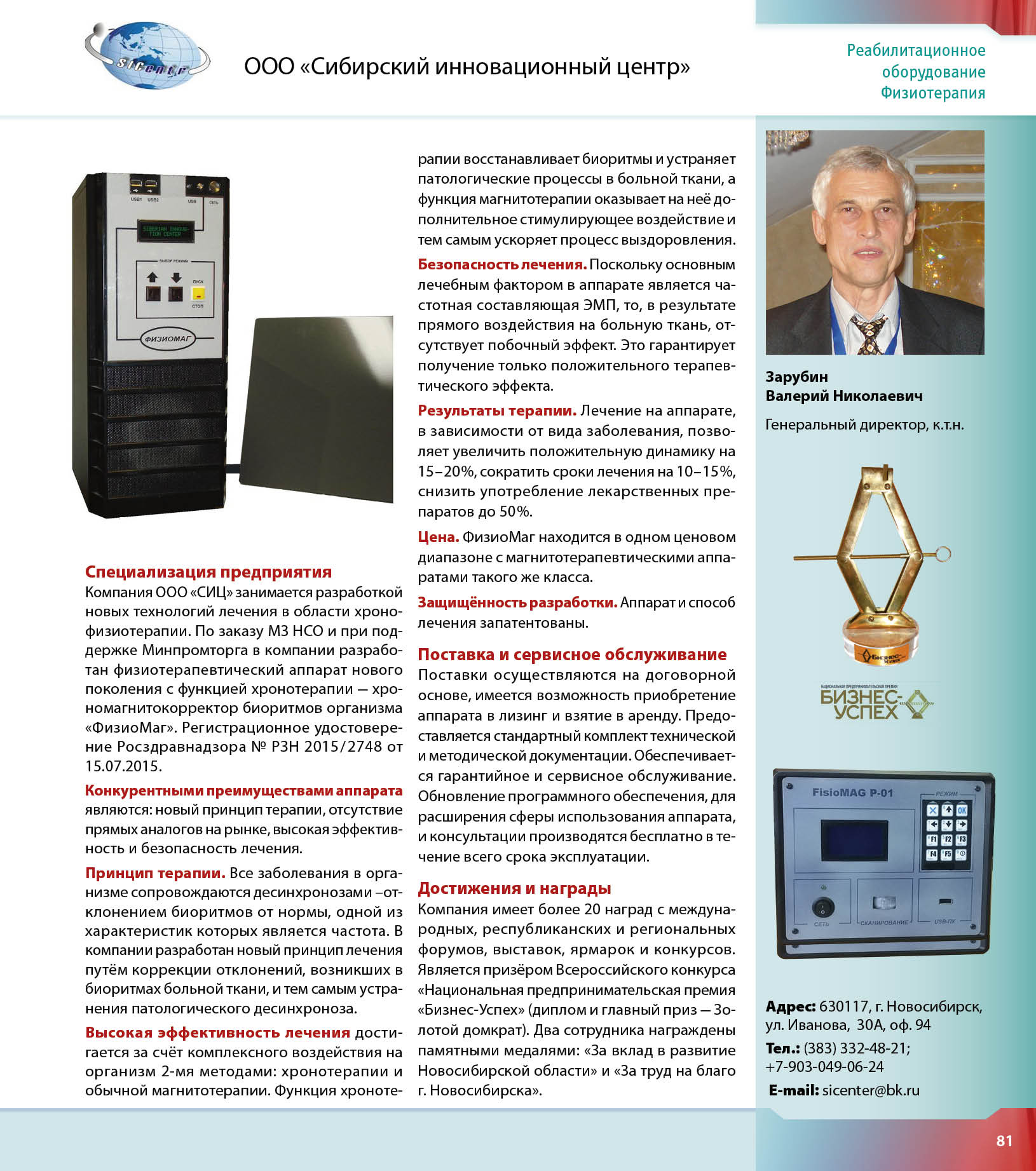 Details of the Technology Call
An effective and safe method for treating a wide range of diseases has been developed by correcting the deviations that have arisen in the biorhythms of diseased tissue and the apparatus for its implementation. It is necessary to conduct medical research and develop methods for the treatment of various cancers (for example, breast cancer), or other socially significant diseases.
For carrying out of researches it is necessary to know biorhythms a healthy fabric in which there was a pathology, and bio targets this disease.
Related keywords
Biological Sciences
Genetic Engineering / Molecular Biology
Medical Health related
Therapeutic
Clinical Medicine
Oncology
About Сибирский инновационный центр
Research & Technology Organization from Russian Federation
Сибирский инновационный центр
LLC "SIC" is a small innovative enterprise. The company since 2011 is engaged in the development and production of medical equipment in the field of chronomedicine. In the company developed a method for treating various diseases by resynchronizing (restoring) biorhythms in a diseased tissue and an apparatus for its implementation. The method is an alternative to the pharmacotherapy method and guarantees obtaining only a positive therapeutic effect. The method of treatment and the PhysioMag apparatus are patented in the Russian Federation.
Technology Calls on Innoget are directly posted and managed by its members as well as evaluation of proposals.
Innoget is the trusted open innovation and science network aimed at directly connect industry needs with professionals online.
FAQs
The average response rate for this user is 4 weeks
The posting company will directly contact you to open up discussions about your proposal and collaboration opportunities.
You will also be notified and receive feedback from the posting company. You can always transform your proposal into a Technology Offer and post it to other members at no cost.