Desired outcome
Haier seeks technologies or approaches that can rapidly dry air and reduce air humidity level.
  
Background
Chest freezers can experience frost formation on the internal surfaces. The frost thickness can reach 5-10 mm within 1 week and can affect the heat transfer efficiency and energy consumption. Over time the frost thickness can also reduce the available storage space and cause inconvenience to consumers who must periodically remove the frost. Tests show that the frost layers mainly concentrate on the lower part of the cabinet and its liner with a frost formation rate of 10g per day (the compressor keeps on for 10 minutes and then keeps off for 14 minutes). We are now seeking for technologies or solutions that can rapidly reduce air humidity level when air flow passes.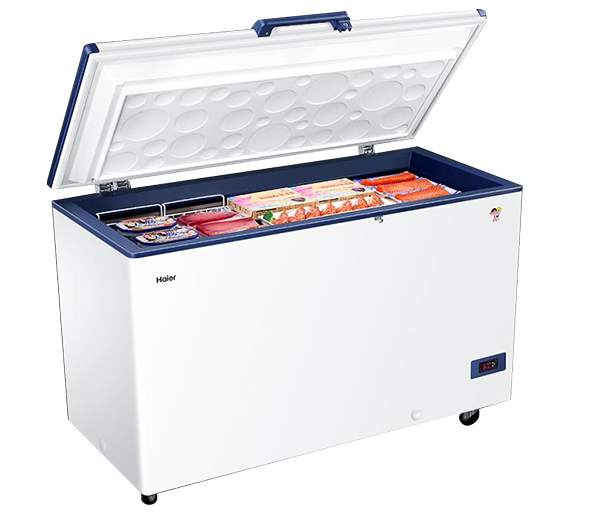 Details of the Technology Call
Key Success Criteria
We will use BCD-321 chest freezer as the target model, and test it under 25℃ ambient temperature and 80% relative humidity. The working environment inside the freezer is -20℃ (±2.5℃) and the relative humidity is 70%~100%RH.
The internal environment and external environment of the freezer is connected by a through-hole, and we expect the through-hole to be able to dry the air rapidly with the new technology/solution.
Successful responses shall meet the following criteria:
1) The through-hole shall locate in a 10cm-thick foam layer. No specific requirements on the through-hole's diameter and length (if there is certain requirement for its length, it can be curled inside the foam layer);
2) The air volume passed via the through-hole is 6L in 10 min;
3) The pressure difference between the internal side and outside of the through-hole is 40-80pa;
4) Detailed volume of dehumidification can be calculated with the psychrometric chart; (Hot air density*6L*Moisture content-Cool air density*Moisture content~*6L, the roughly calculated result is about 0.158g water);
5) The cost is less than 100 RMB (Preferred but not necessary);
6) The module life time should reach 8 years (60 working cycles/day, 10 mins/working cycle).
Possible Approaches
Possible approaches could be based on
Adsorption dehumidification, absorption dehumidification, compression dehumidification, refrigeration dehumidification.
Approaches not of interest
The following technologies or approaches are not of interest:
Related keywords
Design and Modelling / Prototypes
Air pollution control for cars and transport
Industrial Technologies
Household Goods & Appliances
Indoor Air Pollution/Treatment
Consumer related
Consumer Products
Housewares
Industrial Products
Air filters and air purification and monitoring equipment
dehumidification
About Haier
Large Enterprise from China
Haier
Founded in Qingdao, China in 1984, Haier now has become the world's largest home appliance manufacturer, with its major product lines ranging from refrigerator, freezer, water heater, air conditioner, washing machine, kitchen appliances and many other small appliances. Currently, the Group's major brands include Haier, Casarte, GE Appliances, Aqua, Fisher & Paykel, and Leader. Each brand has its own market position and provides outstanding user experiences for end users.

In the age when open innovation is becoming ever more present, the company is also exploring disruptive innovation in many aspects. In terms of R&D, Haier holds the principle that "The world is our R&D center" and now has established 10 R&D centers all around the world, including 3 in North America, 1 in Germany, 2 in China, 1 in South Korea, 1 in Japan, 1 in India and 1 in New Zealand. Each R&D center can be regarded as a technology integrator and all together they form into a global network to bring continuous advanced and disruptive technologies to Haier.

Haier Open Partnership Ecosystem (HOPE) is an open innovation platform of Haier Group. It engages over 3.8 million technology resources and over 400,000 registered users, and generates over 6,000 creative ideas each year. The platform is dedicated to providing services for global innovators and maximizing the interests of all parties by integrating global resources and facilitating the transformation of these good ideas.

We sincerely welcome organizations, universities, companies to be part of our open innovation process to make best use of their talents and gain benefits from the cooperation between us.
Technology Calls on Innoget are directly posted and managed by its members as well as evaluation of proposals.
Innoget is the trusted open innovation and science network aimed at directly connect industry needs with professionals online.
FAQs
The average response rate for this user is 4 weeks
The posting company will directly contact you to open up discussions about your proposal and collaboration opportunities.
You will also be notified and receive feedback from the posting company. You can always transform your proposal into a Technology Offer and post it to other members at no cost.