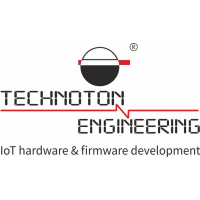 Technoton Engineering
Research & Technology Organization
Belarus | BASIC
About Technoton Engineering
Technoton Engineering is a company specialized in embedded software development and IoT hardware development for vehicle telematics, industrial automation, Internet of Things (IoT) fields. As a software and hardware development company, we implement unique IoT technologies, provide our clients with solutions for smart and IoT device development.
Research areas
Electronics, IT and Telecomms
IT and Telematics Applications
Industrial Technologies
Agriculture and Marine Resources
Measurements and Standards
and 4 more
Organization Website

Organization Type

Research & Technology Organization

Founded

Headquarters

Publications (2)
Start collaborating Now!
We are currently seeking best-in-class collaboration partners for the postings listed below. You can respond to current opportunities by browsing the listed entries. We do want to invite you to cooperate with us so please contact us through the available template and we will get in contact with you. Please provide as much detailed information as possible in order to facilitate the engagement process.
Contact Person