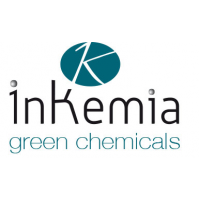 InKemia Green Chemicals, Inc.
Research & Technology Organization
Houston, TX, USA · United States | BASIC
About InKemia Green Chemicals, Inc.
We generate innovative Green Chemistry products, processes, and solutions by applying our 20 year R&D history to your challenge. The following are areas of specific expertise.

Alternative Safer Ingredients of Equivalent Performance
- Replace undesired ingredients in a formulation
- Avoid hazardous or highly regulated chemicals
- Find functionally optimal and safer ingredients

Adding New Functions to Formulations While Keeping Optimal Environmental Health and Safety (EHS) Profile
- Selection of ingredients to expand the functional properties of traditional formulations
- Focus on multifunctional chemicals

Formulation Performance Enhancement
- Identify ingredients that improve the efficacy of the formulation
- Reduce application frequencies and doses

Eliminate or Reduce Volatile Organic Compounds (VOC)
- Development of high solid content formulations
- Development of low MIR chemicals

Eco-efficient Synthetic Routes
- Re-design of chemical synthesis
- Utilization of safer reagents
- Minimization of synthetic steps and isolations
- High Throughput Experimentation (HTE) for the development of chemical synthesis
Research areas
Chemical Technology and Engineering
Physical Sciences and Exact Sciences
Chemistry
Protecting Man and Environment
Speciality/performance chemicals
Organization Website

Organization Type

Research & Technology Organization

Founded

2016

Headquarters

Houston, TX, USA
Publications (1)
Start collaborating Now!
We are currently seeking best-in-class collaboration partners for the postings listed below. You can respond to current opportunities by browsing the listed entries. We do want to invite you to cooperate with us so please contact us through the available template and we will get in contact with you. Please provide as much detailed information as possible in order to facilitate the engagement process.
Contact Person