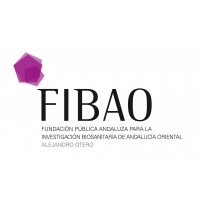 Fundación para la Investigación Biosanitaria de Andalucía Oriental (FIBAO)
Technology Transfer Office
Granada, Spain · Spain · Granada | BASIC
About Fundación para la Investigación Biosanitaria de Andalucía Oriental (FIBAO)
The Foundation for Biomedical Research in Eastern Andalusia (FIBAO) is a non-profit foundation specialized in the integral management of Biosanitary Research that is part of the Research Funding Network of the Andalusian Public Health System.
ibs.GRANADA is a Health Research Institute managed by the Foundation for Biomedical Research in Eastern Andalusia (FIBAO).
FIBAO- ibs.GRANADA supports the research managment of: 11 hospitals, 11 biomedical district, 3 universities, and 361 clicnic management units.

Ibs.GRANADA encompass five Scientific Areas and three Technological Platforms which activity has resulted in a very relevant collaborative scientific production. Additionally, ibs.Granada provides technical support services to its affiliates and facilitates the transfer of research results to society.
The institute counts with more than 70 research groups which are integrated into five areas each of them divided into several lines of strategic areas: cancer; systemic, cardiovascular and neurological diseases; hepatic, digestive and infectious diseases; endocrine and metabolic diseases and advanced therapies and new biomedical technologies.
Research areas
IT and Telematics Applications
Pharmaceutics
Medicine, Human Health
Cytology, Cancerology, Oncology
Diagnostics, Diagnosis
and 14 more
Organization Website

Organization Type

Technology Transfer Office

Founded

2006

Headquarters

Granada, Spain
Publications (1)
Start collaborating Now!
We are currently seeking best-in-class collaboration partners for the postings listed below. You can respond to current opportunities by browsing the listed entries. We do want to invite you to cooperate with us so please contact us through the available template and we will get in contact with you. Please provide as much detailed information as possible in order to facilitate the engagement process.
Contact Person Licensing Manager at Fundación para la Investigación Biosanitaria de Andalucía Oriental (FIBAO)