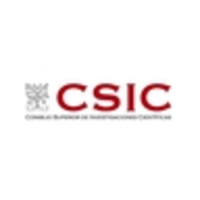 Consejo Superior de Investigaciones Científicas
Public Agency
Calle Serrano, 117, Madrid, 28006, Spain · Spain | BASIC
About Consejo Superior de Investigaciones Científicas
The Spanish National Research Council (in Spanish 'Consejo Superior de Investigaciones Científicas (CSIC)') is a government agency for basic and applied scientific research.

It is the largest public research organization in Spain, with presence in all the Autonomous Communities through 126 centers and 145 associated units.
Research areas
Electronics, IT and Telecomms
Industrial manufacturing, Material and Transport Technologies
Industrial Technologies
Energy Technology
Biological Sciences
and 6 more
Agriculture and Marine Resources
Agrofood Industry
Communications
Computer related
Genetic Engineering / Molecular Biology
Medical Health related
Organization Website

Organization Type

Public Agency

Founded

1907

Headquarters

Calle Serrano, 117, Madrid, 28006, Spain
Publications (67)
Start collaborating Now!
We are currently seeking best-in-class collaboration partners for the postings listed below. You can respond to current opportunities by browsing the listed entries. We do want to invite you to cooperate with us so please contact us through the available template and we will get in contact with you. Please provide as much detailed information as possible in order to facilitate the engagement process.
Contact Person
What is our process to bring your proposal to market?
First of all we want to know about you, we will ask you for your contact details. Then you'll find out a form that will help us understand your proposal. The quality and accuracy of the information you provide is very important for a proper evaluation, as well as only sending non-confidential information, and protecting your proposal, product or technology with a patent or any other intellectual property right before sending it.
Once submitted, you will receive a confirmation email. Your proposal will be evaluated by our innovation team. The results of this assessment will be communicated via email. During the evaluation of your proposal, if we need further information, or at the end of the evaluation, if your proposal is selected, we may request confidential or propietary information from you and will make the appropriate arrangements at that time (e.g. Through a Confidentiality Agreement).