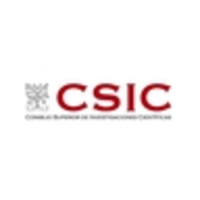 Consejo Superior de Investigaciones Científicas
Public Agency
Calle Serrano, 117, Madrid, 28006, Spain · Spain | BASIC
About Consejo Superior de Investigaciones Científicas
The Spanish National Research Council (in Spanish 'Consejo Superior de Investigaciones Científicas (CSIC)') is a government agency for basic and applied scientific research.

It is the largest public research organization in Spain, with presence in all the Autonomous Communities through 126 centers and 145 associated units.
Research areas
Electronics, IT and Telecomms
Industrial manufacturing, Material and Transport Technologies
Industrial Technologies
Energy Technology
Biological Sciences
and 6 more
Organization Website

Organization Type

Public Agency

Founded

1907

Headquarters

Calle Serrano, 117, Madrid, 28006, Spain
Portfolio of Technology Offers
(8)
Start collaborating Now!
We are currently seeking best-in-class collaboration partners for the postings listed below. You can respond to current opportunities by browsing the listed entries. We do want to invite you to cooperate with us so please contact us through the available template and we will get in contact with you. Please provide as much detailed information as possible in order to facilitate the engagement process.
Contact Person