Global innovators, scientists, researchers and entrepreneurs are invited to submit their proposals to the Robotics Challenge until August 18th, 2017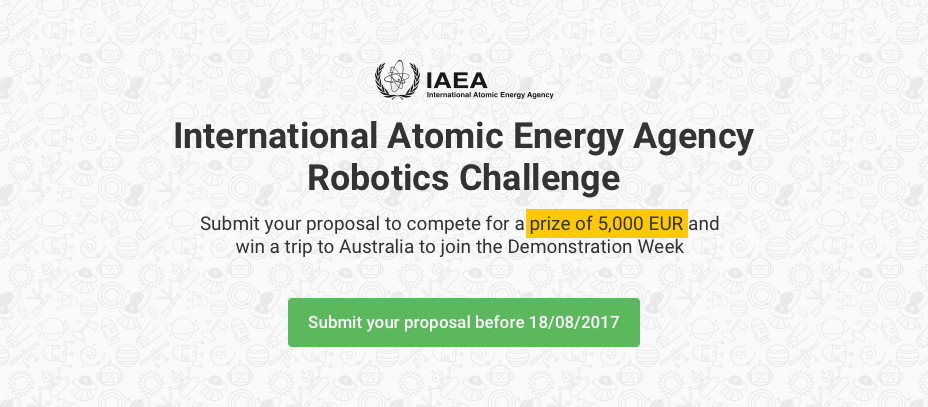 The Nobel Peace Prize-awarded International Atomic Energy Agency (IAEA) closed a collaboration agreement with Innoget, the trusted open innovation network, to accelerate the scouting of proposals for a Robotics Challenge through the online open innovation platform Innoget.com.
As reported by the IAEA in the challenge microsite powered by Innoget, some of the most common tasks undertaken by IAEA inspectors involve making repetitive measurements in areas that can be difficult to access with elevated radiation levels. This is definitely a domain where robotics could play a role and Innoget is one-of-kind partner to tap solutions from a global network of world-class innovators, scientists, researchers and entrepreneurs.
Same global innovators, scientists, researchers and entrepreneurs around the world are called upon to help enhance the consistency of the International Atomic Energy Agency measurements and inspectors working conditions. Solution providers are competing for up to 20,000 EUR in prizes to be shared by up to seven winners: two first prizes of 5,000 EUR each, two second prizes of 3,500 EUR each and three supporting prizes of 1,000 EUR each. Participants with the best technical proposals will receive funding to participate in the Demonstration Week organized in Australia next September 2017. The agency will also invite participants whose robotic platforms are selected after the Demonstration Week to submit a fixed-price proposal to customize their system for the IAEA.
The Robotics Challenge is an initiative from the Division of Technical and Scientific Services (SGTS), responsible for providing scientific, technical and logistics support within the IAEA, including design, development, testing, calibration, installation and maintenance of safeguards equipment.
Within SGTS, essential objectives are to identify and evaluate emerging technologies that improve the usability, effectiveness and efficiency of the instruments used in the field by inspectors, and to enhance the IAEA's capabilities to detect undeclared activities.
Responses to the IAEA Robotics Challenges are due by August 18th, 2017. Solution providers can submit proposals through IAEA's Robotic Challenge. For more information and updates on the challenge, please visit https://challenge.iaea.org/robotics.
About the International Atomic Energy Agency
The International Atomic Energy Agency is the world's central intergovernmental forum for scientific and technical cooperation in the nuclear field. It works for the safe, secure and peaceful uses of nuclear science and technology, contributing to international peace and security and the United Nations' Sustainable Development Goals. Learn more at https://www.iaea.org/.
About Innoget
Founded in 2006, Innoget is a trusted open innovation network for business professionals, startups, experts and the academic community to list, discover and get unique online innovation collaboration opportunities around the world. Innoget specializes in helping innovation-oriented organizations find external partners to solve their technical and innovation problems. Over the last 12 years, organizations that partner with Innoget have been able to innovate with less risk, and a t much lower cost by engaging with our multidisciplinary network of experts and +2,500 technologies listed. Innoget is currently taking part in one of the H2020 funded consortiums to boost the innovation efficiency across Europe between industry and academy stakeholders.  Learn more at https://innoget.com.