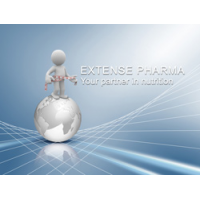 Extense Pharma
Weight Management, Healthy Eating, Nutrition · Small and Medium Enterprise
Belgium · Lasne | BASIC
We research, develop and produce a range of innovative food, drink and food supplement products designed entirely for the weight management, healthy eating and nutrition market sectors.

All of our products are high in quality protein, low carb, low fat with no added sugar. Each one is made with natural ingredients only, no preservatives and GMO Free.

Although there are many companies competing within this market sector, our every expanding range stands out for two reasons:
1. The balance between the quality ingredients used and the nutritional values produced, offers unrivalled effectiveness and convenience in our target sectors.
2. Superior taste.

If you would like to know more about what we offer, please don't hesitate to get in touch.
Research areas
Food Additives/Ingredients/Functional Food
Food Packaging / Handling
Food Technology
Prepared Dishes
Organization Website

Organization Type

Small and Medium Enterprise

Founded

Headquarters
Start collaborating Now!
We are currently seeking best-in-class collaboration partners for the postings listed below. You can respond to current opportunities by browsing the listed entries. We do want to invite you to cooperate with us so please contact us through the available template and we will get in contact with you. Please provide as much detailed information as possible in order to facilitate the engagement process.
Contact Person