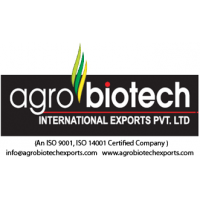 Agro Biotech International Exports Pvt. Lt.
Small and Medium Enterprise
India | BASIC
About Agro Biotech International Exports Pvt. Lt.
We are professionally managed Agro based company, Exporting Vegetables, Fruits, Spices, Herbs, Agri Equipements and technologies to various countries. We have our own farming projects and contract farming for ensure the quality and quantity of the Products. We developed a number Solar powered products like DC pump sets, Cotton Harvesting machines, Hydroponic fodders, cross ventilated poly houses with solar powered cooling system.

We are organically farming the White Turmeric (Curcuma aromatica Salisb ) and exporting to various pharmaceutical companies and Wellness centers. It is a multi faced herb used from Cosmetic industries to cancer research institutes.

It is used for anti fertility usage. The practice of traditional medicine for the control of fertility in most parts of India is based on the uses of plant medicines for many years.

Anti-inflammatory and wound healing activity of topical application of Curcuma aromatica Salisb.

We have the sufficiant raw materials for export. We can do the contract farming according to the customer requirement.
Research areas
Pharmaceutics
Other Processes
Food Processing
Food and Beverages
Organization Website

Organization Type

Small and Medium Enterprise

Founded

Headquarters
Publications (1)
Start collaborating Now!
We are currently seeking best-in-class collaboration partners for the postings listed below. You can respond to current opportunities by browsing the listed entries. We do want to invite you to cooperate with us so please contact us through the available template and we will get in contact with you. Please provide as much detailed information as possible in order to facilitate the engagement process.
Contact Person